It seems that a ticking time bomb has finally been set to go off. According to Reuters for years South African miners "inhaled silica dust form gold-bearing rocks and later contracted silicosis." As such, after many years the inevitable is occuring. The largest class action law suit in South Africa is being brought forward against some of the worlds largest gold mining companies. This is years after these companies exposed hundreds of thousands of miners to the working conditions to which these companies now have to be accountable for. After further investigation into this issue, it seems likely that this class action lawsuit will be successful. The price of gold should appreciate due to a decrease in total future worldwide gold production, as there will be fewer resources for operations and investing in new projects by the companies who get hit with this class action lawsuit.
The class action lawsuit is being brought forth by Richard Spoor, who was successful in a case last year which set the precedent for claims for compensation in South Africa. Although the details are unclear he has some form of working relationship with the law firm of Motely Rice, which is one of the largest litigation law firms in the US.
This law suit will be huge in the amount of dollars awarded. According to Spoor, "we're signing up 500 people a week at the moment." Whats more is that family members can still join the claim even if the person in question is deceased. This will provide for a large growing total number of members in the class, especially as this case gains momentum and publicity.
According to Reuters "It's hard to estimate the potential size of a silicosis class action. South Africa is the source of 40 percent of all the gold ever mined. At its height in the 1980s the industry employed 500,000 men - two-thirds of them from Lesotho, Mozambique and the Eastern Cape - although production has fallen behind China and Australia and employment since halved. But silicosis can take years to show up and check-ups are at best haphazard. A 2005 study by the National Institute of Occupational Health in Johannesburg, based on autopsies of miners, suggested 52 in every 100 had the disease."
The big gold mining companies AngloGold Ashanti AU , Gold Fields GFI, Harmony HMY, and AngloAmerican AAL.L could face losses of hundreds of millions of dollars in litigation. In my opinioin this class action lawsuit isn't a question of if they are going to have to pay, the question is how much?
In 2003, Sporr was successful in suing a mining company whose operations where in asbestos. The judgment was for $100 million in 2003 and is the largest mining award to date in South Africa.
The mining companies know about this issue and have probably enacted various forms of liability insurance as a result. However, the extent to which these companies have mitigated their risks are unknown. According to Reuters Graham Briggs CEO of Harmony said "the issue of silicosis was a big topic but he did not think it class action material." I would say that he is either lying to himself or lying to everyone. But as the CEO of Harmony I understand his position being damage control.
The fact is that this issue (unknown to myself,) was a ticking time bomb that these companies have known about for years as the facts will show. Now investors around the world are going to be following this story.
The leading case is that of Thembekile Mankayi against AngloGold, (Africa's biggest gold producer.) Although he died days before the judgement and the judges never got the chance to rule they were still able to issue a statement. What the judges said according to Reuters was that "African mineworkers in particular, have contributed enormously to this country's economic wealth and prospperity, at a great cost to themselves and to their health."
Furthermore, according to Reuters "under South African common law, widows and children also have a claim for the loss of a breadwinner's earnings, meaning liability does not end with a sick miner's life. A 2009 paper by researchers from Witswatersrand University and University College, London, which was published in the American Journal of Industrial Medicine, estimated there were 288,000 cases of compensable silicosis, and 10 billion rand in unpaid compensation liability at 1998 values. Today, that would be 27 billion rand - more than $3.5 billion."
There are examples of individual cases against various South Afircan based gold mining companies. For the first time, this class action law suit will have world-wide implications on these companies and as a result on the price of gold.
Once the litigation is successful, these companies will have less money to deploy into current operations, and future development projects. This will cause the world supply of gold to go down over time. Punishing these gold miners will mean fewer resources. That will mean less gold in the vaults as a result of the litigation. This will cause the price of gold to appreciate (all else being equal.)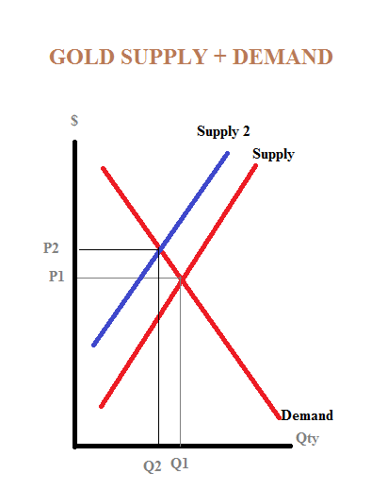 The question is how much of an impact will these claims will have on the balance sheet of the mining companies? The amount of liability is for the courts to decide. The extent to which the gold mining companies have mitigated their risk through use of insurance contracts is yet to be public information. This could either turn into the gold miners issue, or become the insurance or the reinsurance industry's biggest nightmare.
What does all of this mean for investors? This is another macro-economic indicator along with weak currencies, low interest rates, sovereign debt issues, and monetary supply increases, which should cause gold to appreciate.
I believe that the real winners of this news are the other gold miners. Goldcorp GG, Barrick Gold ABX, Kinross Gold KGC, should all fair well from this news. Recently I have turned bullish on Yamana Gold AUY, as they are completely focused on South America, and are paying a dividend later this month.
I picked the above names because Goldcorp is the lowest cost major, Barrick is the largest, Kinross is the most undervalued, and Yamana is paying a dividend at the end of the month and has growing production.
See the Reuters article or click here to see the picture slideshow for more information about this issue in South Africa.
Disclosure: I am long KGC.