In the past, I have mainly trading energy futures and options contracts. But I wanted to test strategies that could be followed by investors who do not wish to trade futures and options.
I began my test on February 7, 2017, with two strategies, an Oil Strategy and a "BreakOut" Strategy (described below). I supplemented my BreakOut Strategy with a "BreakDown" Strategy beginning on May 15 th.
My total gain through May 31, 2017 was 59%. The Oil Strategy gained 24% and the BreakOut/BreakDown Strategy gained 35%. By comparison, SPY gained 5.5% and oil futures prices dropped 8.8%.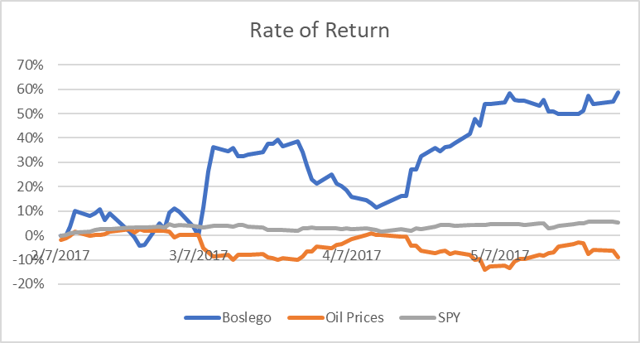 I use signals generated by my Vertical Risk Management (VRM) model for my oil strategy. The background for VRM is described in this slideshow. The model is based on concepts Robert Shiller discusses in his paper, "From Efficient Markets to Behavioral Finance." He believes that the human emotions of fear and greed drive prices further up and down than they should go, based on the fundamentals.
The full article is up in my Premium Service in Seeking Alpha's Marketplace, providing my process for BreakOut and Breakdown Strategies, the trades, and current positions.