Ever since Zynga (NASDAQ:ZNGA) launched its IPO, it has been struggling to perform consistently. However, now it looks like the company's fortunes are about to change. Zynga's share price reflects that the company is on the right track and may soon maneuver a turnaround under the leadership of Don Mattrick. Zynga's share price has appreciated 82% year-to-date and even though it hit its 52-week high mark on last Friday, it still looks like a good long-term buy.
If you take a look at Zynga's quarterly performance, I'm sure you will not be impressed. However, if you look past the figures and concentrate on the facts, you will realize that Zynga is a worthy investment. Let's look at those facts one by one.
Fact 1: Stability During Transition
This was Zynga's first quarter under the leadership of Mattrick, and even though there was a decline in its margins, the stability during a business transition was remarkable. Although Zynga's revenue dipped 36% and it reported a loss of $68,000, the company was able to top the consensus estimate on both fronts. And given that Zynga had reported massive losses of $52 million in the second quarter, it isn't surprising that investors bid up the stock nearly 13% after the results were declared.
Another positive to take from the quarterly reports was the increase in average booking per user (ABPU). Even though there was a substantial decline of 49% in the daily active users (DAU), Zynga managed to enhance its ABPU by 17%.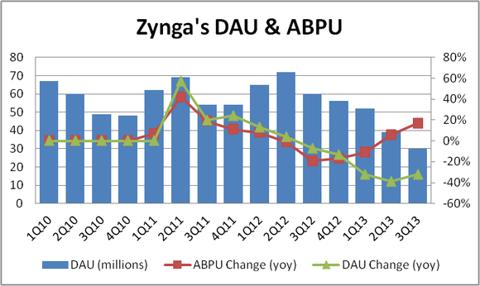 This indicates that more players are willing to spend money in-game, but the decline in DAUs is alarming. However, if Zynga is able to launch a few blockbuster games in the future, this scenario may change.
Fact 2: Focusing On Mobile Gaming
Under the leadership of Mark Pincus, Zynga was more focused on developing social games. But since social games don't have the reputation of being long-term moneymakers, the company's earnings started plummeting. Mattrick seems to be following a completely different and direct approach than his predecessor. When Mattrick abandoned Zynga's pursuit of real-money casino gaming, it became clear that the company will be focusing more on mobile gaming market. As a part of his mobile transition, Zynga launched CastleVille Legends in the previous quarter.
Mattrick's high interest in pursuing mobile gaming market makes sense as analysts are expecting it to grow to $24 billion by the end of 2016.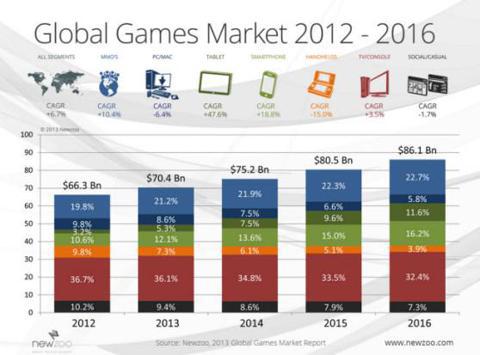 Mobile gamers have a habit of spending heavily on in-app purchases, and if Mattrick is able to pull off Zynga's mobile transition, the company's fate may change very soon.
Fact 3: Management Overhaul
To oversee the functioning of its mobile business, Zynga appointed DeNA's CEO, Clive Downie, as its new chief operating officer. The COO spot was left open when Zynga's management decided to sack three top executives. With over 20 years of experience, Downie is expected to drive Zynga's growth in the highly competitive mobile gaming market. During his 15 year tenure with Electronic Arts, Downie supervised the development and marketing of many blockbuster franchises like Need for Speed and FIFA.
Conclusion
The positives I see for ZNGA prevail over the perceived negatives. When I wrote my last article on Zynga, I thought that Mattrick may take time to engineer a turnaround, but the stability in Zynga's business was quite impressive. Under Mattrick's first quarter as CEO, Zynga was able to post better than expected results and this indicates that the company is headed by a creative mind that can provide the much-needed spark to kick start the business. Therefore, it looks like a turnaround is imminent and Zynga is a worthy buy right now.
Disclosure: I have no positions in any stocks mentioned, and no plans to initiate any positions within the next 72 hours. I wrote this article myself, and it expresses my own opinions. I am not receiving compensation for it (other than from Seeking Alpha). I have no business relationship with any company whose stock is mentioned in this article.