It's not a secret cybersecurity is a very hot industry nowadays, and all experts will tell you its size and scope will continue to grow at a rapid pace. I discovered a company that possesses many key cybersecurity patents, that has been proven to be immensely valuable to major players in the industry. The company is Finjan Holdings (NASDAQ:FNJN). Of all IP related stocks, I believe Finjan is the most undervalued and most unknown stock, and believe shares, which now trade at $5, are actually worth $20 today, and could hit $40 within a year.
Imminent catalyst could more than double the share price
Finjan is still an OTC stock, but unknown to many, about to be uplisted to the NASDAQ. All the requirements have been met, so it's just a matter of days now. A NASDAQ listing means the company is fully compliant with its strict listing rules, which are far stricter than the 'wild-west' OTC Bulletin Boards. It also opens the door for institutional investing. Thus in most cases, an uplisting bodes very well for shareholders. For example, immediately following an uplisting, XXII went from $1 to $6, ONVO went from $3 to $13, and there are countless other similar examples to be found. I expect similar performance with Finjan. Again, the uplisting could happen any day now.
Many other near-term catalysts could drive shares to $40
Currently, only 2 of Finjan's patents are being litigated, and last year, Finjan sued multiple large companies like FireEye and Websense. This is only the beginning; Finjan possesses 40 other patents, and we will see more litigations initiated this year. There are already many catalysts at hand, like a Markman hearing which is scheduled for next August, and 2 others later on. Markman hearings are known to drive shares substantially higher.
Finjan already generated $145 million with just 2 patents
Finjan has already to proven to successful in litigating its patents for cash. In recent years the company managed to generate a total of $145 million with 2 of its patents.
Now ask yourself this: if Finjan is able to obtain $145 million with just 2 patents, how much could Finjan obtain with 40 patents? It's an interesting thought, and it sure highlights the enormous upside potential of Finjan's unique and large patent portfolio.
Impressive management board
Finjan's president, Phil Hartstein, left IPNav, the worlds leading full service patent monetization firm to run Finjan. He wouldn't join Finjan if he didn't think very highly of Finjan's potential. Also, in recent weeks, new board members joined the team. I scanned through the resumes of all management and board of directors team members, and was very impressed. I urge you to do the same. Remember, management is the most important value driver, especially in the territory of intellectual property management.
Cybersecurity is a very large market
The total addressable market of cybersecurity is projected to be $19 billion as of now and will grow to $23 billion by 2017. Finjan's patents cover a significant part of this market, but even if only 5% will be licensed, Finjan could generate about $1.2 billion in annual revenue, if not more. if one conservatively applies a price/sales ratio of just 1, that would mean a $60 share price.
The company's total valuation currently stands at a mere $100 million, so it goes to show how extremely undervalued Finjan is today.
The very smart money is long Finjan
You probably have heard about the term 'smart money', institutions that are long a certain stock, which investors could interpret as a bullish indicator, because institutions are considered to more knowledgeable than individual investors. Well, in the case of Finjan, it gets even better. The very smart money is invested in this company, like the investment managers at Microsoft, Cisco, and Seeking Alpha's own Michael Eisenberg. These guys are top of the bill, and are known for performing some very thorough due diligence. Basically, if they are invested at such low levels, why wouldn't you?
NASDAQ uplisting will bring in large institutional buyers
Institutions have wanted to buy Finjan ever since the $145 million in settlements, but were restricted from doing so because of the OTC status of the stock. Once the uplisting to the NASDAQ occurs, the buying restriction will be a thing of the past, and the large pent-up demand should have a major impact on the share price. Keep in mind that institutions typically need to buy millions in shares rather than thousands, so I expect many more buyers than sellers, thus driving the share price tremendously.
Low float could amplify the share price appreciation
Finjan is a typical low float stock with a low average daily volume. Here's the interesting part: with a low float stock like Finjan, the share price could swing dramatically with very little buying or selling. For instance, analyze the trading pattern of last month and you will see that with just a few thousand shares changing hands on a day to day basis, the share price dropped 40%. From what I can determine, the selling pressure has now dried up, and the moment buyers step in, we could see the share price from $5 to $20 in short order, because I expect the buying to far exceed the recent little selling.
Clean share structure
Finjan has a very clean share structure; there are no warrants or any toxic dilutive notes that could cap the share price, which are so common with other IP stocks. This element is very beneficial to shareholders.
Finjan's sound financials limit downside risk
Finjan has $25 million in cash, no debt and a low burn. This provides little downside risk for investors, unusual for IP companies.
All Finjan patents have been created in-house
All Finjan patents were created in-house, which gives the company distinct advantage over other IP firms because in-house patents eliminate the risk of government control.
This is another element which greatly reduces risks for shareholders. Also, Finjan continues to add in-house key patents to its intellectual property.
Shares are trading at strong technical bottom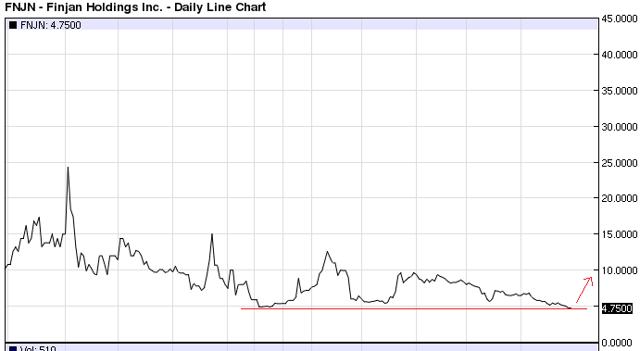 Above 1-year graph clearly shows shares are currently trading at rock-bottom levels, creating a very favorably entry point.
Conclusion
It all comes down to this: Finjan is an amazing investment opportunity, and there is a lot to the story. Today's low $5 share price makes no sense whatsoever, and I believe a fairer valuation is $20. If management continues to execute well, shares could hit $40 within a year. Do your own due diligence, and you will also find out how undervalued Finjan is today.
For full disclosure and disclaimer information click here
Disclosure: I am long FNJN.