I recently discovered that both Apple (NASDAQ:AAPL) and Microsoft (NASDAQ:MSFT) are heavily invested in a virtually unknown IP entity called Spherix (NASDAQ:SPEX), and that they have all the incentives in the world to make this company a success story. I spoke with a lot of investors and surprisingly, nobody even knew Apple and Microsoft are involved. I also spoke with Spherix's CEO on the phone, which strengthened my belief Spherix is at current levels deeply undervalued. Spherix is misunderstood and, unlike many IP plays, has a listing on the NASDAQ. There's a lot to the story; this article elaborates on Spherix's business, explains why today's share price is so low, and why Spherix could be soon trading much higher.
What is Spherix?
Spherix is a new intellectual property company that owns patented and unpatented intellectual properties in the following fast-growing and widely used technologies:
Wireless communications (Wi-Fi, antenna technology)
Telecommunication technology (data, optical and voice technology, base station functionality, and cellular)
artificial sweetener
prescription refill technology
Spherix's patent portfolio
Spherix has expanded its patent portfolio to over 300 patents, by making two large acquisitions:
The North-South patents
Spherix decided to acquire North-South Holdings, a similar intellectual property company, in its entirety in April 2013. The merger was finalized in September 2013. With it came 222 patents, principally developed by inventors at Harris Corp, a leading firm in wireless communications and equipment and a $6 billion defense contractor. The Harris portfolio has applicability in law enforcement communications, military and homeland security, satellite communications, portable electronics, Wi-Fi, microwave and cellular transmission, and solar concentrator technologies. Additional North-South patents cover automated pharmacy ordering practices.
The Nortel patents
2 months after Spherix merged with North-South, the company acquired a large patent portfolio from 'the Rockstar Consortium'. The patents cover virtually all telecom and high tech services and devices. Rockstar Consortium was the winner of a $4.3 billion bid of the Nortel auction in 2011, when Nortel was amidst a bankruptcy. It is widely believed the patents Rockstar bought on the cheap are of great value, because these patents have proven its value (in use) at Nortel.
Apple and Microsoft are invested in Spherix
So here's the really interesting factor many investors aren't even aware of: Apple and Microsoft are in effect Spherix's biggest shareholders. What's the case? Unknown to many, the Rockstar Consortium was founded by Apple and Microsoft. Also, Sony, Ericsson and other blue chip companies are owners of Rockstar. Through the Rockstar Consortium entity both Apple and Microsoft are, besides their known business, operating as one of the biggest and most feared IP litigation businesses in the world, and decided to expand this business by investing in Spherix.
Here's another interesting factor: by transferring a large amount of the famous Nortel patents to Spherix, and by implementing specific financial incentives in the deal, Apple and Microsoft have all the incentives to make Spherix a success story. You can imagine the level of due diligence specialists at Apple and Microsoft have undertaken, before they decided to make an investment in Spherix and transfer the Nortel patents. In shareholder terms, Apple and Microsoft would not benefit longer term on this deal, if shares of Spherix would be trading below a much higher level than today's price level.
On top of that, most investors I talked to, also didn't realize how extremely valuable the Nortel patents are, and what the potential litigation value is. The Rockstar consortium paid $4.3 billion in cash for over 4000 validated patents, and common sense tells us they wouldn't make such an investment if they didn't think the actual value is much higher. It would not surprise me if Apple and Microsoft, through Rockstar, decide to transfer more Nortel patents to Spherix, which could greatly increase Spherix's valuation on the market.
Spherix's pending lawsuits
Spherix has already 6 lawsuits pending, here's an overview:
Number 1: Against T-mobile.
On August 5th, 2013, a case was filed against T-Mobile. This lawsuit claims infringement by T-Mobile of United States Patent No. 5,719,584 entitled "System and Method for Determining the Geolocation of a Transmitter". The technology relates to the geolocation of cells phones on the T-Mobile cell phone network. It's now almost a year later, and a Markman hearing shouldn't be far off. Remember, Markman hearings are known to act as substantial positive catalysts for the share price. Even the announcement when exactly the hearing will take place could, in this case, drive Spherix's share price much higher.
Number 2: Against VTech Communications.
On September 3th, 2013, a case was filed against VTech. The patents included in the lawsuit cover many cordless telephones, including patents dating to 1993. VTech claims to be the world's largest cordless telephone producer. VTech is reported to have over $2.6 billion of revenues during the claimed infringement period.
Spherix's management noted:
"As referenced in the complaint, VTech's overall revenue for North America has risen 20% since Nortel's bankruptcy filing in 2009. According to our engineers and the prior Nortel engineers that we relied on to review the products, many of VTech's own patents cite our technology yet VTech has failed to recognize the important patents on which its core products rely by seeking a license. Instead, VTech has elected to disregard these patents entirely. We intend to seek recompense for the significant investment made by Nortel in developing these important inventions and intend to try these cases to conclusion."
Number 3: Against Uniden.
On September 9th, 2013, a case was filed against Uniden. Uniden is a Japanese company with cordless phone manufacturing facilities in China and Vietnam. Uniden revenues from cordless phones in the U.S. alone were approximately $100 million in 2013. From 2007 to the present, Uniden's estimated U.S. revenue from cordless phones believed to infringe one or more claims of one or more of the Spherix patents exceeds $785 million. The lawsuit goes on to note that Uniden has stated that one of its key business goals is to "Dominate North American market with marketing power."
Number 4: Against AT&T.
On December 6th, 2013, a case was filed against AT&T. It concerns the infringement of Patent No. 5,719,584 entitled "System and Method for Determining the Geolocation of a Transmitter." This is the second suit by Spherix or its subsidiaries on this patent, the first one was filed against T-Mobile. AT&T's 2013 annual revenue was $128 billion.
Anthony Hayes, Spherix CEO, stated:
"Use of Spherix's intellectual property without a license is unjust and we are committed to protecting the rights afforded under the United States Constitution. The inventor of the '584 patent is working with Spherix to help protect this technology. When we initially filed suit against T-Mobile on this patent, we advised that we were continuing to evaluate other potential infringers. With the filing of this suit against AT&T, we are executing on our previous statement. We will continue to evaluate and identify whether other carriers are utilizing our technologies without license."
Number 5: Against Cisco.
On March 26th, 2014, a case was filed against Cisco. According to Spherix, the infringement accounted for a "vast majority" of Cisco's more than $43 billion in sales of routers and switches in the United States over the five years ended July 27, 2013. Spherix contends that the scope of Cisco's infringement of the asserted patents has been and continues to be immense. Suppose management is right, 75% of $43 billion makes $32 billion. Apply a moderate 3% royalty rate, and you have a gross $1 billion claim. Of course, management is (always) optimistic, but it does show how big this case is.
Number 6: Against Juniper
On May 5th, 2014, a case was filed against Juniper. The complaint alleges that for Juniper's fiscal year ending December 31, 2013, Juniper had revenues of over $2.24 billion from routers, $638 million from switches and more than $790 million from services. Similar revenues were reported for Juniper's 2011 and 2012 fiscal years. The complaint goes on to allege that the majority of Juniper's revenue from at least January 1, 2011 until the present is and has been generated by products and services implementing technology that infringes the asserted patents. Apply the same calculus as with Cisco, and you have a gross $225 million claim.
Near-term catalyst could send shares substantially higher
There is a near-term catalyst that could push Spherix's share price to a much higher level, and that is the Markman hearing scheduled for October 2nd this year for both the VTech and the Uniden case. The investors I spoke with that didn't know Apple and Microsoft are the biggest shareholders also were not aware of this catalyst. These cases are big; the numbers add up to a $1 billion in willful infringement.
What's the total value of these lawsuits?
Given the size and scope of the companies being sued, and the value of the patents respectively, the total value of the claims is in the billions of dollars. For such a small company as Spherix - $30 million fully diluted - any success of any lawsuit could immediately translate into a shareholder bonanza.
But not many specific details have been given yet, nor are the lawsuits progressed to such a degree that there is public information out there informing investors about any specific potential rewards. I do know one thing for a fact: Spherix is very active in filing patent lawsuits, and has pledged to continue filing more. The potential numbers of infringers is large, given the widespread and worldwide use of the patents, and sheer size of Spherix's patent portfolio.
And think of this: the fact that Spherix has multiple shots at goal, and probably will add more, de-risks the investment, as the future of this company does not completely depend on just 1 case, as is the case with Worlds (OTCQB:WDDD) for example or some biotech company with just 1 drug in development.
Spherix already obtained a quick settlement
Just weeks after the acquisition of North-South, the company announced its first settlement. That is very fast in the world of IP litigation and demonstrates the strength of the portfolio. It also shows that patent lawsuits do not necessarily have to end up in everlasting court cases. I could see similar settlements occurring later this year, given the breadth of the patent portfolio.
When will Spherix generate revenue from its lawsuits?
Nobody can foretell exactly Spherix will generate any significant revenue from its IP litigation. As mentioned before, Spherix's IP business started just a year ago. It is widely known that patent lawsuits can take a while to translate into cash revenue, assuming Spherix wins. But as mentioned, a quick settlement already occurred, although no specific revenue numbers were disclosed. It is not unlikely Spherix will land another settlement this year.
Spherix's other potential revenue streams
Out of a diversification purpose, Spherix launched 2 start-ups, to start generating revenue apart from its filed lawsuits. The first one is called Innovate21: a division that will offer start-ups throughout the world licenses on selected patents that the company owns in exchange for equity positions in the start-ups.
CEO, Anthony Hayes stated:
"Through our Innovate21 program we are truly bridging the gap between the intellectual property holder and technology start-ups bringing new and exciting technologies to market. Innovate21 stands for Innovation in the 21st Century and we here at Spherix truly believe this is a win-win situation for both our company and the new partners we will help. Our IP which consist of over 300 patent and patent applications is extremely strong and with its past history of innovation from the world famous Nortel Networks we hope to spur the next great product to market."
The second one is the Technology Advisory Board. This board helps to provide compensation to inventors of patent portfolios acquired by Spherix so that the inventors can share in proceeds related to the commercialization of their ideas and to provide advice, support, theories, techniques and improvements to the company's technologies and business model by leading IP professionals.
These start-ups probably won't generate any material revenue near-term, but probably will brand Spherix as a multi-diverse company and enhance its human capital.
The smart money is backing up Spherix
According to a recent SEC filing, Spherix is backed up by a diverse and impressive group consisting of both institutional as individual investors, besides Apple and Microsoft: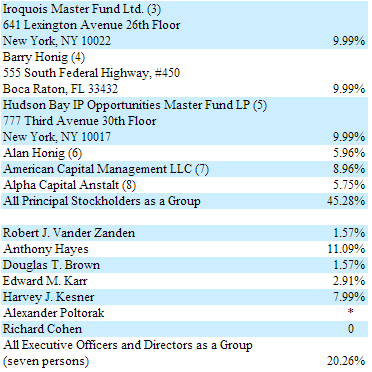 The fact that such a diverse group of smart money is backing up Spherix is telling, because it signals the company is there for the long haul. Interestingly, it also leaves a miniscule low float for the retail investor (like you and me).
Insider trading reports reveal insiders have purchased shares last month, and refrained from selling:

These are no significant amounts, but I do consider insider buying as an act of good faith, especially because the price they bought at is much higher than today's share price. This only adds up to the fact that the insiders already own a significant amount of shares.
Other element that signals the smart money is bullish on Spherix
There is one more element that convinces us the smart money is bullish on Spherix: the low short ratio.

Spherix's short ratio is just 5.70%. This is rare among IP stocks. Most IP stocks have high short ratios like Vringo (VRNG) with 30% and VirnetX (NYSEMKT:VHC) with 40%. Other examples are easy to find. What does it mean? In layman terms, it means the smart money did not short-sell because they don't think it's probable the share price will fall any further. In this case, the very opposite actually holds up: the smart money initiated significant long positions.
Our conference call with Spherix's CEO
Studying the resumes of Spherix's management team, I was especially impressed with Anthony Hayes, Spherix's CEO. This is a person who managed to deliver a multi-bagger return to Mango Capital's shareholders, a similar IP litigation company. The fact that he 'did the trick' before is a major buy signal. He knows exactly what to do, and has all the experience and knowledge on board to deliver the same return to Spherix's shareholders. Besides this Mango feat, he was a partner of a major law firm, and is a known figurehead in the world of IP management. I urge you to read this resume, and you'll be impressed too. Remember, quality management is a company's prime value driver, especially in this sector. So I decided to initiate a conference call with Anthony Hayes and managed to briefly speak with him. Here are some excerpts:
Q: Can you tell when Spherix will generate any material revenue?
Anthony Hayes: We don't do predictions, especially now we have only 6 pending lawsuits. It could be that as soon as we more lawsuits pending, we can make a prediction, but at this point it is too premature. Here's another good reason for not commenting; making a prediction could expose our litigation strategy, which we obviously don't want to have.
Q: So you expect to file more lawsuits?
Anthony Hayes: Yes, we do expect to file more lawsuits. But it's important to emphasize that we also are actively seeking ways to generate revenue other than suing companies. For example, we are pursuing to roll out a new licensing model, whereby companies can approach us to use our patents for their technology or products in exchange for cash, rather than we engage with them in a court room.
Q: Why is today's share price so low?
Anthony Hayes: I can't comment on the market action, but I do know that the company is nowadays much better positioned than 6 months ago, let alone a year ago. We have 6 lawsuits pending, a good balance sheet, etc, there is simply so much going for the company now. It's eventually up to the (potential) investors to connect the dots, and decipher the value of the company.
Q: What is Spherix worth today?
Anthony Hayes: I can't put an exact number on it, but as mentioned, I think if you would do a value proposition, you could see that we're sitting on something big.
Q: What are the near-term catalysts shareholders can expect?
Anthony Hayes: There is a Markman hearing scheduled for October 2nd this year against VTech and Uniden. And we expect to file more lawsuits.
- end of call -
Why are shares trading so low?
If you look at last year's share price action, you will see Spherix went from $4 to $27 in short order, to subsequently drop to just over $1 today, a multi-year low. That sure begs the question: what happened? Here's our take:
Number 1: The stock got overbought
A buzz raised a lot of awareness during the period July - September of last year. Besides many press releases, numerous bullish articles were published on this website, which is somewhat peculiar considering the company's micro-cap status. On other websites, Spherix was also plugged a lot. It did not take much to multiply the share price, given the extremely low float. At a certain point, Spherix got overbought, and investors began taking profit.
Number 2: Complicated share structure
The deals with North-South and Rockstar came with a heavy dilution to existing shareholders. Analyze the SEC filings, and you will also come to the conclusion that at the end of the day, Spherix effectively became the victim of its own share structure. Multiplication of the free float, convertibles and warrants exercises started to take a toll on the share price. But now the share structure is clean with 25 million shares fully diluted, which is low compared to many IP companies, and the remaining warrants have strike prices above $6 and $10.
Number 3: Capital raises
As a new IP play, Spherix had to resort to a few capital raises to finance its operations. This amplified the share price depreciation. Spherix's last capital raise was 1 month ago, at more than double today's share price, so I do not expect one in the short-term, which de-risks the trade.
Number 4: Stop-losses and margin calls
During the carnage, a lot of individual investors were either forced to sell their shares (stop-losses, margin calls) or sold voluntarily, by simply taking a loss. They probably either assumed the selling had anything to do with the underlying business, or they - risk management - wisely took steps to limit their losses.
It all comes down to this: Spherix is a classic example of a pendulum that has swung from extreme overvaluation to a level of extreme undervaluation.
Spherix's current financials
I estimate Spherix currently has $5 million in cash, no debt and a $500k monthly cash burn. Spherix is financially solid for a pre-revenue IP company, which limits the downside risk, especially if you consider the enormous litigation value of its 300+ large patent portfolio.
Comparison shows Spherix's undervaluation
There are other similar pre-revenue IP stocks valued much higher by the market:
MARA: $60 million
COPY: $72 million
ZMSPF: $60 million
Note that these are market valuations and may not represent the fully diluted values, which is in all cases much higher. Spherix is currently valued at just $10 million by the market, and $30 million fully diluted. But Spherix has some superior features over many of its peers:
Spherix is NASDAQ listed
Spherix has multiple patent lawsuits pending, unlike say MGT and WDDD.
Spherix already managed to land a settlement.
I believe Spherix has the brightest management team steering the company backed up by prestigious investors, with probably Marathon (NASDAQ:MARA) as a good second.
Spherix is the only pre-revenue IP play with a mix of blue chip investors that include Apple, Microsoft and Sony.
Spherix has a solid balance sheet, with 300+ patents, no debt and a good cash level. This can't be said of all IP stocks.
These superior features convince us Spherix is severely mis-priced, and actually should be trading at a premium compared to its peers, which is at least 2X today's share price.
Other factor that indicates Spherix is undervalued
The value of Spherix is in essence made up of its human capital, net cash and the expected litigation value of its patents. Let's estimate what these are worth. The cash value of its human capital is hard to estimate, so we put that at 0. Net cash is $5 million.
The book value of the patents is about $400 million, since almost 10% (of $4.3 billion) of all Nortel patents are now owned by Spherix. The potential litigation value is much higher, because all patents are validated back in the days at Harris Corporation and Nortel, cover widespread technologies, and there are dozens of willful infringers. It all sums up to a $405 million total valuation. Spherix is with its $30 million fully diluted valuation clearly trading at a massive discount. I do argue there should be some discount because it is not certain yet Spherix will generate any material revenue, and the company is still burning cash, but in my view the discount has reached an irrational high level, which leaves Spherix severely undervalued today.
Extremely low float could amplify the share price appreciation
In the same way the low float, less than 2 million, amplified the share price depreciation, the opposite scenario could unfold when significant buying start taking place, as investors have witnessed before during last year's run-up to $27. I expect that when Wall Street realizes the level of undervaluation, the lack of shares available will amplify the share price appreciation.
Shares appear to have finally bottomed out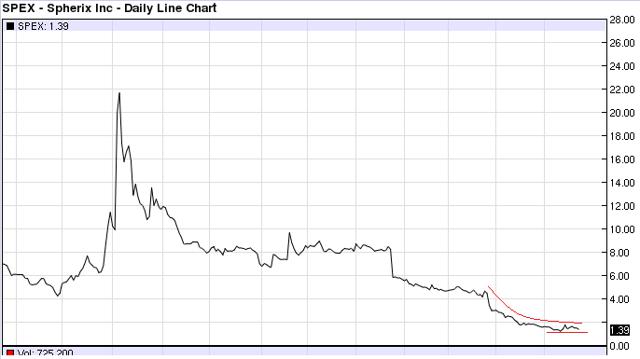 From a technical and price pattern perspective, shares appear to have finally bottomed out. The share price trading sideways indicate the bottom has been reached, creating a very favourable entry point. The decrease in volatility also limits the trading risk.
Summary: why I initiated a long position in Spherix
Spherix is one of the most promising IP plays I have ever analyzed. Here's an overview of why I bought shares:
Number 1: Apple and Microsoft are invested in Spherix. These companies have the best specialists working for them, and their level of due diligence is unbelievably high.
Number 2: Spherix has other prestigious investors backing up the company, and they wouldn't have invested if they didn't think highly of management and the 300+ patent portfolio. Keep in mind that all backers have strong financial incentives to make Spherix a successful multi-million dollar litigation company.
Number 3: Spherix's management, and especially the CEO, are among the best and brightest in the territory of IP investments. We are confident they possess all the skills and knowledge necessary to create significant shareholder value.
Number 4: Spherix has already 6 patent lawsuits pending, and I expect more lawsuits to be filed later this year, considering the breadth of its patent portfolio and the speed at which they operate.
Number 5: The potential litigation value of the patents, especially the famous Nortel patents, is enormous. If management is able to monetize those patents successfully, and I expect they will, shareholders will be rewarded tremendously.
Number 6: In just a few months from now a consolidated Markman hearing is scheduled against Uniden and VTech. This near-term catalyst could drive shares significantly higher.
Number 7: Spherix has a clean balance sheet, with no debt, 300+ valuable patents and a good cash hoard. This severely limits short-term dilution risk.
Number 8: Given the story so far, the company's fully diluted $30 million valuation appears to be irrationally low. Similar companies are valued much higher. I expect that when Wall Street realizes the extreme mis-pricing, the share price could soon be trading at $3 and above.
Number 9: Shares are technically bottoming out, and the volatility has decreased; a great entry point, from a technical/price pattern perspective.
What's the risk?
This company faces specific risks, and investors should bear in mind the next:
I don't know exactly when any material revenue will be generated. A settlement already occurred, but the specifics weren't disclosed.
A new capital raise could occur later this year, if Spherix does not manage to generate material revenue in a non-dilutive way (settlement, partnership, etc).
Court delays could occur. That goes with the territory with IP investments.
The low float could amplify the stock's volatility. This is a trading risk.
Spherix could lose some lawsuits, which obviously would have a negative impact on the share price.
Any change in federal law could negatively alter the perception investors and financiers have regarding IP litigation, whether the change has a real effect on pending lawsuits or not (google 'the Shield Act'). This risk is somewhat mitigated as news came out recently that any patent reform by the federal government has been delayed.
Read the SEC filed risks here.
Conclusion
Unknown to many, Apple and Microsoft are heavily invested in Spherix. Furthermore, Spherix is led by one of the best management teams in the territory of IP litigation. Their patent portfolio is vast, valuable and contains a good portion of the famous $4.3 billion Nortel patent portfolio. I like the fact that Spherix has already proven the value of its patents by obtaining 1 settlement and successfully filing 6 big lawsuits. Now the share structure and balance sheet are clean, and shares clearly trading at a technical bottom, which all increases downside protection, Spherix offers investors the ideal investment opportunity: limited downside risk, tremendous upside potential.
Disclosure: I am long SPEX.