I discovered a next-generation medical device company that is completely off Wall Street's radar, but in fact is gaining prominence in the medical community by having developed an unique medical technology that could be the standard of care during cardiovascular surgeries: Kips Bay Medical (NASDAQ:KIPS). Many medical experts believe this next-generation technology is the key to improving outcomes of cardiovascular surgeries. The experts I spoke with informed me they are very interested in adopting Kips Bay's technology. The market for surgical devices used for cardiovascular surgery is projected to reach $48 billion next year, yet Kips Bay Medical is valued at just $15 million. This is a similar level of irrational undervaluation as was seen with IsoRay (NYSEMKT:ISR), before my analysis hit the wires and shares multiplied in value. I believe Kips Bay Medical has all the hallmarks of a similar scenario, thus presenting investors a highly asymmetrical risk vs. reward investment opportunity.
What is Kips Bay Medical?
Kips Bay Medical is a medical device company that is developing the next-generation vein support technology called 'eSVS MESH' used in coronary artery bypass grafting - CABG - surgery. The goal of the company is to become a standard of care during CABG surgery. The eSVS MESH technology is marketed through independent distributors in selected markets. Kips Bay Medical is listed on the NASDAQ exchange.
The science
The eSVS MESH is designed to improve the long-term outcome of CABG procedures by addressing limitations of unsupported saphenous veins. The eSVS MESH is fitted like a sleeve on the outside of a saphenous vein graft to strengthen the vein and to give that vein graft the physiological attributes of an artery. Click here for an example picture of the 'sleeve'. In layman terms, CABG surgeries go basically like this: surgeons take segments of healthy blood vessels from other parts of the body, and use them to create detours around blocked coronary arteries, enabling blood and oxygen to flow freely again to the heart muscle. On average, patients require two to three bypasses per CABG surgery. Surgeons typically use the hardy internal artery from the chest wall to fashion one of those bypasses, and then harvest large saphenous veins from the legs for the others. The artery graft generally works very well. The outlook for the saphenous vein grafts is not so rosy: Almost 50 percent clog up and fail within a few years. It's like trying to connect a fire hose to a garden hose. But more importantly, the saphenous vein does not have the muscular structure of an artery, so when you put it under the high pressure of the heart, it could blow up easily.
Here's why Kips Bay's eSVS MESH should be adopted:
Number 1: The structural support from the eSVS MESH sleeve is designed to inhibit vessel expansion and resulting damage to the vessel. This should prevent a thickening of the vessel wall over time, or hyperplasia, and resulting graft failure.
Number 2: Radial constriction designed to cause the diameter of the graft, or lumen, to be consistent in size and more closely match the diameter of the target coronary artery thereby increasing blood flow velocities, reducing the potential for clot formation and inhibiting hyperplasia.
Number 3: The eSVS MESH is compatible with current CABG procedures including on-pump or off-pump procedures, and open or endoscopic saphenous vein harvest methods.
Number 4: The surgical steps to use a saphenous vein graft with the eSVS MESH are the same as would be performed for any coronary artery bypass procedure utilizing unsupported SVGs.
Manuel Villafaña, CEO, interestingly stated:
"…That is to say, if we take a look at the vein at nine months with the MESH, compared to a two or three-year image now with the MESH, we saw no difference, indicating that we saw no hyperplasia, no change in the performance. This is of course, very, very encouraging. Now to make it more interesting, we are now working towards additional follow-up angiograms for these patients, so that we can look at their graphs at five to six years after their bypass surgery. And again, if we see no changes, you'll find the baseball outside Fenway Park over the big green wall. So it will definitely be a homerun for us…"
It's a bit of a technical story if you read this for the first time, but when you dig deeper into the science, read the transcripts, etc, you will probably realize that Kips Bay Medical is sitting on something big. What I like about this technology is the fact that it is actually a pretty simple concept, that could be homerun because of the relative simplicity.
Kips Bay Medical is addressing a major problem
Today an estimated 82 million Americans suffer from 1 or more types of cardiovascular disease (NYSE:CVD) and it is the cause of 1 out of every 6 deaths in the US. And every year, well over 250,000 Americans undergo CABG surgery to mitigate its effects. The total economic burden of CVD is staggering, exceeding $286.6 billion in the US. In 27 member states of the European Union the burden of CVD is also significant as it remains the main cause of death, contributing to over 2.0 million deaths each year. The death rates are generally higher in Central and Eastern Europe. The total cost of CVD to the EU economy is estimated at €192 billion a year. The same goes for regions outside the USA and EU.
These numbers are mind-boggling, and emphasize the urgent need for improving the outcomes of CABG surgery.
4 near-term catalysts
There are a couple of important near-term catalysts that could send shares substantially higher. Here's an overview:
Number 1: Wall Street has yet to discover this stock
At this stage, virtually no investor even knows this company exists. There has been no Seeking Alpha article, and I could not find any research reports on other websites. Stock market history has shown that money can be made by investing in an undervalued and unknown stock before the general investment community jumps on board. In other words, when Wall Street becomes aware of Kips Bay Medical's potential, and realizes the level of undervaluation, shares could surge quickly and substantially.
Number 2: Next stage FDA approval
Kips Bay Medical is currently conducting a clinical feasibility trial which should be concluded later this year. The FDA recently granted an expanded approval allowing Kips Bay to enroll more US patients and add more US study sites in this eMESH I clinical feasibility trial. In its prior approval, the FDA indicated that it would allow the enrollment of 15 patients at up to 4 sites in the United States. With this expanded approval, the FDA has now increased the allowed number of U.S. patients from 15 to 27 and increased the allowed number of U.S. sites from 4 to 10. The FDA has also approved a combination of changes in the application of the eSVS MESH to the saphenous vein graft, or SVG, and to the surgical implant technique for the eSVS MESH treated graft. In addition, Kips Bay believes these changes will simply the process of applying and implanting the eSVS MESH thereby reducing procedural costs.
Overall, Kips Bay expects to enroll up to 120 patients at 10 international and 10 US sites. I expect Q4 this year to mark the end of the feasibility trial, and the beginning of the filing of a request for an investigational device exemption (NYSE:IDE) to perform a larger pivotal study, that is planned to commence in 2015. The pivotal study is required to demonstrate clinical effectiveness and support a request for final FDA approval to sell the eSVS MESH in the United States. Obviously, obtaining this final FDA approval is the goal that opens the door for commercialisation.
Number 3: CE Mark renewal
The company is also in the process of requesting an updated CE Mark approval for the new implant technique approved by the FDA in March 2014. This updated CE Mark approval is required in order for the European sites to enroll patients using the new implant technique. One additional international site has received its ethics committee approval and is in the process of finalizing its clinical trial agreement in order to begin enrollment. According to the CEO, the company is close to obtaining the updated approval. I expect this to happen within 3 months.
A valid CE mark is important, because it allows Kips Bay Medical to sell its product in 31 European countries. Similar to the FDA, this extension greatly enhances revenue potential and increases the company's valuation.
Number 4: Patent approval
As of March 1, 2014, Kips Bay Medical has twelve issued patents covering the eSVS MESH, including five issued in the United States, two each issued in Japan, South Africa, Canada and one European patent. The European patent has been validated and is enforceable in eight European countries. In addition, there are currently three patent applications pending in the United States, including one for which a notice of allowance was made public in February 2014, and five patent applications pending in countries outside the United States. I expect one or more of these pending patents to be validated later this year, which should boost the company's valuation.
First eSVS MESH commercial implants performed successfully
The company has recently successfully applied the eSVS MESH technology in the operating room, both in Austria and Poland. Dr. Grzegorz Suwalski MD PhD, Poland, commented:
"I was very pleased with how easily the eSVS MESH was applied to the vein graft and I believe that the eSVS MESH technology represents a new tool for cardiac surgeons that has the potential to significantly improve the long-term outcomes for cardiac bypass surgery patients."
Dr. Lyle Joyce, a cardiothoracic surgeon from the Mayo Clinic in Rochester that bears no relationship with Kips Bay Medical, stated:
''...The eSVS MESH is unique. To my knowledge, there is nobody who is working on that particular concept. It seemed an external support would not necessarily be the same as having the internal biological makeup of an artery versus a vein. But as Villafaña - the CEO - has presented specimens and studies to surgeons at various meetings, I must admit, I'm very surprised and quite impressed...."
I believe this is just the beginning. Kips Bay Medical has planned more commercial implants and demonstrations, in alignment with the feasibility trials.
Virtually no competition
According to the CEO, Kips Bay Medical's technology is treading in unchartered territory. He stated that if this company was developing a new pacemaker or new heart valve, it would be going against really tough terrain, with 10 to 30 competitors. But the eSVS MESH is absolutely brand new.
I could only find 1 other company that appears to be potential competitor: Vascular Graft Solutions (NASDAQ:VASC). This Israeli company is developing a product called the VEST expandable external support system which is designed to reduce vein graft failures in CABG surgery. Vascular Graft Solutions concluded patient enrollment in its first in-human trial at three centers in the United Kingdom. But the results of this study are at this point not known nor did Vascular Graft Solutions commence any sales activities yet.
So it seems Kips Bay Medical is addressing a multi-billion dollar market with only 1 (in)direct potential competitor in its rear view. This is a very important factor, because it leaves a wide open space for the eSVS MESH, that should enable the company to capture a sizeable market share.
What is Kips Bay Medical worth today?
The best way to assess what Kips Bay Medical is worth is to take a look at comparable (pre-FDA approval) medical device companies:
Atossa (NASDAQ:ATOS): $40 million valuation
Cardica (CRDC): $100 million valuation
Harvard Apparatus (HART): $75 million valuation
Kips Bay Medical (KIPS): $15 million valuation
This comparison shows how undervalued Kips Bay Medical is, especially if you consider eSVS MESH's huge market potential. Based upon this comparison, I believe Kips Bay Medical should be valued at a minimum $50 million today, which equates to a $1.50 share price.
How much could Kips Bay Medical be worth?
Once Kips Bay Medical has approval to sell its product, what could Kips Bay Medical be worth? Worldwide, about 800k coronary bypass procedures are done annually, requiring on average 3 vein grafts each. That makes an annual 2.4 million units market potential. I estimate a $200 revenue per each unit, based upon the latest financial statements and a phone call to the company, which sums up to a total annual revenue of $500 million. Also, the eSVS MESH technology could also be used other parts of the body (apart from the heart), which are large markets as well. This amplifies the revenue potential.
Due to the lack of competition, Kips Bay Medical could capture a sizeable market share; let's say an annual $200 million revenue is reasonable. Companies in the medical devices industry trade on a price/sales ratio of 3 on average. An annual $200 million revenue would then equate to a $600 million market capitalization, significantly higher than today's $15 million valuation.
Here's what I like about this story: because no market share is currently priced in the stock, even a small market share could reward shareholders tremendously.
Another way to determine the potential valuation is to look how some medical devices companies, that already have FDA approval and/or a renewed CE Mark, are valued:
IsoRay (ISR): $140 million, no material revenue.
Unilife (NASDAQ:UNIS): $310 million, no material revenue
Vascular Graft Solutions (VASC): $360 million, material revenue with their other medical devices.
TearLab (NASDAQ:TEAR): $150 million, low revenue.
If Kips Bay Medical obtains both an FDA approval and an updated CE Mark, and if it would be valued similarly, its valuation should rise well above $100 million, which equates to a $4 share price minimum. This scenario could unfold as early as next year, and underlines the stock's big upside potential.
Kips Bay Medical's CEO is highly successful
CEO Manuel Villafaña has more than 37 years of experience in the medical sector. He founded the following companies:
Cardiac Pacemakers, served as its President and Chairman from 1972 to 1976.
Co-Founded GV Medical to develop, manufacture and market the LASTAC System. He served as the Chairman of the Board of CABG Medical since January 2001; GV Medical from 1983 to 1987; and ATS Medical from 1987 to May 2004.
Jude Medical and served as its Chairman and President from 1976 to 1982.
ATS Medical and served as its Chief Executive Officer from 1987 to 2001.
Kips Bay Medical in 2007.
He turned all these companies into successful multi-million dollar enterprises, and I believe his capabilities, experience and knowledge should make Kips Bay Medical a success story as well.
His feats were recognized as he has received numerous awards and honours for his accomplishments, including the "Living Legend of Medicine" award from the International Society of Cardiothoracic Surgeons and the Ellis Island Medal of Honour.
World renowned heart surgeon joins Kips Bay Medical
A couple of weeks ago, the company announced Lawrence H. Cohn, M.D. has been engaged as a consultant to provide medical advisory services. His resume is nothing short but amazing. Here are some excerpts: Dr. Cohn has been a professor of surgery at Harvard Medical School since 1980 and in 2000 was awarded the first endowed Chair in Cardiac Surgery. He has performed over 10000 cardiac surgical operations and is a world-renowned expert in the field of valve repair and replacement surgery and minimally invasive heart valve surgery. He has published over 440 original scientific articles, 105 book chapters and 12 text books, and these books are the most referenced in adult cardiac surgery today.
CEO Manny Villafaña stated:
"We're excited to have such an accomplished and distinguished heart surgeon join our team as an advisor who can help us in the further development and promotion of our eSVS MESH for bypass surgery."
A very interesting development to say the least, that such a prominent figurehead and expert decided to join this company. Common sense tells me he wouldn't do this if he didn't believe in Kips Bay Medical's technological capabilities and likelihood this company will be a successful enterprise. On top of this, according to the CEO the feedback Kips Bay Medical receives from the medical community is extremely positive. This was confirmed by the medical experts I spoke with in the field.
Management is putting their money where their mouth is
The insider trading report reveals a pattern that I love to see: only buying, and no selling. Everybody knows insider buying is a bullish signal, but if insiders don't sell at all as well, that's even better.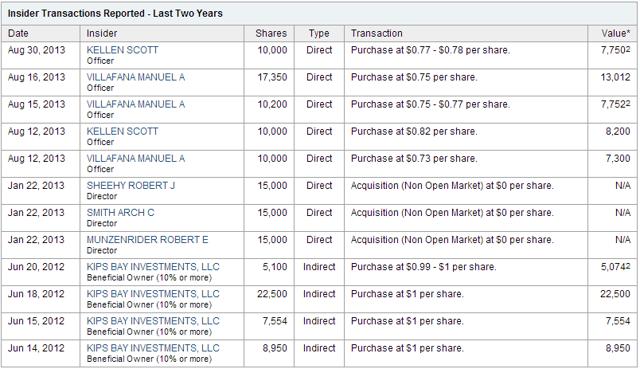 Most transactions were direct purchases in the open market. Here's another interesting factor; they bought at 70 and 80 cents, whereas we can buy at 40 cents.
Institutional investors already established positions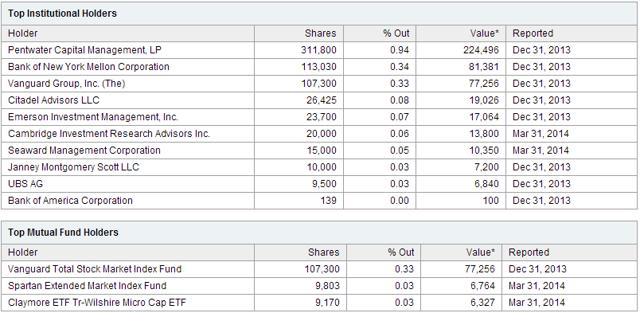 While most individual investors do not know this company even exists, it is quite remarkable that a vast number of institutional investors (smart money) are already long. This tells me two things: (a) these guys perform some very thorough diligence, especially in the territory of micro-caps, and they wouldn't be invested if they didn't think it's probable Kips Bay Medical will be a success story, and (b) it increases the likelihood more institutional investors will come on board and existing investors will expand their positions when Kips Bay Medical obtains more regulatory approvals. Limited supply and pent-up demand should drive shares much higher.
Akin to the insiders, these institutional investors established positions at prices much higher than today's levels.
Key financials
By my analysis, the company currently has $4 million in cash, $2.5 million short-term investments, no debt and a $400k monthly burn. The company's financials are pretty solid for a developmental stage company.
Clean share structure
Let's analyze the share structure:
There is a limited number of classes of common shares being used for equity issuances and stock option grants. Pursuant to SEC rules, the company may only sell up to one-third of the market cap held by non-affiliate stockholders in any 12-month period. Current shares outstanding totals about 33 million, of which a good portion is owned by insiders and institutions. There are no separate voting or non-voting common-shares at play.
There are only a few shareholders - the insiders - holding stock options.
Management has implemented a stock option plan that provides potential financial advantage to all key employees who continue to work with the business to build shareholder value.
There are rules in place that force the company to obtain shareholder approval to issue new investor shares in exchange for cash investment, nor to obtain amendments to any legal documents or the capital structure accordingly.
The float is only $20 million.
The share structure does not have toxic convertible notes or warrant overhead that is very common in this type of companies.
The share structure appears to be very clean. Obviously, this is beneficial to shareholders, as it de-risks the investment.
Why Kips Bay Medical is such an ideal trade
Kips Bay Medical is such an ideal trade, because due to the extreme undervaluation, the stock is hard-pressed to trade even lower. If you back out the cash, the company's enterprise value is a mere $10 million. This is ridiculously low considering all the facts and figures so far. The upside - the flip side of the coin - is huge though, making the trade highly asymmetrical. I hold the view that the best way for individual investors to consistently outperform the market is to buy virtually unknown stocks like Kips Bay Medical at extremely low valuation levels, and subsequently lock in (big) profits when the risk vs. reward becomes neutral or even unfavourable.
Chart indicates excellent entry point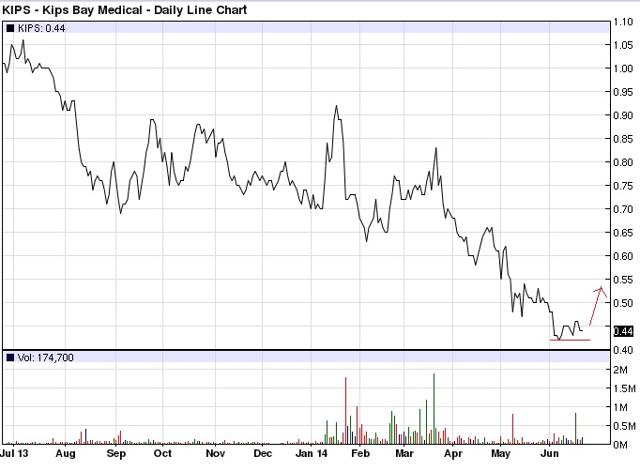 Risks involved
Even the most undervalued stocks have risks, and so has Kips Bay Medical:
- A primary risk is any delay in the roll-out of its trials. Clinical trial delays are not uncommon in the medical devices landscape, and I have no idea of knowing whether Kips Bay Medical will experience delays.
- As long as Kips Bay Medical keeps incurring losses, management may be forced to dilute shares, although the company currently has a solid cash balance. I don't anticipate any near-term financing. If the share price would go beyond $1.50, management could be wise to initiate a financing, however investors who got in today will have realized substantial profits by that point.
- Although the clinical trial results have been very positive thus far, I have no idea of predicting the outcome of current trials.
- Although eSVS MESH has no real competition at this stage, potential competitors could create a competitive landscape in the longer term.
- The company probably won't report a significant profit and/or material revenue in the near future. The developmental status adds to the riskiness of the stock, although the extreme undervaluation increases downside protection.
You can read all SEC filed risks here.
Conclusion
Kips Bay Medical provides investors a rare and highly asymmetrical opportunity to invest in the most advanced and unique medical technology used in CABG surgery, a $48 billion market. This NASDAQ stock has all the features for a great trade:
- Undiscovered
- Extreme undervaluation
- Numerous near-term catalysts
- Impressive management
- Novel product
- Virtually free of competition
- Multi-billion addressable market
- Obvious medical need for their product
- Multi-year low share price
Developments so far indicate Kips Bay Medical's science will prevail and could become the standard of care. In shareholders terms, there is a high probability the company's valuation will be multiple of today's low $15 million. Investors who buy at today's level are thus likely to realize significant gains.
For full disclosure and disclaimer information click here
To join my free stock pick alert service click here
Disclosure: The author is long KIPS.