Security related small cap stocks shot into orbit lately. With good reason, because the federal, state and municipal governments are much keener now on beefing up equipment, and enhancing the technological capabilities of their security related departments, like law enforcement. There seems to be a paradigm shift taking place. Small cap companies offering niche technology and products in this space, like Digital Ally (NASDAQ:DGLY) and Image Sensing Systems (NASDAQ:ISNS), rose up to 10X. But then again, some of these stocks were valued at a bare minimum, as low as $10 million, so 1 order from a homeland security agency for example can have a very high impact on the share price. That's the appeal of buying undervalued small cap stocks.
In case you missed those very profitable trades, here's another opportunity: I discovered a security related stock that is even valued less than Digital Ally and Image Sensing Systems were trading a month ago, but strangely didn't budge at all: Brekford Corporation (OTCQX:BFDI). With a miniscule $8 million market cap, this stock is completely off investor's radar screens. By my analysis, this one could perform as well as these other security stocks, so I would not be surprised if this stock shoots into orbit as well.
What's more, this company is already generating $14 million in revenue, yet is valued at $8 million, in the hottest sector at the moment. This has to be one of the most mis-priced stocks I have ever seen.
Just for your information, I had an article approved on Image Sensing Systems last week when it was trading at $2, and was about to publish, but the stock suddenly doubled that very day, so I held the article back. That thesis is not valid anymore with the share price currently at $9, but it does show how powerful my stock picks on extremely undervalued small cap stocks can be.
About Brekford
Brekford was founded in Maryland and provides safety technology services in the United States for the homeland security agencies; federal, state, and municipal law enforcement agencies, and municipalities. The company provides a whole range of security related products like bumper-to-bumper vehicle modification, automated traffic enforcement products, road safety camera programs, automatic traffic safety enforcement-photo speed, red light enforcement system, etc. The company also provides mobile data and digital video rugged information technology solutions.
Brekford has been completely overlooked amidst the security stocks surge
Whereas Digital Ally and Image Sensing Systems printed multi-bagger returns in investor's memories (gains up to 1000%), Brekford didn't move at all. Savvy investors know buying unknown stocks in a hot sector often delivers the best returns, as thus proven by Digital Ally and Image Sensing Systems. Brekford resembles my previous pick on Intellicheck Mobilisa (NYSEMKT:IDN), this security stock rose 400% in just 2 months after my research article got published.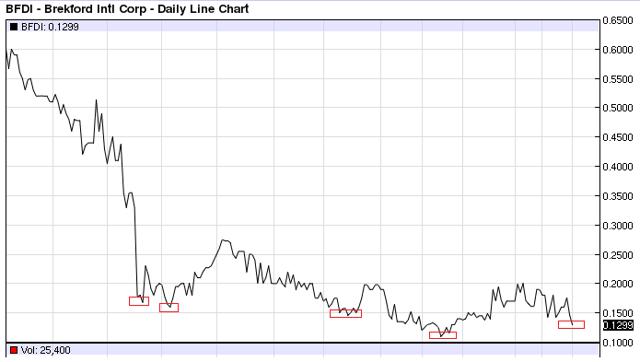 The chart shows Brekford seems to be flying completely under investor's radar screens. In fact, it's trading at technical lows. I think most people probably do not even know this company exists. This aspect often presents the best buying opportunities. I bought shares at this ridiculously low price level, because the downside risk appears to me as low, but the upside, on the contrary, enormous. A $0.19 stock could easily go to $1.00 within a week, if some serious buying volume springs up. Remember, Brekford has been trading near $1.00 in the past.
The market opportunity in security is enormous
As stated, there seems to be a paradigm shift taking place. The government has realized it's about time to seriously upgrade the security capabilities of the police departments, traffic sites and other similar government run departments, and with the tremendous improvement in the global economy, many government now have the funds to make large security related purchases. As a matter of fact, they are already placing orders. Of course, the incident (Ferguson) creating this urgency is regrettable and up for debate, but the business potential is real. And we are talking about the United States now, this country leads the world in so many ways, so one should not be surprised if other countries are to follow suit. The security sector is booming, and is already of massive size. According to Gartner, the worldwide market is expected to grow to more than $86 billion in 2016. As many sales managers would tell you, the US government is the most desirable customer in the world.
Brekford is on the cusp of massive growth
What I like about this trade is the miniscule market cap of Brekford. At just $8 million, it won't take much to multiply this stock. How likely is it that Brekford lands a new contract? Just a few months back, positive announcements validated Brekford's technology:
Number 1: Contract renewal in Maryland
2 months ago, Brekford was awarded contract renewals in its HQ vicinity of Maryland.
Rod Hillman, President of Brekford commented:
"…We are excited to be awarded multi-year contract extensions with an overwhelming majority of our clients," commented Rod Hillman, President and Chief Operating Officer of Brekford Corp. "This validates Brekford's commitment to superior customer service and integrity with respect to supporting critical public safety initiatives such as ATSE. It also demonstrates trust and satisfaction from our clients in terms of how we have historically serviced their programs…"
Number 2: Brekford has been selected as one of the very few qualified suppliers to the government
Brekford announced late June that it is now listed on the U.S. General Services Administration ("GSA") Schedule 23V. The Schedule 23V Category 190 07 is a list of only three vendors GSA has pre-authorized to provide federal agencies with vehicle up fitting services including electrical harnesses, lighting systems, storage devices, sirens, consoles, and radio systems. The purpose of the GSA Schedule 23V is to streamline the procurement process for government agencies, allowing them to obtain the up fitting services they need quickly and easily. Under the contract, which extends to June 1, 2019, federal, state, and local government agencies are now able to purchase Brekford services and products using pre-negotiated terms and prices. GSA contracts are awarded on a limited basis due to a rigorous vendor pre-qualification process that considers quality, efficiency, financial resources, and pricing factors.
The CEO stated:
"…Brekford has a long history of commitment and service in the public safety sector with government agencies. We are excited to expand our long-standing relationship with the GSA and look forward to significant growth for Brekford's vehicle services business during this long term contract…."
Number 3: New contract in Mexico
A week later, Brekford announced the signing of a multi-year contract with Grupo Canviso, a company that provides an array of driver licensing, driver education, vehicle registration, and ATSE services to municipalities in Mexico.
The CEO stated:
" ….We can't wait to get started with this momentous expansion, which has been in the planning stages for months. Brekford has already received excellent feedback from multiple municipalities regarding our technology and back end services, and we believe that Grupo Canviso is the perfect partner to lead the effort in Mexico…"
Based on these announcements alone, the valuation of Brekford should be much higher. But more importantly, these announcement could set the basis for wider expansion of their services. Contract renewals are a great validation of their products by the market, and now Brekford has been given the green light to sell to the government at all levels after successfully going through a rigorous qualification process, I believe it is more likely than not Brekford will land a large contract. Keep also in mind that Brekford is already generating material revenue for years ($14 million in 2013), so their technology is already widely proven in the market place.
Brekford is deeply undervalued by comparison
A good way to assess Brekford's current valuation is to use a price/sales multiple approach.
Here's an overview, including Digital Ally and Image Sensing Systems:
| | |
| --- | --- |
| Company | Price/sales |
| Image Sensing Systems | 1.62 |
| Digital Ally | 5.50 |
| Brekford | 0.55 |
This approach indicates Brekford is trading at a significant discount to those 2 companies. In reality, the discount is bigger, if you consider the contract renewals and expansion aren't administered in the books yet.
Brekford is also deeply undervalued in comparison to the industry average for scientific & technical instruments which has an average price/sales ratio of 1.60, and even more so for application software which has an average price/sales ratio of 4. Brekford is a mix of both (hardware and software) so if management executes well, a valuation based on a blended sales multiple of 2 should be more than reasonable to assume for fair valuation, equating to a 400% upside, or a $0.80 share price.
Given how hot the sector is today, this stock should even be trading at a premium, which makes my price target of $1.00 realistic.
Brekford is cash flow positive on an operational level
The next cash flow chart shows Brekford has been cash flow positive on an operational level for years now.

No operational cash burn, $1 million cash at the bank and a venture capital investment group backing them up, significantly limit the downside risk of the trade. I therefore believe dilution risk is minimal, certainly since the share price is trading at such a low level. Management has stated the company could turn profitable in Q4 this year.
Insiders are buying
Interestingly, the insiders never sold a single share, but did add shares from time to time, some at much higher prices than today's share price. The amounts are significant, given the miniscule $8 million market cap of Brekford. I regard this insider trading pattern as a vital part of the bull thesis.
Risk
Even the most undervalued stocks have risks, and so has Brekford. Ultimately, management has to execute. Brekford is still trading on the OTC board, so be aware of the risks associated with OTC stocks.
You can read the full SEC filing here.
Conclusion
Brekford is the ideal buying opportunity. This company is well financed, completely overlooked, already generating material revenue, undervalued by comparison and trading at technical lows. More importantly, several positive developments combined with how hot the security sector is nowadays substantially increase the likelihood they will be awarded new contracts by the government in the near future. Since Brekford's market valuation is so incredibly low, just $8 million, I hardly see any downside risk, but the upside is enormous, making an extremely compelling asymmetrical trade. Digital Ally and Image Sensing Systems have proven how big that upside is, and I believe Brekford could be next.
Click here for full disclosure and disclaimer information.
Click here to join my free stock pick alert service.
Disclosure: The author is long BFDI.