Article highlights:
Brekford is a very low-priced security technology pure play, one of Wall Street's hottest sectors.
Brekford's trailing annual revenue is $18 million, yet the market values this company at an exceedingly low $9 million.
Revenue growth is poised to accelerate this year and the CEO expects profitability as well. Once Wall Street catches on, shares will rise exponentially.
Two weeks ago, an insider scooped up 100000 (!) shares in the open market.
Shares are currently trading just above a strong historical bottom, providing an excellent entry point.
Full article:
I recently re-entered a long position in Brekford (OTCQX:BFDI). I have covered this company before, and within a few months shares rose from $0.16 to $0.49. People who subscribed at that time to my free mailing list got an opportunity to realize a major return.
In case you missed this call, I have some good news; a similar opportunity has arisen again, but this time it's even better. The share price has slid back to $0.23, but the fundamentals have improved dramatically. A recent offering strengthened the balance sheet, and several multiples indicate the stock is cheaper than ever. Adding weight to the bull case, an insider just scooped up 100000 shares in the open market, a clear signal how low this stock trades today. If my analysis will prove to be spot on again, shares could repeat its earlier 200% rally in the near future. Longer term, I see room for more share price appreciation if their strategy pans out.
Brekford is a rapidly growing company operating in a rapidly growing addressable market
Brekford is a security technology pure play; it provides fully integrated traffic safety solutions, parking enforcement citation collections and an end-to-end suite of technology equipment for public safety vehicle services. It recently launched a body-worn camera, one of the most sought-after security products by law enforcement. Go to their website to get the full picture.
Security technology is definitely one of the hottest sectors on Wall Street and rightfully so. This sector will remain hot the coming years; it is projected to grow 30% annually till 2019, growing from $1.5 billion to $5.8 billion! So this is definitely an area you want to be invested in.
Now there are not many pure plays out there in which you can park you cash and watch it grow. Brekford is my top pick. Why? Because it's clearly the most undervalued (and unknown) of the bunch. As of today, the price/sales multiple is only 0.50! Compare that to Digital Alley valued at 3 or Taser valued at 8. A growing company in an expanding market should warrant a higher multiple than just 0.50 don't you think? Buying overly cheap shares is a perfect recipe for superior returns. Brekford has a proved trackrecord of revenue growth, and I believe the best is yet to come.
5-year chart signals a buying opportunity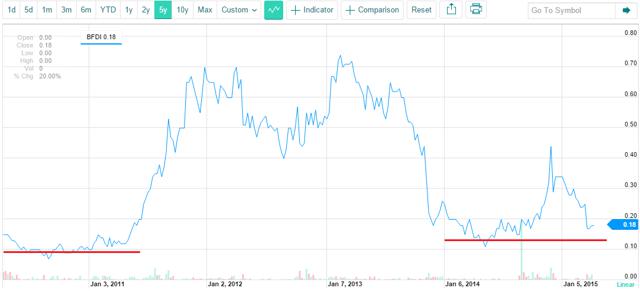 Revenue growth is poised to accelerate
Brekford has increased its revenue by 30% in 2014. That's a good start, but I think 2015 will be better, here's why:
In October, they obtained a contract signing for the City of Saltillo's first photo enforcement safety program. The three-year contract calls for the deployment of 210 speed and red light cameras throughout the City. Saltillo has a population of more than 700,000 residents and more than 200,000 registered vehicles. The revenue recognition will take place this quarter.
Early October, Brekford got a $1.4 million order from the Maryland Police Department. Again, revenue recognition will take place this quarter.
Brekford is in talks with other cities in the US which could lead to new orders.
The CEO told they are to expand their pipeline in Mexico with more than 15 cities considering their technology and services. Additionally they are actively looking at similar opportunities and partnerships in other countries as they are focused on international expansion.
The company has aggressively expanded its sales pipeline.
Half a year ago, Brekford was awarded contract renewals in its HQ vicinity of Maryland.
Brekford also announced the signing of a multi-year contract with Grupo Canviso, a company that provides an array of driver licensing, driver education, vehicle registration, and ATSE services to municipalities in Mexico.
Brekford has been selected as one of the very few qualified suppliers to the US government. This will simplify the process of obtaining new orders from the government.
This string of obviously positive press releases guarantee that revenue will grow this year. Then why is the stock still trading at a measly $9 million valuation? This company already generates $18 million in revenue, and most of it is recurring. Wall Street is completely unaware of Brekford.
As an investor, extreme undervaluation is fantastic for 2 reasons: It makes it very hard to see any downside risk, but more importantly, it enlarges the upside potential. Once this stock surges to fair valuation, and will continue to surge as it obtains more orders, today's shareholders will enjoy a very interesting return on their investment.
The CEO forecasts profitability this year
Strong revenue growth is always great, but what about profitability? So far, the company has in the past demonstrated it's capable of generating positive cash flows, but due to non-cash items and investments in R&D regarding the expansion strategy, a net loss was reported for 2014. C.B. Brechin, Brekford's CEO, stated in a recent press release:
"...Brekford has always been a leading provider of public safety and security solutions. We believe that efforts to control operating costs in 2014, with a significant commitment of resources to business development, will enable us to get back to sustained growth and profitability in 2015..."
As the CEO points out, Brekford is on the verge of profitability. The new contract wins will be administered in the books of Q2 and Q3 and they directly add to the bottom line, so I expect the company to report a net profit by August. On Wall Street, profitable companies are valued in a different league than money losing companies, so the share price could surge dramatically once Brekford reports a profit.
Why Brekford is an easy multi-bagger
The new contract wins and multi-year contract renewals guarantee that revenue for 2015 will be higher than in 2014. How high?
My estimation would be in the range of $25 - $35 million. How should this translate to the share price? The lowest in the peer group Digital Alley, a money-losing company, is valued at a price/sales multiple of 3. If Brekford would be valued the same way, shares would trade at $1.60 to $2.40, or up to 10X current share price. Bye the way, other peer companies are valued much higher. Taser for example, trades at a p/s multiple of 8.
If we apply an extremely conservative multiple of just 1, we get a market cap of $25 million which equates to a share price of approximately $0.55, or 3X current share price.
You can see how ridiculously undervalued Brekford is today, and how big the upside is.
What pushed the share price down to such low levels?
If Brekford is so undervalued and if shares could easily triple or more this year, then why does the stock trade so low?
Good question! Here's my take: Brekford is pretty thinly traded, so it doesn't take that much to move the share price. After it hit a high of $0.49 last year some investors aggressively started taking profits. Since the general trading volume dropped, a wave of bigger-than-usual selling triggered stop-losses, margin calls and downright panic selling. Last month, the company conducted a small convertible debt based raise, which motivated the financier to aggressively arbitrage his position by selling or shorting big blocks of shares. The share price collapsed by a third. Again, panic selling amplified the selling pressure. As of now, I think the (arbitrage) selling is over, and once the sky has cleared up, shares could bounce hard.
So this is the good news; this recent price action has presented an amazing opportunity to buy Brekford at a deeply discounted price! After my initial call in September, I never thought shares would retreat to its previous lows. So I got back in, and expect to at least triple my investment.
Clean share structure
Interestingly, there are no warrants outstanding. There are 225k options with strike price of $0.20 outstanding, but those can't be exercised until 2019. Now you understand why the sky is clear for rapid share price appreciation.
Risks down the road
They just conducted a small offering, and management prefers not to unnecessarily dilute shareholders. The company chooses to operate under efficient and tight working capital management conditions. Longer term, there is some dilution risk on the table, but if the share price goes up fast, it could make sense for management to raise capital for expansion purposes. The biggest risk though is management not continuing to win new contracts.
Generally speaking, there is always downside risk with investing in stocks, but in this case, the severe undervaluation reduces downside risk significantly in my view. Use limit orders and size your position accordingly.
Bottom line
Brekford is one of my favorite holdings at the moment, because the downside risk at current levels is very low, but the upside very big. Once this company turns profitable, I expect a dramatic price swing heading north. Management is currently doing a great job, the earnings reports later this year should make that clear. On top of this, I won't be surprised the company announcing new contract wins and/or contract renewals. Brekford is a great company operating in a rapidly growing addressable market. I expect to see my investment double short-term, and double again longer term.