Those who follow precious metals will agree that the past 4 months have been a very interesting ride in the Gold (GLD) and Silver (NYSEARCA:SLV) markets. Is the Gold and Silver bubble slowly oozing out beneath us? Or, is Mr. Market on vacation? The fact is, Silver (SLV) is at a 3-year low. (See chart of SLV below)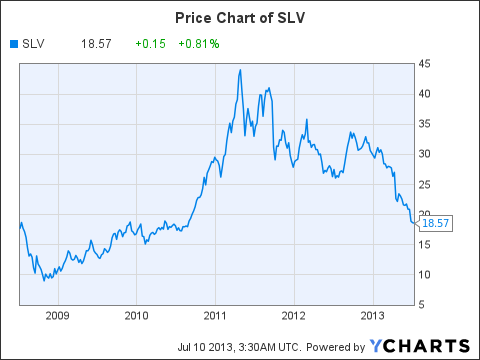 Fundamental:
Over the past 6 months, the spot price of SLV has decreased around 60%.
From a fundamental standpoint, is such a move justifiable?
Taking into consideration the industrial and electronic application of silver, along with being a cheaper, scarce precious metal alternative hedge to gold - Silver is still valuable.
Technical:
It's been established that at the time of writing this article, SLV is at one of it's lowest price points during a time frame of three years. As part of my decision making process, I find looking at simple moving averages to be interesting, SLV is currently below it's 200, 50, and 20 day simple moving averages. In addition to this, for those technicians to whom gaps are of value, there are three price gaps in SLV, with the 3rd most recent one near a fill. (See figure 2)
The volume relative to the price, has been decreasing indicating that perhaps the tides are changing and more buyers are jumping back in. We will see if the recent gap at $19 will be filled and if a level of support will be in place.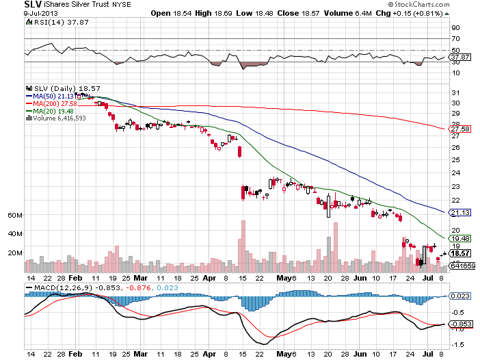 Figure 2 - 6 Month Candle Chart of SLV: Showing a 200, 90, and 20 day Simple Moving Average. Current market closing price is $18.57
Opinion:
Earlier in June, when SLV fell below $22, I was a buyer. When SLV broke below $19, I was happier than shoppers on Black Friday. At these prices, I find the price of silver to be relatively cheap, therefore, expecting a correction in price I have a short term price target for SLV at $24, and a longer term price target around the $27 range.
Now, could silver go lower? Of course, it has a statistical chance, after-all you need to expect the unexpected without expecting it. But from sound fundamental and technical reasoning, chances are, we won't see a silver bullion sold at $8 an ounce anytime soon- and if we do, I'll be stacking little Scottsdale silver bullion pyramids. In closing, I strongly believe that this is a good time to be a buyer in silver related instruments.
Disclosure: I am long SLV. I wrote this article myself, and it expresses my own opinions. I am not receiving compensation for it. I have no business relationship with any company whose stock is mentioned in this article.