Aurum Weekly Access - 6/28/13
June was a volatile month and a key reason was real interest rates finally going positive as shown by the 10-year TIP below. It spent the last 18 months below 0% until June 7th.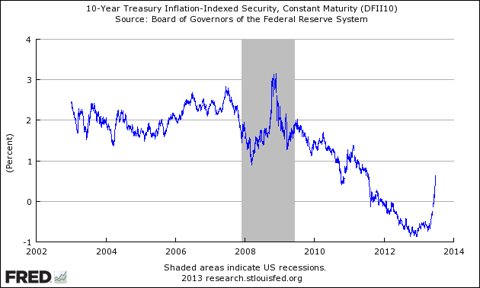 With negative real interest rates, investors (especially those who use leverage) feel confident to sell a currency short (like the U.S. dollar) and buy assets expecting to produce a positive real return. This is a popular trade to do with the Yen as well. However, it is a trade that can end badly if interest rates rise or inflation falls, which is precisely what happened. Combined with investors reaching for yield, the Fed discussing the tapering of Quantitative Easing, a slowdown in emerging markets economies, and banking system issues in China made for a Molotov cocktail of volatility.
The Fed discussing less monetary easing was a theme that began in December 2012 when it moved to a data dependent policy measure, citing the unemployment rate and inflation. A client asked - Does it matter to the economy that QE is ending one day? We side with Richard Koo who studied Japan's many rounds of QE since the late 1990s, who calls QE a "non-event," as it fails to spur inflation or credit growth. Below is the CPI and total credit market growth staying in check. Note that credit growth is below 4% today, while it ranged between 5-15% from 1977-2008.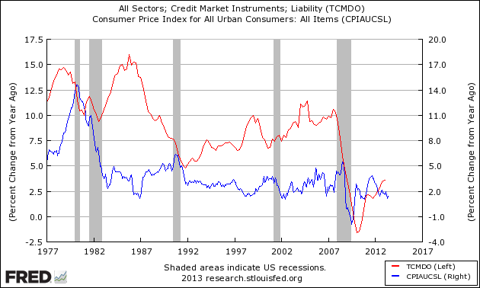 Quantitative Easing affects investors' perception of the future and often asset prices to the upside as well as to the downside when the scenarios do not go as expected.
While many pundits on business TV yelled at the Fed for being off base in its rhetoric, data seems to be steadily improving for the U.S. economy, or at least outperforming expectations of participants (which is the only thing that matters). Personal consumption grew at 2%, housing prices snapped higher year-over-year (thanks, in part, to private equity investors on the coasts), and job growth continues.
The Purchasing Manufacturing Index serves as a strong leading indicator and shows improvement abroad. The global recessionary periods are highlighted in grey based on the OECD's data tracking, with the latest episode due to recession in Europe. Note that now 64.5% of countries see higher PMI data from last year, compared to less than 10% a year ago.

Source: Ned Davis Research
Here is an interesting correlation between the average hourly earnings growth and the 10-year Treasury. Note the steady decline in both since 2006 until the second half of 2012, when both troughed. Wage growth trending higher at 2% versus 1% a year ago could be a nice indicator for Treasuries.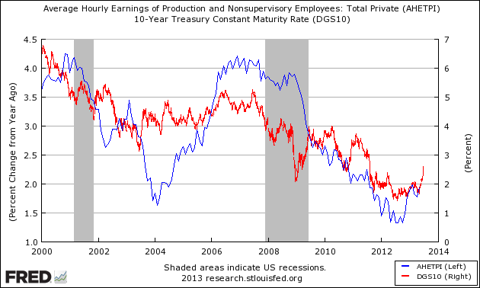 All of the above are data points to watch as the official Fed tone evolves and impacts capital markets.
For our previous thoughts on interest rates, please see:
Aurum Access - Trimming Your Core
12/20/12 http://www.aurumwealth.com/news/weekly-access/138-aurum-weekly-access-122012
Aurum Access - Closer to the Q-End
5/17/13 http://www.aurumwealth.com/news/weekly-access/147-aurum-weekly-access-051713
Important Disclosures
This material is based on public information as of the specified date, and may be stale thereafter. We make no representation or warranty with respect to the accuracy or completeness of this material. Aurum Wealth Management Group and/or Aurum Advisory Services has no obligation to provide updated information on the securities or information mentioned herein. Actual events may differ from those assumed and changes to any assumptions may have a material impact on any projections or estimates. Other events not taken into account may occur and may significantly affect the projections or estimates. Certain assumptions may have been made for modeling purposes only to simplify the presentation and/or calculation of any projections or estimates, and Aurum Wealth Management Group and/or Aurum Advisory Services does not represent that any such assumptions will reflect actual future events. Accordingly, there can be no assurance that estimated returns or projections will be realized or that actual returns or performance results will not materially differ from those estimated herein. This material should not be viewed as advice or recommendations with respect to asset allocation, any particular investment, or any tax advice.
By Michael McKeown, CFA, CPA - Director of Research
Disclosure: I have no positions in any stocks mentioned, and no plans to initiate any positions within the next 72 hours.