According to the economic cycle theory, the economy follows cycles of expansion and contraction. In the expansionary phase the industrial and the consumer discretionary sectors of the stock market perform the best.
The ETFnext.com Economic Cycle screen tracks ETFs representing the 10 largest sectors of the U.S. economy to help identify the broad market trends. The ETFs are ranked based on their price momentum.
The current ranking shows that the Consumer Discretionary Select Sector SPDR (NYSEARCA:XLY) and the Industrial Select Sector SPDR (NYSEARCA:XLI) ETFs are the top performers, placing us in the expansionary phase of the economic cycle: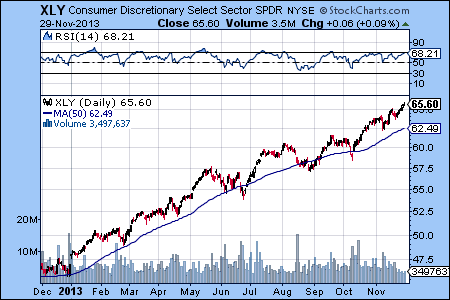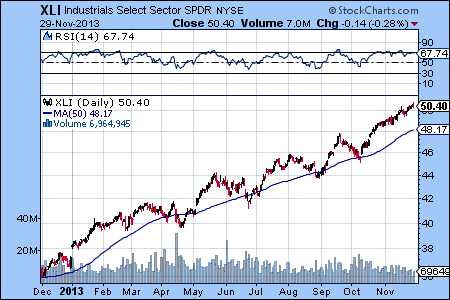 But how will we know when this phase of the cycle ends? The chart below shows the ratio of XLI and XLU (the Utilities Select Sector SPDR). I use utilities for the chart, because they perform best in the opposite, or contraction phase of the cycle, when investors seek out defensive sectors.
So how to interpret the chart? As long as the industrials ETF (XLI) outperforms the utility sector ETF (NYSEARCA:XLU) we should expect a positive trend on the ratio chart (see blue trendline). However, when utilities start to outperform, we may want to take profits and underweight positions in XLI and XLY.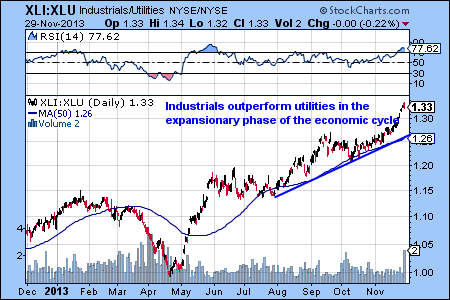 Disclosure: I have no positions in any stocks mentioned, and no plans to initiate any positions within the next 72 hours.