After the announcement of the Fed's tapering decision two days ago, the stock market rallied, while bonds sold off due to increased interest rates. This shows that equities remain the best investment asset class.
What are the best equity sectors to invest in, as the market reconfigures itself for the late December rally? We look for the answer using an unbiased ETF rotation screen (source: ETFnext.com):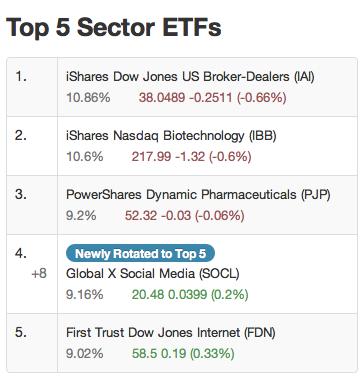 The screen shows that the Global X Social Media Index Fund (NASDAQ:SOCL) ETF is newly rotated to the top 5 list, based on its increased price momentum. SOCL is an attractive investment, because it provides a diversified way to buy social media stocks. Top holdings include Facebook, Tencent, LinkedIn, SINA and Twitter. (source: Morningstar)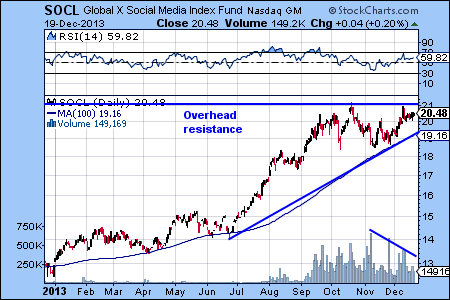 A closer look at the 1 year chart of SOCL shows that a strong uptrend started in July, but SOCL corrected in early November. The correction coincided with the highly publicized Twitter IPO on November 7. SOCL regained its positive trend in early December and now has one of the strongest price momentum compared to other sectors.
The chart also reveals the divergence between the volume and price trends, and that the recent advance is nearing an overhead resistance. Both the divergence and the proximity of the resistance level should caution investors about jumping in right now. On the other hand, a break out above the resistance on increased volume could make SOCL one of the most exciting investments of 2014.
Disclosure: I have no positions in any stocks mentioned, and no plans to initiate any positions within the next 72 hours.