Buying and accumulating gold, as a hedge against the rising volatility of the equity markets, is an appealing strategy. However, deciding when to buy gold is just plain hard. Fundamental data on gold supply and demand is difficult to interpret and even harder to turn into a profitable strategy.
The divergence in the price movement of precious metal ETFs during the recent rally presents us with a unique opportunity to use a tactical trading approach to take a trial position in silver, instead of gold, with the aim of building larger positions later in either gold or silver, or both.
First, for sake of clarity, let's identify the current long-term trend for gold using the chart of the SPDR Gold Trust Shares ETF (NYSEARCA:GLD) that is used as a proxy for gold bullion. The chart shows the price of GLD from January 2007 and includes the 200-day moving average, as a long-term trend indicator. The blue arrows display the historic trends for gold bullion, which is clearly bearish right now.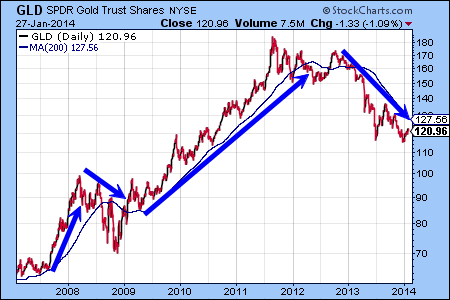 Since gold has fallen in 2013 while the U.S. stock market enjoyed an exceptionally profitable bull market, it is natural to think of gold as a hedge, should the U.S. stock market correct in 2014. The chart below shows that this may not necessarily be the right expectation.
The black line on the chart below is the S&P 500 index and the red line is GLD. The blue arrows indicate the prevailing trend for both investments during different market conditions: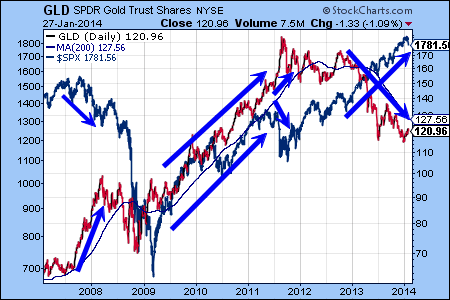 We can see from the chart that stocks and gold can develop high correlation at times, but high inverse correlation can happen too. For example, during the 2008 financial crisis both gold and U.S. stocks endured a bear market. On the other hand, during the August 2011 crisis when the U.S. debt rating was downgraded, the stock market sold off sharply, while gold rallied.
My conclusion from the historical data is that gold doesn't always provide an effective hedge against bear markets in stocks, but when it does, it works very well.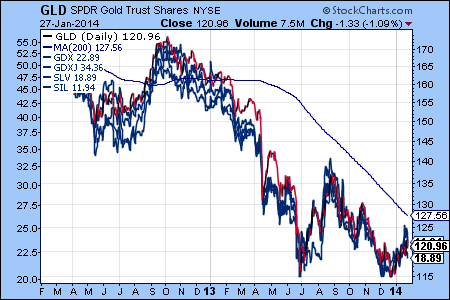 The next question we can ask is what are the alternatives to GLD and what are their correlations. The chart above plots four popular precious metal ETFs along with GLD: Market Vectors Gold Miners (NYSEARCA:GDX), Market Vectors Junior Gold Miners (NYSEARCA:GDXJ), iShares Silver Trust (NYSEARCA:SLV) and Global X Silver Miners (NYSEARCA:SIL). We can easily see he high correlation between the five precious metal ETFs.
My studies on historic data indicate (results are not show here) that the mining stock ETFs, especially GDXJ or SIL, tend to lead in rallies. This is exactly what happened recently, starting on December 23, 2013. While GDXJ, SIL and GDX rallied strongly, GLD and SLV did not. In addition, by January 21 GDXJ became overbought, while SLV turned weak and started to make lower highs and lower lows: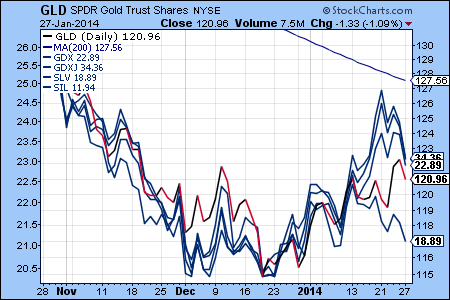 Sitting on the sidelines will not make us money, but we also want to avoid high-risk situations. That is why I think that the best way to play the space right now is to go short SLV, which acted the weakest in the last rally, with a small "trial balloon" position: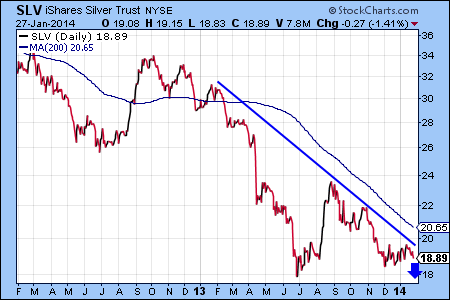 This approach really gives us a two-step tactical trade. After going short SLV two things can happen. Silver can unexpectedly rally against our position, which represents an approximately 5% risk on a small position. In this case I will exit and look for a confirmed long trade using GDXJ, GDX or SIL.
In the second scenario, the SLV short position starts to make money. In this case, we can look for larger and more aggressive short positions using the other four gold and silver ETFs.
Disclosure: I am short SLV, .