After the February rally, the stock market corrected in March. The correction was again followed by a new rally in the last few days, which took the S&P 500 index to a new all-time high yesterday. So, is the U.S. stock market bullish or bearish right now?
The answer depends on what sectors we are looking at. Previous high-flying sectors, such as social media and biotechnology, continued or in some case accelerated their correction.
At the same time, new sector ETFs are rising to the top representing the banking, mining, energy and technology sectors, according to the momentum ranking provided by ETFnext.com: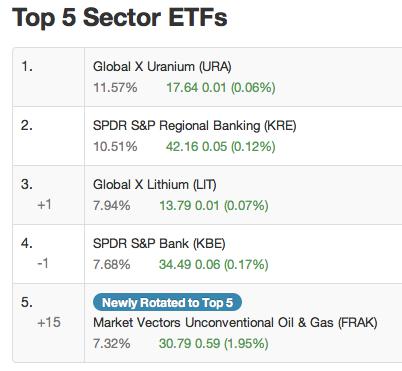 I'd like to highlight here the Market Vectors Unconventional Oil & Gas ETF (NYSEARCA:FRAK) that made an all-time high today and shows strong relative strength compared to the S&P 500 index (see top panel on the chart).
The positive momentum of FRAK is a reflection of the American energy renaissance. This is a long-term trend and it will likely be worth tracking FRAK throughout 2014 as a growth investment.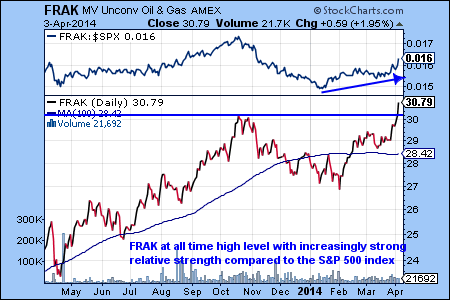 The First Trust ISE-Revere Natural Gas Index Fund (NYSEARCA:FCG) is a related ETF that also shows a bullish chart pattern: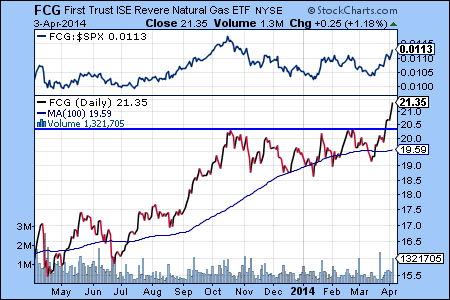 In my March 21 blog article I wrote that the SPDR KBW Regional Banking ETF (NYSEARCA:KRE) broke out to a new high and had the strongest relative strength. The chart below shows that KRE continues to perform well and is among the top 5 sector ETFs in the current market environment: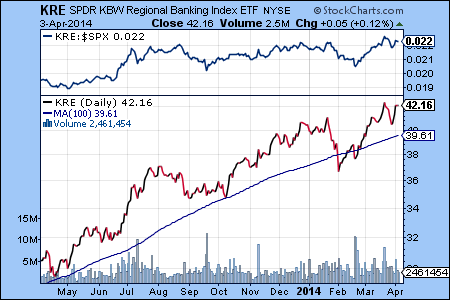 Another exciting investment with increasing relative strength is the Market Vectors Semiconductor ETF (NYSEARCA:SMH):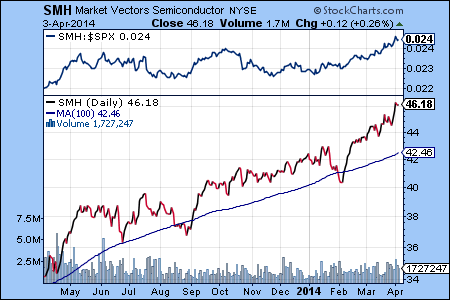 While the above sector ETFs were able to move to the top in the sector rotation ranking, the Global X Social Media Fund (NASDAQ:SOCL) has disappointed investors in the last month. In my February 7 blog article I wrote that increase in volume will be needed to support SOCL moving higher. Unfortunately, the increase in volume came during the sell off, which is bearish for this sector: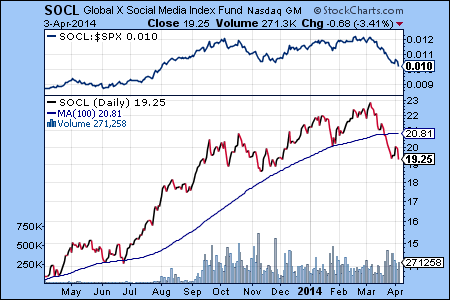 Another disappointing sector is biotechnology. The iShares NASDAQ Biotechnology Index ETF (NASDAQ:IBB) was one of the top ETFs throughout 2013, but after the sell off in late February, IBB was no longer able to resume the bullish trend: