The stock market correction in the U.S. has impacted almost all sectors in a negative way. That's why diversification into select international markets may provide more growth opportunities in the fall season than investing in sector ETFs.
The Market Vectors Egypt Index Fund (NYSEARCA:EGPT) may present such an opportunity. Investment aid provided by the Gulf states have stabilized the political environment in Egypt, which can become the catalyst for the return of tourism, one of the most important industries of the Egyptian economy.
The EGPT chart shows positive relative strength compared to the S&P 500 index (top panel). The price is slowly moving higher two, although it has not yet made a large upside move. The 100-day moving average can provide a close support. Taken together, EGPT may be an attractive trade, especially when the next market rally takes place.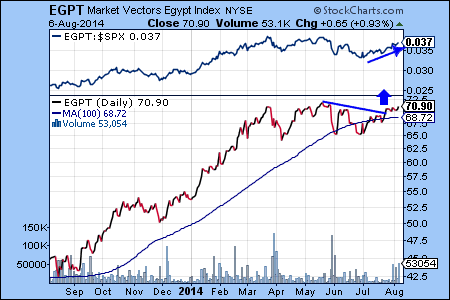 Disclosure: The author has no positions in any stocks mentioned, and no plans to initiate any positions within the next 72 hours.