The spread (or difference) in yield between treasuries and TIPS (Treasury inflation indexed Security) of constant maturities is considered as a good indicator of the "inflation expectations" of sophisticated institutional bond investors. 

The following graph (sourced from the St. Louis Fed) provides the spread between 5 years treasuries and 5 years TIPS and 10 year treasuries and 10 year TIPS.  As you can see before the financial crisis inflation expectations over 5 years and 10 years were hovering between 2 to 3%.  However as the financial panic took hold in fall 2008 the 5 year spread (or inflation expectation) plunged and became less that zero (i.e., Investors were expecting deflation over the next 5 years).  The 10 year spread also plunged but not as much.  This created a once in a lifetime window of opportunity which has almost closed but not quite.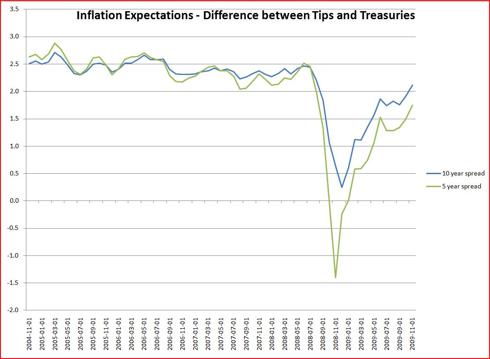 While the spread has narrowed considerably since last year but not completely as before the crisis and still remains elevated.  The following chart illustrates the difference between the 5 year and 10 year inflation expectations.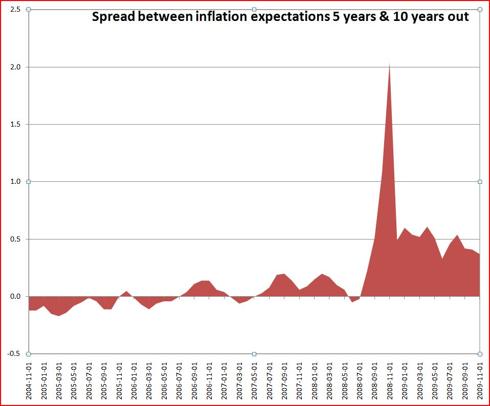 However the surprising observation is the low level of inflation expectations of sophisticated market players over the next 5 to 10 years.  Contrast this with the inflation (or hyper -inflation) hysteria in the popular press and on seekingalpha,com as well as forceful comments from super-investors like Jim Rogers.  If the inflationistas like Rogers are correct then TIPS at these levels may be a bargain  as the bond market is still expecting inflation of only around 1.5 - 2.5 % over the next 5 and 10 years.  


Disclosure: Long TIP