Apple Watch is an intermediary step into a new product type that is having a hard time getting traction. (AAPL)
The mainstream hasn't accepted smartwatches - investors might wonder what happens with extensive development costs in Apple products that don't birth new mainstreams, like the iPod.
Apple Watch will sell to die-hard Apple fans, but market breakthroughs for this product will remain muted, even in future releases, unless those iterations are very different from today's model, somehow.
The expectation of product success is likely priced into the stock, give or take billions.
Introductory sales of Apple Watch were not discussed openly, leaving investors to put Tim Cook's words under a microscope to feel out market acceptance. Apple has still not released sales numbers a month later, leaving investors guessing like crazy. While Apple has had an incredible stock run, if the Dow Jones sags, that sag would touch Apple, if Watch sales are lackluster. If Watch sales are phenomenal, then AAPL would invert more sharply againt Dow Jones sag.
The smartwatch market is still niche, without bloom into the mainstream. The Apple Watch, while a treasure to few, will likely not be seen everywhere, just like other smartwatches today. At $349, Watch cannot present a mainstream breakaway avenue on paper due to a cost-to-benefits ratio of features. Touch screen smartwatches need to offer two advantages over smartphones: immediate data visibility and speed.
Apple Might Have Negated the Benefits of a Smartwatch
One key problem is that Apple Watch is slow - the only benefit of the smartwatch would be the regaining the milliseconds it would otherwise take to reach for a smartphone that sits inches away. Apple Watch uses bluetooth connection to activate apps from your smartphone - but data transmission is slow, so users actually lose time, voiding the perceived benefit of the watch.
Mixed reviews of Watch span from sincere Apple fans who want to like the product, but who experience the limits. Some buyers are already selling their Watch, and while some fans can accept Watch as a new-stage product, others are already dismissive Watch altogether.
The Smartwatch Arena is Already Packed
While no one can argue away Apple's brand loyalty, smartwatches have limited capability, so designers must choose which limited features are going to work best, and how. This added diversity supports a small smartwatch arena with many players: there are a lot of smartwatches on the market.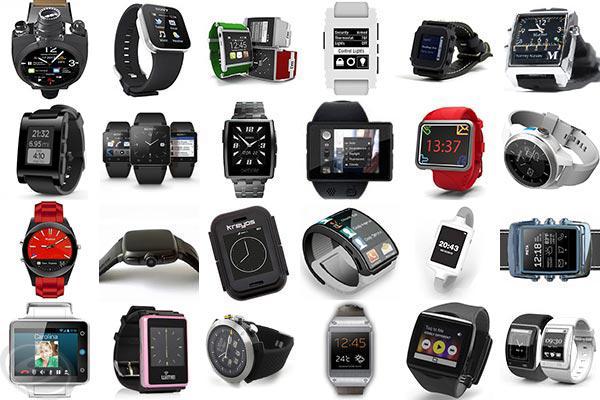 (image sourced from Smartwatchnews.org)
The image above was sourced from Smartwatchnews.org, and you can read some smartwatch brand comparisons from 2014 to present in some of their review lists here: Top 5 Smart Watches of 2014.
Market Risk and Competition
The smartwatch market is being challanged already with the arrival of more simplified products like the Fitbit, which provides real time health and fitness information. This idea of small token charms, or simple and discrete wristbands that execute specific tasks, is not a bad option - and these small, cheaper devices simply divert other perceived smartwatch benefits back to smartphones. Such devices chime in with the fact that fewer people wear watches, which has become a fashion situation, and also a comfort issue.
There are also unique renditions of bringing small tech products to market, such as the Pebble Smartwatch (ranked #1 on some lists), which was actually a Kickstarter campaign. This smartwatch was produced on pre-purchase commitments from buyers. This kind of guarantee cannot be had by large tech developers, who extend tremendous resources to get their massive projects underway - a great liability if sales don't take off.
Though some say the smartwatch market is growing, the future expectations of watches will continue to change. For Apple to become a household name here, it must create what people want and need. The smartwatch is a hybrid device and allows a lot of slack and differentiation between device-design choices, and also interactivity execution, thanks to a limited surface. It will be a challenge, and an interesting product niche to watch develop.
I don't believe today's version of the Apple Watch is poised to push deeply through the market.
(Apple has monumental fan support, and in such cases, I don't give explicit advice to take short positions. Apple is an upward mover, so be careful.)