For YTD 2015, Yahoo's performance has been nothing spectacular. Posting a decline of 33% and closing today at $33.71 or $31.9 billion, the stock provides a compelling risk/reward. You essentially get to own the core business for FREE!
While there have been concerns about the IRS's unwillingness to issue a comment on the tax treatment of the proposed spinoff of the Alibaba Stake, Starboard's Jeff Smith proposed they spin off the core business. According to a WSJ article this evening, the board is set to discuss the sale of the core internet business.
In my view, there are multiple paths to value creation. It appears that management is seeking to create value for the shareholder after nothing short of a lackluster performance. The most compelling of options is to split up the company either via a spin out or sale of the core division. This opposes the previously discussed "Aabaco" spin.
Outline of Sum-of-Parts Analysis: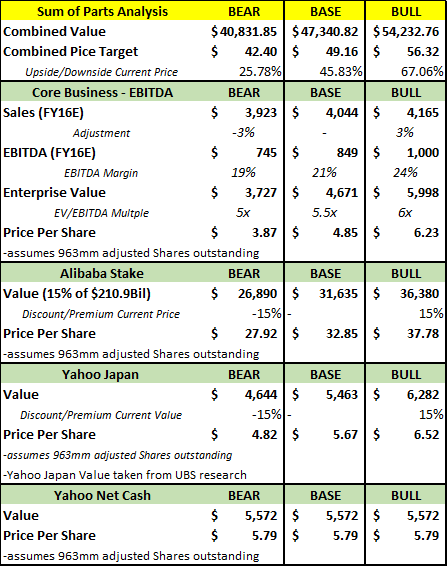 In summary, my belief is that the market is significantly undervaluing Yahoo stock. There is significant upside for shareholders (45.8%) at my base case price target $49.16. Based off current trading levels, the companies entire equity value is derived from the 15% ownership stake in Alibaba. Spinning off the core division (or selling it) would serve as an appropriate catalyst to unlock this value in hopes that the market reflects accordingly.
Disclosure: I am/we are long YHOO.