SunEdison have recently disclosed they're using Eguana AC Batt systems in a neighborhood-scale project being watched closely by California's Public Utilities Commission, the Electric Power Research Institute, and utility SoCal Edison, to create California's first entirely net-zero community and thereby prove the viability of community net-zero proposals.
While not as shiny as Tesla's Powerwall, Eguana shows real potential to rapidly grow into huge sales volumes due to alignment with both energy sector incumbents (B2B over B2C) and new entrants, a technically impressive design/feature set, and a diversity of partners.
Chemistry suppliers include LG Chem (lithium), Aquion (sodium), and Primus Power (bromine) - each a leader in their approach in terms of quality and pricing/volume capability. Eguana's power electronics hardware is debugged and ready to be manufactured globally by Asteelflash - a top-tier electronics manufacturing supplier.
Contrasted with other emerging storage technology ecosystems, Eguana's 'open stack' strategy appears designed to strategically align many other players with distributed storage. Analysis of company history suggests resourceful founders/management, and significant valuation growth seems highly likely.
The nascent energy storage industry
While the potential benefits of energy storage are increasingly appreciated, real-world installation figures are still marginal. This is changing very quickly however: according to recent numbers from GTM Research, "less than 0.1 percent of 2014 (U.S.) PV installations were paired with storage…[these deployments] totaled 4MW…grow to 22MW in 2015, [but] reach 769MW by 2020." In a global perspective things are also accelerating rapidly: 2016 has been predicted to be a breakthrough year for the storage industry, and growth doesn't seem set to slow down anytime soon. Bloomberg's New Energy Outlook forecast projects the global market for energy storage to reach $250 billion by 2040. The particular technology providers who will ultimately dominate this industry in both hardware and software are only beginning to become visible.
Before diving-in to technical and strategic features of distributed energy storage technology ecosystems and their associated trajectories, the real-world implications of battery technology should be established. While there is a breathless tone in many pundits' coverage, batteries are actually expected to have simplifying - even boring - implications for actual energy consumers. This point is often overlooked, so it bears repeating: aside from emergency backup (which if done properly is also imperceptible to the user), all of the value-creating benefits which a battery storage box can provide to energy systems are actually unnoticeable to the end-user.
At the same time, it is clear that distributed storage also creates a energy 'prosumer' market, by reducing the barrier-to-entry for small asset owners to participate in energy generation markets. The potentially disruptive implications of this for the energy industry are only just now beginning to be felt, and various strategies are starting to be devised to capitalize on the transition, by an ever-growing group of industries. A consumer-oriented narrative has been good for stimulating interest in their battery products, but investors would be wise to take a deeper analysis of the situation, given the stakes.
Put simply, it remains debatable whether this new consumer group will ever actually emerge, at any significant level. Another perspective is that aside from environmental benefits, there will be no significant change in the experiences of energy consumers - services will be provided by professional 3rd parties (potentially including, but not limited to, utilities) who will face consumers. This alternative perspective is worth noting because it raises the point that if incentives, partnerships, and design choices were aligned for such a B2B roll-out, the price for distributed battery storage systems could decline rapidly - or even be eliminated - for consumers. Furthermore, the technology roll-out then wouldn't depend on consumer motivation to buy, and the rate of deployment could be accelerated even faster than anticipated via consumer channels, provided availability of microgrid finance.
Stacking
To understand these alternative futures in the development of the energy storage industry, it helps to have a basic technical grasp of what advanced energy storage technologies are capable of. While most people already intuitively appreciate that combining renewable energy generation with battery storage is synergistic, there are also numerous other value-creating opportunities for batteries which don't actually require simultaneous generation deployment.
These micro-services - which can save or make the system owner real money - include 'demand charge reduction' (mitigating spikes in user consumption), 'demand response' (mitigating spikes in grid consumption), 'peak shaving' (to reduce the need for on-premise grid connection upgrades due to occasionally high loads), and more.
The practice of "stacking" these value streams is predicted to become such an important factor in energy business models that it has received the descriptor of an 'Internet of Energy.' While this may seem a fanciful title given the pervasive IoT jargon, it's worth paying attention to, as all technical milestones for viability have already been crossed, and the only bottlenecks remaining are in regulatory and market reforms permitting such activity.
The shift will happen quickly. As depicted in the infographic below, once a certain threshold number of advanced battery capacity exists on the grid, an entire array of 'services' can then be provided to grid stakeholders, which result from the capability to respond in real time to instructions from a remote entity, over an internet connection. These activities range from grid frequency regulation and feeder line voltage support, to scheduled charging and discharging.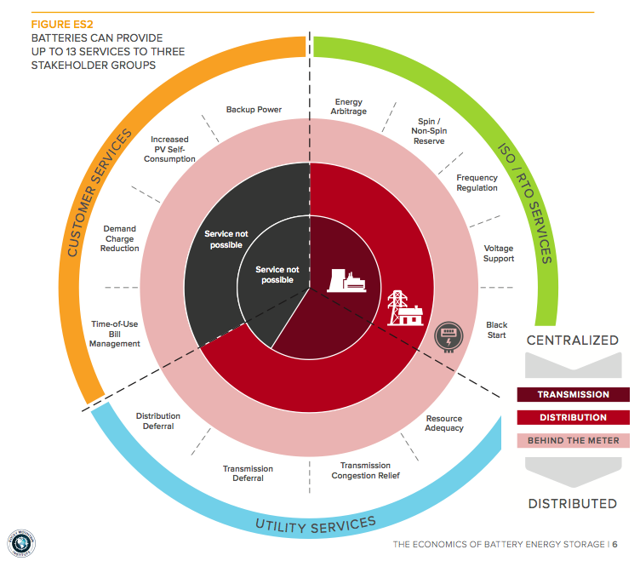 Source: Rocky Mountain Institute white paper
Distributed or centralized systems?
Battery storage holds many implications for energy grids, but aren't bigger batteries able to deliver economies of scale? The answer to this question stems from this ability to be conducted en-masse into providing grid services in an emergent, self-healing manner. As the above infographic and its parent article reinforce, it is by virtue of their very location at the 'grid edge' (also known as behind-the-meter) that distributed batteries are able to provide the most significant "stack" of functions - and thus revenue streams. This provides a potentially critical advantage for smaller battery systems over larger, industrial systems.
Given such implications, it is unsurprising that there is lots of interest in using batteries from many grid stakeholders, including grid regulators and politicians. In fact, it's becoming increasingly clear that the only stakeholder group which is universally expected to be at risk of serious disruption by the technology is a group nobody is particularly fond of anyway: utilities and energy companies.
Utilities should indeed be starting to get nervous, and there are threats to both generation and transmission businesses. The very flexibility and speed of battery systems' deployability reduced utilities' profit cushion from project gold-plating. Batteries also give local and regional politicians ever-more wiggle-room to sidestep controversial energy infrastructure projects in both generation and transmission.
Exciting stuff, but it's important to understand that not just any old battery connected with a WiFi router is capable of grid-interactive activity in an economical (and safe) fashion. In fact, only a fraction of distributed storage units today are being designed with such advanced capabilities in mind - such systems require integration of a very high-efficiency, long-life battery with advanced (also high-efficiency and high-resolution) bidirectional power electronics. The hardware must in turn be controllable by a highly reliable web software which can interface with other grid stakeholders' computer systems, and the package receives close scrutiny from regulators and insurers. It is only though the effective combination of these and more design elements that decentralized batteries can pass key thresholds in viability.
Path to the mainstream: B2B or B2C?
Due to their lack of end-consumer relevance, batteries seem set to inevitably become a passive domestic appliance of interest equivalent to that of a water boiler or internet modem - noticed only when not functioning properly. It's interesting to note here that the purchasing process for both water boilers and modems is influenced quite heavily by the service provider who is already associated with its use.
Despite this, it now seems universally expected that the growth of storage will come at the expense of traditional grid stakeholders, much the same as in the initial stage of internet disruption: the traditional (information) content generators and -arbiters suffered. If we are able to draw a lesson in this analogy, it would be that the critical leap which must be taken to survive - and thrive - during such disruption is to become the one positioned to influence the behavior of nodes in the network.
This appears to explain why Tesla, Sonnenbatterie, Google (via Nest) and other consumer-tech players are pushing so hard to mainstream consumer energy storage products, despite their fleeting emotional attachment as a product. However, these companies certainly aren't stupid: while content to stoke demand with consumer-friendly - hopefully viral - rhetoric, having influence over users' energy market behavior is the ultimate goal. This explains why so many have invoked the full-stack logic of consumer tech manufacturers, seeking ownership of their entire hardware and software technology stack. The strategy is evident: whoever controls the inverter is positioned to negotiate mass participation of both consumer and producer groups on energy grids, deciding when - and thus from whom - to purchase electricity. Whoever has this becomes a direct threat to utilities.
The B2C strategy is already starting to break apart; in medium- and high-density residential owned by commercial 3rd parties, as well as commercial properties themselves, interest in locally-sited batteries is growing not only for their fast-switching backup of critical systems such as elevators and communications, and for "greenness," but for economic reasons. Utilities are catching on, and are quietly setting themselves up to perform on these metrics.
Thus, while a lot of media continues to lap-up the consumer product narrative, moves are taking place to prepare for a much more significant battle. No utility disclosures in the sector have received attention comparable to the hyperbolic Tesla coverage; certain arrangements - and even entire emerging counteralliances - seem to have been entirely overlooked by investors as a result.
The above-referenced SunEdison, CPUC, and EPRI announcement at California's Solar Power International conference in September, 2015 was almost entirely ignored even by SunEdison watchers, yet showed a key shift in strategy within that company from acquisition toward using 3rd party technologies. This announcement was significant not just for SUNE and the renewables sector, but for utilities, and ultimately, the entire energy sector.
Eguana Technologies
In all of this turmoil, the little team behind Eguana Technologies appear incredibly well-positioned to meet - and help - utilities or anyone else transition. One analogy for Eguana's strategy might be seen in personal computers, where even in branded Toshiba, Mac, HP, Dell, etc. computer systems, certain components for power and (information) storage - RAM, hard drives, and (to a lesser extent) processors - are essentially plug-and-play components supplied by a specific supplier, including what are known as 'fabless' semiconductor manufacturers.
Also relevant to the computing analogy is Eguana's inclusion of a basic software 'operating system' (in this case developed by Geli, Inc.), which facilitates further layering of additional programs to the point where the asset can generate revenue streams, customized for the user. There are some other similarities to the design approach of a laptop computer, with the pre-integrated, low-voltage, AC-coupled design allowing for simple and safe installation, including compatibility with all PV- and wind generation systems.
Eguana's strategy is to give any downstream energy storage system buyer access to a technology ecosystem which leads on key parameters including reliability (assurance against brand damage), flexibility in terms of production volume and regulatory accreditation, and a strong level of future-proofing through active research engagements. While the partnerships with chemistry innovators (including Aquion for saltwater, Primus Power for bromine, and numerous other chemistries hinted-at) may take a few years still to become significant, the company's current lithium battery partner - LG Chem - is already a top market contender in terms of manufacturing capacity, pricing, and product quality (with even Tesla now purchasing their cells, after what must have been an interesting Gigafactory check-in meeting with Panasonic).
Eguana's technology ecosystem is reaching the point where it allows system designers to incrementally adjust the power (KW,) storage (kWh), and cost (chemistry/footprint) parameters of any given storage system, and to be augmented later by the addition of respective modules. This is a significant value proposition, unique in the industry.
In terms of buyer interest, beyond the SunEdison partnership, increasing validation of Eguana's strategy can be seen in its adoption by utility-level heavyweights including Gexpro/Rexel (formerly General Electric's Electric Supply division), Japan's Itochu, and a leading Hawaiian PV installer who is making moves toward a DERP business model (in potential competition with utilities there).
Another storage driver: Installation Streamlining
Already by 2013, Solar Industry Magazine articles were predicting that installation streamlining - also known as "turnkey systems" or "designs for installation speed increases and [labor] efficiency improvements" - were going to become key drivers in North American renewables deployment, as this had already occurred elsewhere. In an effort to show the value to be captured in this space, the Rocky Mountain Institute created the following chart comparing 'soft' PV system costs in the United States and Germany (the world's most mature PV market, with over 1.5 million sub-30kWp distributed generation sites).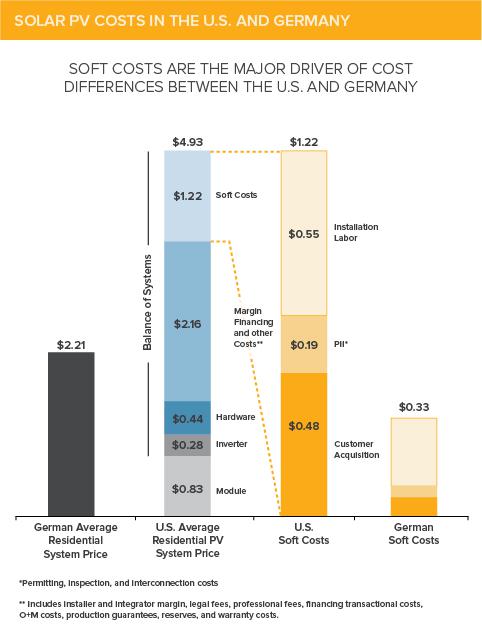 Note the difference in soft costs. In the U.S., Installation Labor alone is nearly double the entire /kWh soft cost in Germany, and customer acquisition costs are very high also. Of the two, installation labor is a less flexible metric because of its connection to hardware design, and is thus likely to be a more sustainable advantage for leaders.
If advances in system installation streamlining can be attained over competitors, it has clear strategic priority. SolarCity CEO Lyndon Rive stated this in no uncertain terms: "anything that will reduce [SolarCity's] total installed cost we will be interested in acquiring." Installation streamlining in the U.S. renewables market has been cited explicitly in recent acquisitions by players including SolarCity (SCTY), Sunrun (NASDAQ:RUN), Gibraltar (NASDAQ:ROCK), and SunEdison (SUNE).
Though the SunEdison-Vivint acquisition has fallen apart, in the Vivint 2014 Annual Report - at the time of which Vivint were the 2nd largest residential PV system installer in the U.S., and SolarCity's closest competitor - emphasized streamlining in their own analysis, as follows. Only a short time later SunEdison extended their $2.2B acquisition offer to Vivint (in early 2015).
Design and engineering: We have developed a streamlined process that enables us to design and install a custom solar energy system that delivers significant customer savings. This process, which incorporates proprietary software, standard templates, and data derived from on-site surveys, allows us to design each system to comply with complex and varied state and local regulations and optimize system performance on a per-panel basis.
As battery storage is increasingly put forward in the U.S. as an integral, value-adding component of a renewable energy system (and is quickly becoming as obligatory offering from all renewable energy installers), it follows that we can probably expect the same streamlining pressures to occur in storage, as in PV. On the basis of the above insight from comparing U.S. and German cost structures, it makes sense to study German storage system designs to glean best-practices.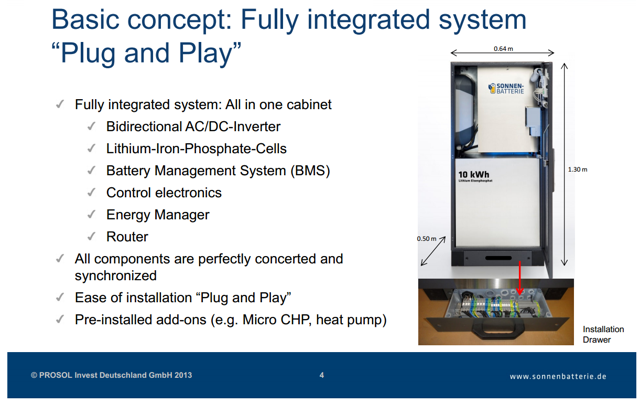 Source: Sonnenbatterie pitch deck, 2013
The proliferation of competing designs for well-integrated residential battery storage systems in Germany in the period from 2010 - 2013 (this June, 2013 market overview by PV Magazine lists dozens of systems, starting on p. 16) demonstrates that the design was probably more the result of clear market need, rather than the innovation of any particular company. German residences are also simply half the size of American ones, so a compact and integrated storage product simply makes extra sense there. This information proves that Sonnenbatterie - the German market leader in integrated systems didn't pioneer the integrated design - they did advance it with their strategy of sourcing only top-quality components, collaborating with their suppliers to optimally integrate hardware and controls, and ensure premium experience through in-house assembly/app development and -sales directly to customers via 'Sonnenbatterie Centers.'
Germany's grid conditions are nonetheless quite different from the US however, in several important ways relating to storage: in light of the extreme €0.30/kWh grid electricity price and proportionately higher electricity costs, German end-consumers can more viably targeted directly to buy storage systems in order maximize self-consumption using economic arguments. It's the result of such a high-cost environment that grid defection became economically viable in Germany before anywhere else; by 2014, residential end-users had started to do so en-masse, confronting utilities with the existential threat of a "death spiral".
Because of lower electricity prices (as well as higher per-user consumption) in North America, grid defection isn't yet a big concern. As outlined above, utilities are even increasingly thought of as necessary partners in advancing battery storage deployment, as well as customers of the aggregated services provided by distributed systems (the value streams from which can then be used to finance the up-front cost). Certain players in hardware and software are already focused on enabling this newfound maturity.
Early history of Eguana Tech
While SunEdison's press release generously implied the "advanced battery system" was their own, the company's only actual contribution was to layer their own software apps on top of the pre-installed Geli Energy OS. The entire platform is Eguana's contribution, given that LG Chem batteries come pre-installed, as well as Geli's OS.
This is actually far from the first time that Eguana have seemingly gladly let someone else steal their thunder. Understanding the history of the company helps to explain their still (seemingly) underdog positioning, as well as such behavior. Company beginnings can best be traced to co-founder and CTO Brent Harris, a Calgary-born, Queen's University-educated electrical engineer who appears to have simply been ahead of his time in becoming seriously interested in the potential of advanced power controls for renewable microgrids due to their applicability to remote northern communities in Canada (to this day, these communities truck-in annual fuel needs during winter, famously using huge diesel trucking rigs on increasingly-thin ice roads).
After an early stint with engineering firm SNC Lavalin, Harris got to work building the company to bring his patent-pending design to market. Other significant backers soon got involved - including most notably the two Carten brothers, and the company was officially founded in 1999. The IPO was arguably well-timed to coincide with the peak of the tech boom in 2000, and the company was awarded its first patents in 2001. From the outset, the platform was designed explicitly to be configurable "to meet the needs of all forms of generation and storage technologies from PV panels to flywheels, [as well as wind and fuel cells]." Once basic design IP was secured, R&D was focused on achieving maximum bidirectional efficiency and reliability, at peak power, for 24/7 operation, with a good lifespan even in extreme Canadian conditions, while maintaining a design conducive to mass-production.
Since its beginning, the company has been headquartered in the oil industry hotspot of Calgary, Alberta, Canada, where Harris and the Cartens are from. It seems to be in part because of this location that the company are so little-known, despite having maintained a leading position in the power electronics for nearly two decades now (the company was originally named Sustainable Energy Technologies, Inc., but rebranded in 2013).
Sustainable Energy Tech. received considerable recognition for its innovation in the past - highlighted in Deloitte's Technology Green 15™ in 2007 and 2008. Furthermore, in addition to being the recipient of numerous patents, Harris has long advocated publicly for accelerating the adoption of renewables, including as board member and treasurer at the World Alliance for Decentralized Energy (WADE), as chair at Alberta chapter of CANadian Solar Industries Association, and in 2011 was recognized by the Alberta Science and Technology Leadership Foundation for his efforts to advance renewables in his home province. A seemingly innocuous award, its achievement is telling if one appreciates his context of Alberta - a region boasting the dubious moniker of 'Texas of the North' because of a huge oil sands industry and the (then) influential power base of Canada's long-incumbent Conservative political party, which institutionalized climate denial at both the provincial and federal levels.
Already in 2002, Harris was openly sharing expertise in topics like PV inverter fire safety, >20 year inverter electronics longevity, participating as a co-author on IEEE publications investigating microgrid resonance issues caused by multiple-inverter inputs. As the world now gradually begins to wake up to the promise of energy storage systems, Harris has written explanatory articles outlining growth drivers, been interviewed and sat as a panelist at events like Grid Edge Live, and most recently taken to hosting utility/regulator workshops on distributed systems' aggregation.
Eguana's products are nonetheless to this day consistently overlooked in most inverter listings, and any activity receives virtually no media/investor interest. Both the CleanTechnica and Solar Love coverage of the recent SunEdison/CPUC/EPRI announcement failed to even mention Eguana's involvement, while PV magazine relegated it to a near-footnote. Subsequent disclosures of the full SunEdison-Eguana partnership (and a growing number of other partnerships) have been similarly ignored.
Investors should note that there is a lot more than hot air behind this company: until recently, Eguana were a favored electronics supplier of German home storage provider Sonnenbatterie - as well as numerous other renewable energy technology integrators prior to this (elaborated below). Their hardware has been field-tested and validated many times by now, including in thousands of Sonnenbatterie systems, installed and operating since 2013 in the German market.
Commercial tribulations
Eguana are clear pioneers of advanced, software-configurable power electronics for distributed energy systems, and have consistently demonstrated quality in both technology and team. Unfortunately, the company have endured an almost comical series of mishaps in getting their product to market for the last 15 years. These can each be explained, if their context is understood. The history is worth understanding, as the company's present diversification of income streams and partners is then significant.
At the time of the company's IPO, the fuel cell industry was experiencing incredible hype: in 2003, tech research and forecasting firm Allied Business Intelligence (now ABI Research) was predicting that by 2011 annual sales of fuel-cell "microcells" would be between 200-500 million units/year, valued well over $5 billion. Its understandable that even despite the questionable economics of the technology at the time, the inverter technology was initially developed and put into production for this application. It was actually because of the extremely high relative cost (and persistent inefficiency) of fuel cells that the ideal go-to-market inverter was selected.
The inverter was endorsed out-of-the-gate by Sandia Labs, and was being commercially integrated into a small-scale stationary bidirectional fuel cells in 2003, in cooperation with RWE and Nuvera. As the stock charts of publicly traded fuel cell manufacturers such as Plug Power and Ballard Power Systems demonstrates, the real-world viability of distributed fuel cell generation proved highly overestimated. After the bubble's pop, anticipated demand - especially in smaller output sizes - evaporated, and designs about to enter production became stillborn (for their part, Nuvera are still kicking as well).
To survive, Sustainable Energy pivoted to the development of ruggedized wind turbines, and the custom design and sale of integrated, turnkey microgrids for customers like the U.S. Army, while continuing R&D and patenting further advances. Then in 2005, a PV-optimized inverter was developed in an effort to increase sales volumes. The company's "massively-parallel," low voltage technology was recognized as industry-leading in testing by the California Energy Commission, with a rated operating range of -40C to 50C, and an up to 20-year warranty.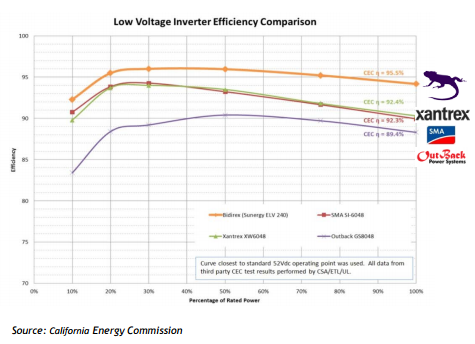 The company expanded its business into Spain and Italy, setting up subsidiaries only to see the 2008/09 economic collapse drain all growth from the market, and leaving the company with considerable write-offs. Protectionist solar subsidies were then implemented in Canada, causing the company to re-nationalize production (just after setting up manufacturing agreements in China) in an effort to dominate 'Made in Canada' PV ecosystems with various domestic partners. This domestic content requirement was overturned by the WTO however, and the Canadian market remained insignificant on a global scale.
Whatever rationale was used to remain in Alberta is legitimately questionable in hindsight: the incumbent, climate change-denying provincial and federal Conservative Party were ideologically opposed to the encouragement of renewables, and saw no reason to reduce oil shipments to Canada's north, nor support provincial renewable energy targets. The domestic cleantech market remained staunted, even in the liberal government led, high-population province of Ontario, while the then-high, oil-linked Canadian dollar harmed exports.
The company's next-gen PV-focused inverter was launched in the reliably forward-thinking (and economically robust) country of Germany in 2010, followed by the announcement of two pre-integrated OEM product development partnerships with Bosch for a building-integrated thin-film PV system, and with U.S.-based startup tenKsolar for a dual-tilt, high-efficiency system optimized for flat-roof commercial and high-density urban applications.
Both partnerships foundered for reasons which are difficult to attribute to the company: the German PV industry collapsed due to Chinese imports, and despite early promises of"100s of units/month" and inking of a promised $4M licensing deal, in 2013 TenKsolar skirted bankruptcy and flunked out of their contract.
Still bleeding cash, in 2013 Sustainable Energy Technologies, Inc. rebranded as Eguana Technologies, and then set itself on dominating the emerging use-case of distributed, grid-tied bidirectional battery inverters - a use-case which was indeed extremely well-suited by their durable, high-efficiency/low-voltage technology. The initial target market was again Germany, and immediately on the company's new Bi-Direx storage inverter being made available in the country, it was recognized by the Fraunhofer Institute's Smart Grid Research group as the best-performing for advanced, grid-tied storage.
A small German storage startup (then) named Prosol Invest had at the same time been scoping-out the market for the very best storage technologies, and managed to talk itself into securing a Europe-wide exclusivity agreement to use Eguana's electronics in their 'Sonnenbatterie' product line. The startup then promptly flaunted their inclusion of such top-tier technology in public disclosures and investment pitches, referencing the same CEC and Fraunhofer research listed above.
Distributed Storage in Germany: The early days
Sonnenbatterie were a puny startup in 2013, so its unclear how they managed to close a Europe-wide exclusivity contract with Eguana at such a critical time in the growth of storage. Eguana evidently entered in good faith, but this deal again proved tragic for the Canadians. For Sonnenbatterie, the timing was perfect: their up-market, fully integrated strategy ensured the interest of the top technology providers, who were themselves only just starting to produce sufficiently small-scale stationary storage components. As a result of exclusivity agreements these partners became dependent on the success of Sonnenbatterie, who then promptly took advantage of this power dynamic for pricing and strategic leverage.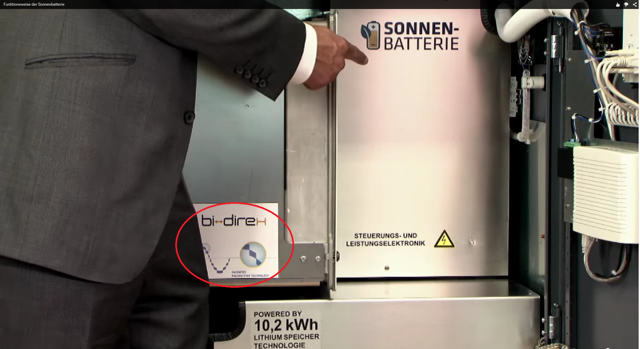 Sonnenbatterie Comfort video excerpt (Youtube)
Sonnenbatterie's premium technology strategy and in-house production and design focus meant their systems remained eye-wateringly expensive for far longer than initially predicted. At over 1000€/kWh (installed) in 2013, a healthy subculture of Germans continued to self-integrate their own lead-acid batteries for behind-the-meter self-sufficiency, using off-the-shelf components.
After utterly failing to deliver promised sales figures over 2013, Sonnenbatterie's exclusivity contract with Eguana breached its low-volume termination clause and in an April, 2014 announcement, the Germans evidently made an effort to appease their supplier with an expanded contract renewal for development and provisioning of a "fully integrated electronics enclosure," as well as Eguana being promised downstream distribution rights. This press release is significant in hindsight, as Eguana's other, ongoing lines of business are clearly referenced, and Sonnenbatterie's founder Christoph Ostermann provides the following statement:
In our opinion Eguana has the most advanced storage inverter in the market, and an exceptionally strong power electronics and operations team. We are going to continue to work with Eguana to explore ways to expand our unique partnership.
The benefits of the new deal once again proved decidedly one-sided, to the benefit of the Germans: engineering and technical design services were essentially outsourced, as well as North American customer development.
This simplified Sonnenbatterie's cost structure, while Eguana's customer-specific and opportunity costs were increased. Despite the delivery of a much more visually impressive new model as well as price reductions, sale of Sonnenbatterie systems remained anemic for the rest of 2014. Meanwhile, the Sonnenbatterie CEO spent his time collecting awards - even stating at ECO14 London in October, 2014 that a further 30% decline in power electronics costs should be expected over the next 24 months - and closing several funding rounds with VCs including eCAPITAL, Munich Venture Partners and Inven Capital.
With once again negligible revenues by YE2014 and significant engineering costs, Eguana again declared a net loss and had to raise further, dilutive financing. It wasn't until Elon Musk's much-hyped April, 2015 Tesla Energy keynote event - and the release of a significantly improved, fourth-generation, 10,000 cycle Sonnenbatterie Eco unit in the spring of 2015 - that U.S. media would start showing the German company even cursory interest. U.S. consumers - paying less than 1/3 of German electricity prices and entirely unfamiliar with the Sonnenbatterie brand - still didn't seem eager to shell out for such a system.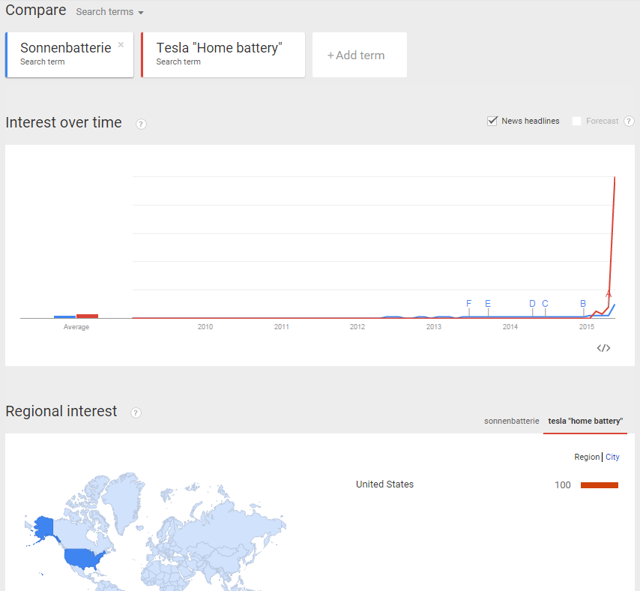 Search history of Tesla v. Sonnenbatterie, spring 2015
Customer diversification
Eguana needed to reduce reliance (and supply chain power inequity) with Sonnenbatterie, and - evidently appreciating that they were already doing so much of the work - began developing their own, utility-targeted AC Battery platform for North American B2B markets. Interest from U.S. energy insiders was immediate: in December 2014, a 3MW prospective contract was closed with E-Gear, LLC, in Hawaii - a subsidiary of Hawaiian Energy Connection, a company founded by the president of Hawaii's Solar Energy Association who had resigned in frustration at the lack of innovation (but who was also the founder one of the state's first solar installers - provider of the popular Kumukit package). E-Gear openly stated that their focus was to help utilities technically resolve grid instability and overload problems resulting from Hawaii's extremely high penetration of distributed PV, developing a utility-driveable ACXIS® AC combiner for improved communication with microinverters (as well as streamlining installation), and a similar, pre-integrated battery storage controller, leveraging Eguana's hardware.
More AC Battery sales deals followed with Gexpro and Sunwave. Then, on April 29th, 2015 - the very same day that Elon's Tesla Energy keynote jolted popular interest in the topic - Sonnenbatterie and Sungevity announced a close U.S. and EU partnership, for distribution and supply of Sonnenbatterie to Sungevity customers. No mention was made of Eguana, but it's worth noting that this announcement was almost exactly one year after Sonnenbatterie had named Eguana as their North American distribution representatives.
By June, 10th, 2015, Sonnenbatterie had set up their own R&D centre in Atlanta, GA, listed a job opening for an 'Inverter Integration Engineer,' and only thereafter announced their dropping of Eguana and switch to OutBack Power inverters. Eguana then disclosed that Sonnenbatterie had dropped them as a partner citing "competitive reasons."
While this charge is valid to some extent, its validity is undermined by the fact that OutBack Power are themselves even more direct competitors to Sonnenbatterie, as well as are partners with the competition of Sonnenbatterie's own partner, Sungevity (already in October 2014, Outback disclosed their partnership with U.S. solar system installer SunRun - Sungevity's primary rival in the battle for 3rd place in U.S. solar installer rankings, both well behind the SCTY vs. Vivint/SUNE dynamic). OutBack Power had also long sold their own modular, pre-integrated FlexPower and EnergyCell storage products for off-grid applications (even available for order on Amazon - here is the power control system, and here a battery bank).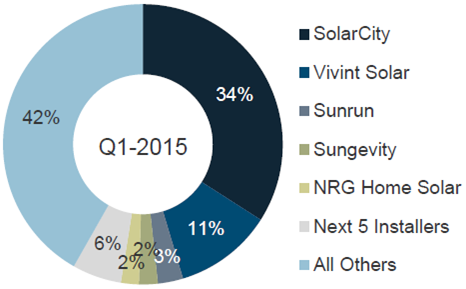 GTM Research U.S. PV Leaderboard
When announcing the OutBack deal, Sonnenbatterie USA CEO Boris Von Bormann enthusiastically stated that OutBack were a "natural choice." This wording is notable in light of Sonnenbatterie's frequently-stated commitment to top-tier componentry: the above-cited research by the California Energy Commission - which Sonnenbatterie themselves repeatedly used in their VC pitches to emphasize their technology leadership, through Eguana - ranked OutBack as the worst-performing of all units tested. Previous press releases regarding the partnership between Sonnenbatterie and Eguana had included commitments to "optimize operational synergies," belying the fact that Sonnenbatterie leadership must have been aware of both Eguana's internal situation and other, existing business verticals for the company.
Neither the "competitive," nor "natural choice" justifications provided seem to explain the Eguana drop and switch to OutBack Power/Ideal Power. The reason is even more questionable given that only 6 months later, Sonnenbatterie announced an inverter co-development project with Germany's Steca - clearly, Sonnenbatterie were keen to gain sovereignty over their supply chain and develop their own, proprietary technology ecosystem - likely with their eyes on a fat IPO. Given these facts, the most logical explanation for the move is that despite the assistance gained from Eguana by Sonnenbatterie in first developing their business, after the Tesla Powerwall hype of April 2015 (and perhaps under the direction of VCs), Sonnenbatterie leadership realized the strategic importance of power electronics and downstream distribution which they had promised Eguana in their 2014 agreement, and simply sought a convenient (but legally excusable) exit.
Only a short time later - on August 6th, 2015, Ideal Power, a manufacturer of commercial inverters (and thus a semi-direct competitor to Eguana's systems for C&I applications) also disclosed that they had been "selected" - notably, not "partnered with" - by Sonnenbatterie to supply inverters for a new commercial demand-charge reduction product line. Similar to OutBack and Eguana, Ideal Power had already disclosed numerous partnerships with other system integrators including KACO New Energy and Eos.
It's clear that the commercial demand charge reduction use-case wasn't in Sonnenbatterie's business plan, as such implementations don't involve the use of renewables ('Sonnenbatterie' literally translates to 'sun battery').
What makes Sonnenbatterie's behaviour especially disturbing is that by the release of Eguana's results on January 31st, 2016, the company were not only refusing to settle their accounts payable with Eguana, but had also hired-away their former partner's North American sales lead. Such behaviour - just prior to an inflection point in the growth of storage - appears unethical at the very least, and Eguana have indeed disclosed the initiation of a lawsuit against Sonnen, to recover $4 million in accounts payable and inventory writeoffs as a result of the contract termination.
Market Whiplash and Subsequent Developments
Disclosure of the Sonnenbatterie breakup in July nonetheless precipitated a crash in Eguana's stock price of over 60%, with investors interpreting the lost business as a continuing "failure of management to hold a partner." The lost revenues and cash flow caused both valuation and liquidity shocks, and market valuation fell below $15M CDN - a level not seen since early 2013, before the company even entered the storage space.
The Sonnenbatterie split - just prior to beginning sales of the AC Battery to E-Gear, Gexpro, and SunEdison (and presumably also Bi-Direx units for Aquion and others) - caused a sudden need for working capital financing. As this had been accompanied by a loss of market confidence (as well as a broader crash in renewable energy stocks due to a sinking oil price), Eguana entered into a $3.5M private placement at a brutally low CDN $0.0525 / share, for 50M shares. This caused 1/3 dilution for existing shareholders, and was interpreted as a further warning sign; interestingly though, it has since been disclosed that company insiders bought at least half of this dilution, increasing their stake in the company to beyond a majority. Not only does this potentially explain both the low unit price and decision for an equity raise, it also explains the lack of any (public) acquisition overtures.
Despite a steady stream of positive news releases and announcements since this development, including disclosure of SunEdison, Aquion, Primus, and Raytheon partnerships, and receipt of sales orders from E-Gear, Itochu, and Gexpro/Rexel, bearish sentiment has persisted. Eguana's AC Battery (branded in the below image as the E-Gear™ BESS) was the first to be approvedby Hawaiian Electric Company for the new self-consumption option for residential renewable energy. Now that new regulations favoring revenue stacking have been secured, distributed storage is expected to undergo rapid growth in the state, and is being closely watched.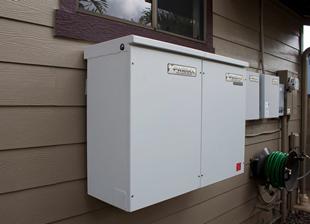 E-Gear/Eguana BESS (6-18kWh)
The AC Battery currently hosts LG Chem battery cells; this can be switched-out if desired, but EV industry watchers will know that LG Chem are leading the lithium sector across multiple chemistries, and for almost all use-cases. The company supply batteries to over half of the world's top automakers, and are recognized leaders on price ($145/kWh), product quality, R&D capability and manufacturing capacity in the US, China, Europe, and S. Korea. The company have even disclosed that they are likely to beat Tesla to gigafactory-levels of output even in the US market, in 2016 - just not entirely under a single, marketable roof.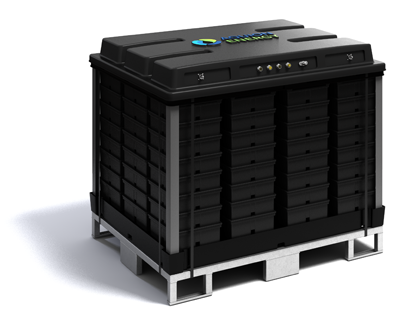 Aquion M-100 (25+kWh)
Aquion were founded by former NASA (satellite and Curiosity rover) battery scientist Jay Whitacre. The Gates-funded company's novel batteries are rapidly improving across a range of metrics, with major potential for cheap ($0.01/kWh target) and long-life (but heavy/low-density) stationary, cradle-to-cradle certified (sodium/carbon) systems. Aquion's technology partnership with Eguana will likely see something like the 25kWh M-100 stackable Aquion systems pre-integrated with a Bi-Direx. Interest from Australia in Aquion is apparently booming, in part due to the high temperature tolerance and regulator-friendly, self-extinguishing capability.
Raytheon's military-focused RK10/30 has also been disclosed as using Eguana's Bi-Direx, which incorporated zinc-bromide flow-type batteries from both Redflow (Australia), and Silicon Valley VC favorite Primus Power (California).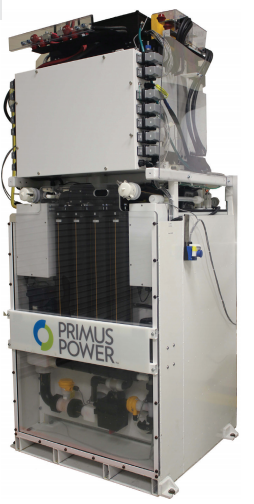 Primus have announced their 20kW/72kWh EnergyCell (left) will incorporate Bi-Direx. In the announcement, Primus' Director of System Engineering was quoted as saying that
"'when it comes to low voltage, high power inverters there are not many manufacturers that have products as capable as Eguana's inverters'...the unique modular topology with galvanic isolation provides Primus Power a great deal of flexibility in system design and grid interconnection of various power ratings and applications."
Investors calling for the resignation of Eguana executives after the Sonnenbatterie split were seemingly acknowledged with the stepping-down of CEO Michael Carten (to the role of Director), and promotion of COO Justin Holland in his place. This is merely a symbolic change, but given the leadership provided by Carten into the German storage market and the improving business position (low leverage ratio, partner and customer diversity, and undervaluation of IP), nothing more radical is merited.
Though this wasn't the original logic behind the Iguana branding, the company appear to have become genuinely adept at slipping past potentially terminal upsets, in pursuit of their mission to supply advanced power electronics for an intelligent, distributed, renewable, and efficient electricity system. Revenue growth is de-risked, margins are improving, and there seems genuine potential for this company to grow into a distributed energy heavyweight.
While product margins remained in the negative in the October 30th, 2015 statement, this due to Eguana expediting repairs resulting from defective componentry in one of the Sonnenbatterie models, blamed on a German contract manufacturer (who is no longer used, and the company's return rate apparently remains below 0.25%). Management predict a recovery of margins due to the greater vertical integration of the AC Battery platform, and new hires have been made with the stated goal to improve production and supply chain cost efficiencies. Finally, customers have even apparently agreed to a Bi-Direx price increase, suggesting genuine respect for the company's technology. The experience with faulty sub- manufacturers should minimize risk of errors with Asteelflash production.
In financial terms the company have managed to increase YTD revenues over 240% without any increase to operating costs; if unit contributions are indeed improved in addition to a major increase in volumes, management's oft-referenced "low cost operating model" should indeed finally generate the returns long promised to investors. Eguana's CEO Justin Holland has declared his target for realization the first profit as being in the first half of 2016. Recent months have indeed been tumultuous, but Eguana have secured comfortable and solid positioning in the storage supply chain. Numerous further partnerships with battery manufacturers and distributors have also been hinted-at in recent disclosures, but not yet formally announced.
Storage technology ecosystems
If investors were more aware of energy storage technology and the implications of its disruption of energy systems, Eguana's market valuation would likely be orders of magnitude higher. Within the current investor group even aware of the company's existence, it seems many seem to have misinterpreted a decision on the part of Sonnenbatterie to gain authority over their own storage ecosystem as implying a lack of technology strength, and heavily oversold as a result. Negative sentiment has persisted despite major improvements in fundamentals, newly supportive governments at both the Alberta and Canada levels, a depreciated Canadian dollar, margin improvements, and deals with multiple industry leaders around the world.
In comparison with the Panasonic/Tesla/SolarCity/Fronius/SolarEdge storage technology ecosystem or the Sony/Sonnenbatterie/Seca ecosystem and more, Eguana have reason to be confident: their partnerships are with industry leaders, yet remain open to 3rd party chemistry and controls providers. This is more technically and strategically flexible, meaning the company have established a defensible positioning in the rapidly growing activity of battery technology developers, installers, utilities, and 3rd-party Distributed Energy Resource Providers (DERPs).
The upbringing in a hydrocarbon-loving community and abusive early customers may have caused some gray hair, but seems to have taught important lessons and forced the company to cultivate a global presence - and this may ultimately become a key driver of success at a more advanced stage of market maturity. Eguana's outlook now appears extremely strong: the company has many distinct product lines and geographically distributed markets ready to ramp-up, as well as supplier and customer partnerships to meet this demand.
Future of Battery Storage
Deutsche Bank, Goldman Sachs, and many other research groups have projected immense growth rates for battery storage. For SunEdison, adoption of this platform reveals a significant strategic change from the internalization/acquisition strategy: joining a technology ecosystem already positioned to scale at a rate beyond Tesla. In such a rapidly-changing market, project developers must remain lean and competitive; the battle for storage market share will only be won through a capacity to deliver streamlined and value-focused services, at scale.
Taking into account to the above developments, Eguana's technology, strategy, and integrity appear not to be going unnoticed. The company's founders have dedicated their careers to the advancement of renewable energy, and provided considerable leadership toward its realization. They have repeatedly demonstrated their ability to deliver sophisticated, high-quality products, and it seems their efforts will - finally - soon be rewarded.
Disclosure: I am/we are long STGYF.