Wild ride
In 1956 famous Armand Hammer invested in oil wells that Occidental planned to drill in California. Next year Hammer was elected president and chief executive officer. He ran the company till his death in 1990.
From the time of Hammer's first investment in 1956 to 1972 Occidental Petroleum stock price multiplied by more than 150 times!
From 1972 to present day stock price action was also uneven: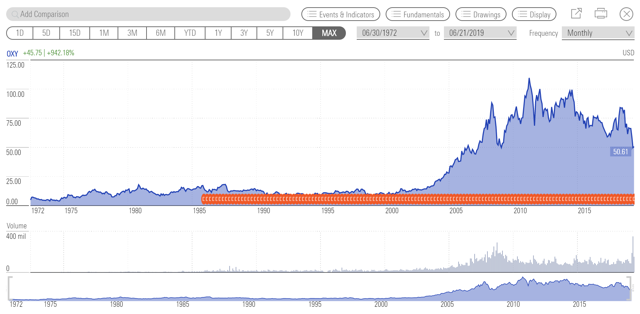 After the last 5 and 10 years investors have either loss or meager return by the way of dividends and some distributions.
If you look at the past you see that share price in the near term doesn't always accurately reflect all developments inside the company. Occidental during its long history made a lot of acquisitions, divestitures, discoveries. Sometimes stock price stayed nearly the same for a long period of time. To be investor in such situation requires a lot of patience.
To get great investment results you need to practice patience anyway. Think about all the people who got rich holding good stocks for many years. Do you know any billionaire (or even millionaire) day traders?
What the future holds
As for now Occidental Petroleum made big acquisition (Anadarko Petroleum Corporation). Probably it paid too much, probably not. Only future will tell.
There are a lot of naysayers who criticize price and terms of the deal. Warren Buffett provided quite expensive financing for the deal while at the same time guaranteeing that Berkshire Hathaway get opportunity to participate in the future upside in the form of warrants.
A lot was said about decision of Occidental CEO Vicki Hollub to use less equity in the deal to circumvent shareholder approval. It was made to speed up decision making and not to lose the deal to Chevron. By doing this, Occidental actually provided shareholders less dilution and bigger upside in the future.
Occidental's assets have a lot of potential and diversity. It has oil and gas segment (which is also geographically diversified - with oil and gas production in US, Colombia and Middle East), chemical segment (OxyChem) and midstream and marketing segment.
Basically, Occidental Petroleum is a solid company which cares about shareholders. It grows its dividend (current yield is quite high), buys back stock and reduce debt. What more could you wish for?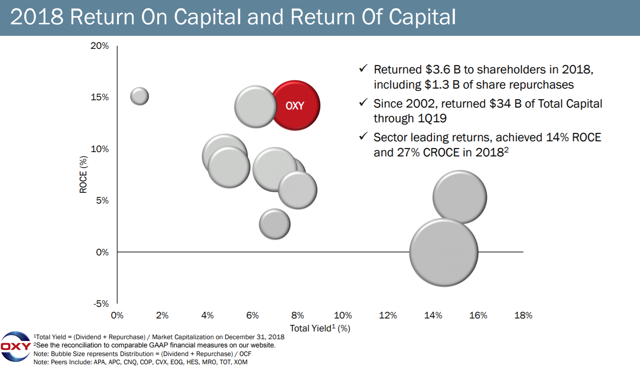 If you believe that future of oil and gas sector will be a bit better than recent past - you should definitely think seriously about investing in Occidental Petroleum Corporation stock. You will have a lot of tailwinds going for you:
currently depressed valuation
very high yield on your original investment (company intends to grow dividend)
one of best investors in the world holding sizable stake alongside you
insiders who "eat their own cooking":

Even if the share price rise have to wait for a couple of years - you will enjoy dividends along the way!