12/1/2016 Cannabis Portfolio Review
Introduction
My goal in this article is to share my current portfolio of publicly traded cannabis companies and provide a basic explanation as to why I own the stocks that I do. I hope to grow this portfolio substantially in coming years as I hone my skills as an investor. I look forward to learning as I go and sharing my findings with this community, from whom I've already learned so much. I welcome comments and questions, and will do my best to respond to all of them.
First, an important disclaimer: I am not a financial professional of any type. I am a casual investor at best. I work in the cannabis industry in the US, and I've smoked a lot of cannabis in my life. Which, according to the next US Attorney General, means I'm not a good person. So, keep that in mind as you read on. With that said, these are real trades I've made with my own money, and this is the full story--I'm not omitting a single order.
In recent months and especially since the US General Election on November 8, 2016, I have received a number of questions from curious friends and family members who know that I invest in cannabis and want to get in, too. This makes me nervous since, as I've said, I'm not qualified to advise anyone on money matters. I feel comfortable risking my own money and sharing my reasons for doing so, but that's about it. I wouldn't advise anyone else to do as I've done without first doing their own research and/or consulting a financial professional.
Having made these disclaimers, I'll now try to tell a coherent story about my own investing history with publicly traded cannabis companies.
First acquisition: GW Pharmaceuticals
I bought my first cannabis stock, one share of GW Pharmaceuticals (GWPH), via Robinhood* on March 24, 2016. I bought some another a week later. I was late to the GWPH party, as it had recently doubled in value following the public release of favorable results from phase 3 FDA studies for Epidiolex. My cost average is $75.50, which yields a very solid return at today's price of $109.28--but if I had bought it just a few weeks earlier, my potential returns would have been even greater.
I subscribe to the popular belief that GWPH is the premier cannabis stock in the world because of its market cap, the fact that it is nearing FDA approval for sale of cannabis-derived medicines through US pharmacies, its international business model, and its Nasdaq listing. I'm not aware of any other company of its size that trades on a major US exchange. But just because it's on a US exchange does not mean it's a good company or that it's without risk.
As the chart below shows, GWPH's stock has been incredibly volatile in recent years. Before the March 2016 rally, the stock looked like a falling knife. It could do that again. There are also systemic risks that could cause this (and every other cannabis stock) to go to zero. So, while I am proudly long GWPH, I don't necessarily recommend buying at today's prices.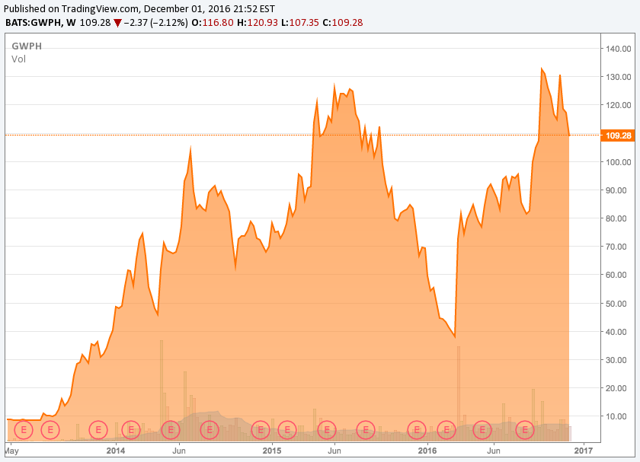 *I mention the brokerage, Robinhood (which I generally like for its $0 commission), because this is the only cannabis stock I could buy on it. None of the Canadian companies I'll talk about next are available on Robinhood at this time. This gets to a larger point, which is that many would-be cannabis (retail) investors in the US are prevented from buying cannabis stocks because their brokerage doesn't currently offer those stocks to them. I suspect that will change soon, and we'll see even more buying from the US. But GWPH won't necessarily benefit from that, since it's already listed on a major exchange and available to all US investors.
Next phase: building a portfolio of Canadian cannabis companies
After I bought GWPH and it continued to rise, I found myself spending a lot more time following the cannabis financial news. I am indebted to many Seeking Alpha writers for helping pique my interest, in particular Alan Brochstein, CFA. If you haven't read his work yet, close this article immediately and go do so.
Learning from Mr. Brochstein and others, I came to understand that in Canada there are licensed producers (LPs) of medical cannabis who trade on public markets, and while those companies may be risky investments, they are in my view much stronger companies than the publicly traded US-based cannabis companies that I am aware of. I know a little bit about the US cannabis industry, having worked in it myself. Canadian LPs operate with a license from their federal government and there is no question about their legality. They have access to banking services and public financing. Meanwhile, US cannabis companies continue to operate under the specter of federal prohibition and in many cases struggle to access even basic banking services.
As a US-based retail investor, I cannot buy Canadian cannabis companies via my prefered commission-free brokerage. So I use TD Ameritrade instead, which charges a $10 commission per trade after a certain number of introductory free trades. Given the modest size of my portfolio, $10 commissions are not miniscule. New investors should carefully consider the role that commissions will play in their strategy. Taxes, too, but I know very little about those.
People ask me if these are "penny stocks" and I'm not sure what to say. My understanding is that these companies are listed mostly on secondary exchanges in Canada like the TSX Venture exchange, and as a US investor I buy them (via my broker) through the OTC markets. If you only looked at share price and market cap, you might reasonably conclude that these are indeed penny stocks. So, again, proceed with caution.
Without further adieu, here is my current portfolio of Canadian LPs: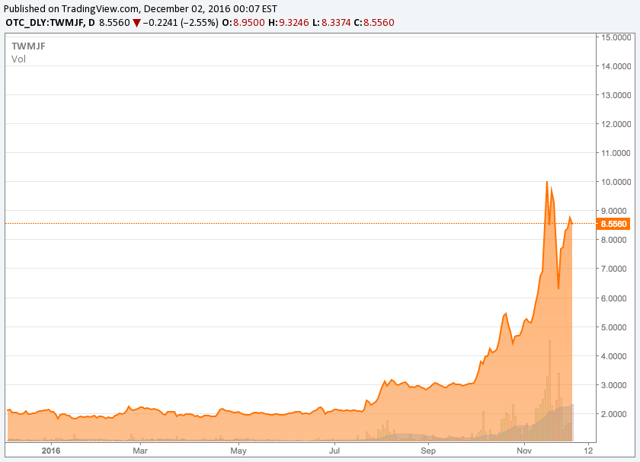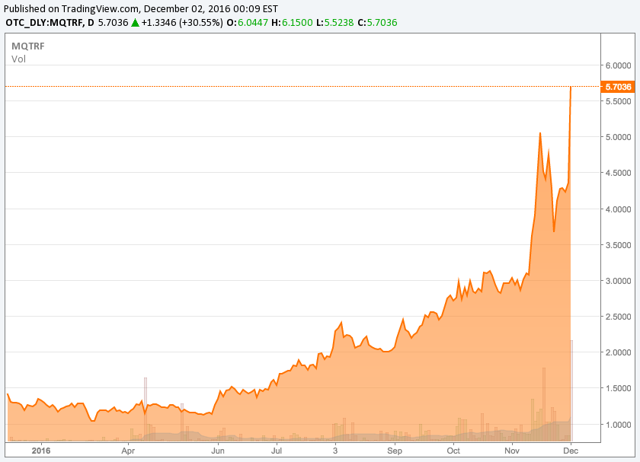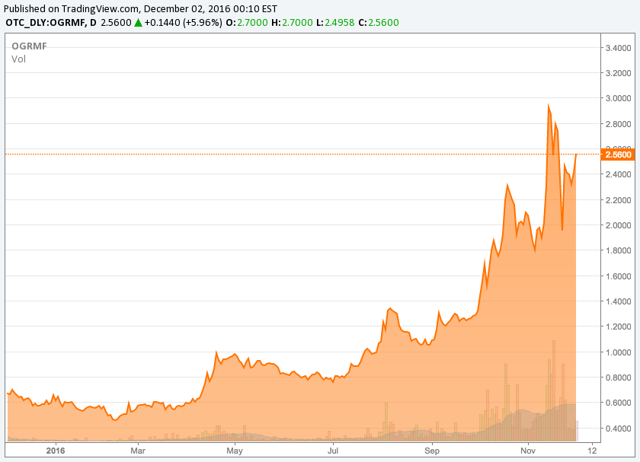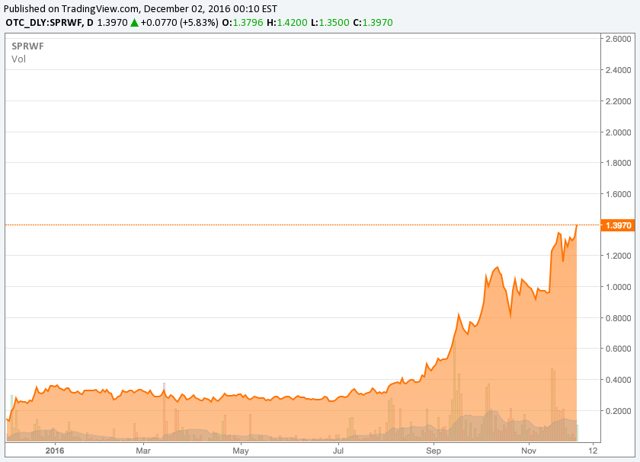 Do these charts look bubbly to you? Here's a table.
| | | | | | | | | | |
| --- | --- | --- | --- | --- | --- | --- | --- | --- | --- |
| Ticker | Company | Shares | 12/1/16 price | Cost avg | Mkt value | Cost | Gain ($) | Gain (%) | % of Portfolio |
| GWPH | GW Pharma. | 2 | $109.28 | $75.50 | $218.56 | $151.00 | $67.56 | 44.74% | 9.53% |
| TWMJF | Canopy Growth | 100 | $8.55 | $2.05 | $855.00 | $204.94 | $650.06 | 317.20% | 37.26% |
| MQTRF | Mettrum | 100 | $5.70 | $1.25 | $570.00 | $125.00 | $445.00 | 356.00% | 24.84% |
| OGRMF | OrganiGram | 200 | $2.56 | $1.10 | $512.00 | $219.82 | $292.18 | 132.92% | 22.31% |
| SPRWF | Supreme Pharma. | 100 | $1.39 | $0.52 | $139.00 | $51.90 | $87.10 | 167.82% | 6.06% |
| TOTAL |   |   |   |   | $2,294.56 | $752.66 | $1,541.90 | 204.86% |   |
Conclusion
As the table above shows, my very modest cannabis portfolio is off to a good start. I suspect that many of these prices will come down considerably at some point in the months to come, but I am not looking to time the market. I will consider dips buying opportunities. I look forward to growing this portfolio as the industry develops, and sharing my progress with the SA community.
I hope that by telling the story of my own investing history with publicly traded cannabis companies, I might encourage other "normal folks" (retail investors) to think more critically about the sector. More selfishly, I hope that I'll receive some feedback on this article that will help me make better investing decisions in the future. Thank you for reading!
Positions: I am long every stock mentioned in this article. I have no intention of trading of these stocks in the next 72 hours.
Note: all prices in USD unless otherwise noted.
Disclosure: I am/we are long GWPH, TWMJF, MQTRF, OGRMF, SPRWF.