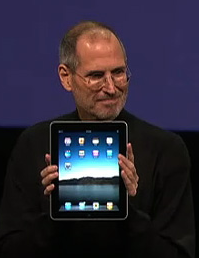 Hockey great Wayne Gretzky once said, "I skate to where the puck is going to be." Steve Jobs has been known to borrow Gretzky's line as it illustrates Apple's (AAPL) vision and willingness to go where the market is "going to be." Ladies and gentlemen, I give you the iPad. On January 27, Steve Jobs unveiled the new iPad device and tore up the rulebook once again. The touchscreen iPad doesn't fit into any current product category. Yet it is clearly a beautiful device that delivers big on its promise of infotainment and utility.
While the usual suspects have questioned whether Apple can carve out a new product category (somewhere between a smartphone and a laptop), other tech watchers recognize that the iPad has ready-made customers … the 75 million iPhone/iPod Touch owners who already know how to use an iPad. These Apple device owners also have content (e.g. music, movies, apps and games) that can easily be uploaded to iPad via a simple iTunes synch.
To ensure a clean run down the product launch slopes, Apple shocked the industry with a low $499 price for iPad. There are also higher end models with more data storage + 3G radios. But even the base model, at $499, includes the latest WiFi (802.11n) and that will suffice for many. As Needham & Company analyst Charles Wolf points out, the $499 price point is "low enough to attract a sizable portion of the early adopter crowd."
Besides millions of Apple loyalists, who else is might lust after the iPad? Apple is no doubt aiming at the same crowd who buy ultra-portable netbooks and e-readers. After learning about the iPad (and virtually everyone has heard the buzz), many will pause before plunking down $500 for a netbook or $250 for a single-purpose e-reader. The Wall Street Journal's Walt Mossberg says the $499 price will be "a big problem for Dell, HP and Lenovo, and all competitors building tablets who traditionally like to get under Apple's price umbrella" … At $499, "there's not a whole lot of room under that umbrella." 


Gamers too should be drawn to iPad's vibrant 9.7 inch display and (according to Steve Jobs) "super responsive, super precise" multi-touch sensors which will make it easy to handle screen controls. The iPad weighs just 1.5 lbs, yet it gets a whopping 10 hours of battery life, important for ardent gamers.
How about book fans? iPad has a beautiful color screen and Apple's new iBooks Store, with its fully integrated iBooks reader app, should capture the attention of e-book fans and students (iTunes U). Content is key, and at the unveiling event , Steve Jobs announced deals with five major publishers -- Penguin, Harper Collins, Simon & Shuster, Macmillan, and Hachette. The iPad's low entry price should entice Kindle fans to move up to the iPad. "Amazon has done a great job pioneering this technology [the Kindle] and we're going to stand on their shoulders, and go a bit further" ~ Steve Jobs.
Avid readers will also enjoy the snappy web browsing experience on iPad. The NY Times demoed their iPad app at the Jan 27 unveiling and future content deals with magazines and newspapers may be in the works.
For those who want more than just fun and games on their iPad, Apple is delivering a new e-mail program and a redesigned calendar app. iPad also features Apple's iWorks productivity suite (Pages, Keynote and Numbers - $9.99 each) that allows iPad users to do word processing, create presentations and documents, and build spreadsheets.
Do we have a winner "in our hands" with iPad? My fortune-teller app says "it's not wise to bet against Apple." While not every recent Apple product has been a raging success (e.g. Steve Job's "hobby" a.k.a. Apple TV), the iPad launch will enjoy a number of important "jump start" advantages:
Incredible product visibility and buzz – On January 28, a Google search returned 6,920,000 results for Apple iPad.
iPad has a ready-made customer base – 75 million iPhone/iPod Touch owners.
iPad synchs to iTunes and current Apple consumers will have 100% portability of their content (e.g. photos, music, movies, TV shows, apps, games, e-books, contacts, calendar and bookmarks).
Virtually all of Apple's 140,000 current App Store offerings will run on the iPad, and with its own software development kit (NYSEARCA:SDK), developers can easily optimize their apps for the iPad.
Apple's iPad entry price ($499) is low enough to take share from netbook and e-reader competitors.
iPads provides the latest WiFi (802.11n) + 3G connectivity (AT&T) with competitive data plans ($14.99 for 250 MB or $29.99 for unlimited data). For those who want to carrier shop, you should know that iPads are unlocked (no contract – cancel anytime).
Want a physical keyboard? No problem, Apple has an optional keyboard doc/charging stand for your iPad.
Feel the need for speed? iPad runs the rocket fast A4 processor. The A4 was the talk of the Jan 27 Special Event Read more about Apple's new A4 > here
What will the iPad mean for Apple's (AAPL) bottom line? Billions in new revenue is the short answer. Analysts are now adding iPad sales numbers and revenue projections into their Apple (AAPL) earnings calculus.
According to Philip Elmer-Dewitt , editor of Apple 2.0, "At least six analysts -Reitzes, Munster, Reiner, Fidacaro, Craig and Bailey - have raised their Apple (NASDAQ:AAPL) share price targets (to $285, $284, $265, $260, $250 and $240, respectively)." De-Witt has also created a chart to track analysts' iPad unit sales projections. Guesstimates in 2010 range from a low of 1.1 million (Oppenheimer) to a high of 7.0 million (Broadpoint AmTech). The projections for 2011 are more optimistic with a low guess at 3.5 units (Canaccord Adams) and 13 million on the high side (Brodpoint AmTech). See chart below.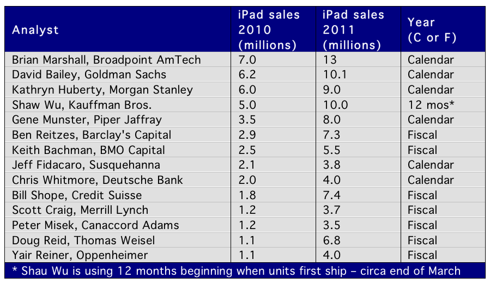 Disclosure:
Long Apple (
AAPL
)