Nexus Minerals is an Australian junior exploration company listed on the ASX and trades under the code NXM.AX. The cash sitting on Nexus' balance sheet exceeds its market capitalisation which gives a free interest in some highly prospective gold ground near the famous mining centre of Kalgoorlie.
Gold bull and bears alike are aware that the gold junior exploration sector has been absolutely pumelled. In all great bull and bear markets prices reach levels of extreme overvaluation and extreme undervaluation. Extreme overvaluation may be signaled by PE's which stretch into the 100's, currently seen in some US tech sector names, after an aging 6 year bull market. These companies are growing strongly but have PE's that are astronomical by historical standards and future return expectations are low according to measures like the Shiller PE ratio. For extreme undervaluation, after the savage gold bear market which has caused the GDXJ to lose greater than 85% of its value, there is Nexus Minerals as a potential example. Nexus Minerals has cash backing with no debt and exposure to a gold project. This project has historical workings and is located in the prolific greenstone belt of Western Australia which has produced an untold wealth of gold mineralisation.
Triumph Gold Project JV
The Triumph Gold Project JV is located in the Eastern Goldfields of Western Australia, 145km northeast of Kalgoorlie. The JV tenement package covers 13km of strike extent, with 3km being held by other interests. The area contains old workings which were mined between 1897 and 1921, with recorded production of 8,100t @ 24.5g/t gold from one section of the workings and 22,168t @ 46.4g/t gold from another. Triumph is located in the same geological terrain as some of the states most significant mining operations - Granny Smith, Sunrise Dam, Red October, Carosue Dam and the Super Pit.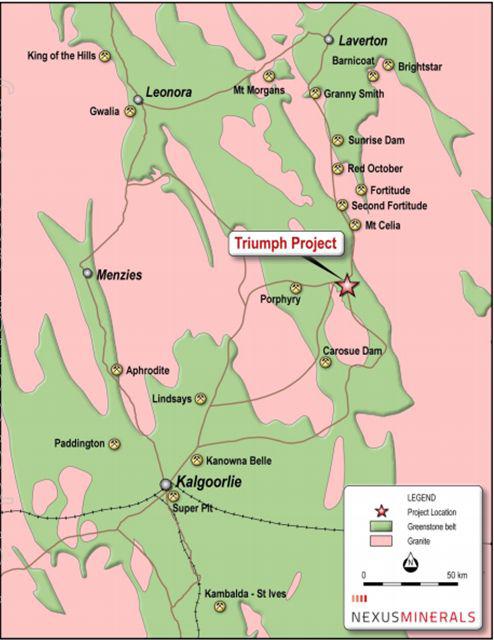 The deepest shaft in the area is said to be 150m deep and the company reports that there has been very limited exploration undertaken on the tenements. Exploration which was done in the late 80's and early 90's was in search of shallow oxide gold. Only 5 holes were drilled deeper than 80m, with the deepest being 160m. This picture shows the limited extent of historical drilling along strike and at depth at the Triumph Gold Project group of tenements.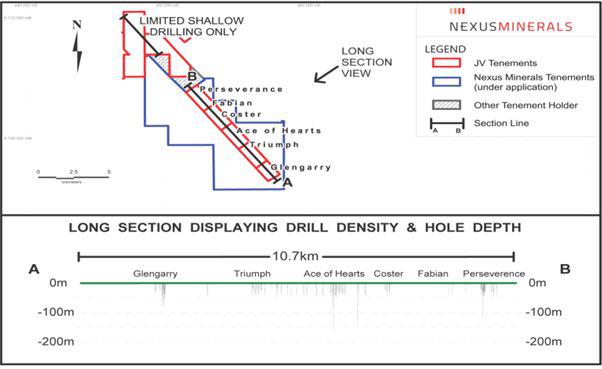 It would appear that with some more deep RC and diamond drilling the Triumph Project could yet yield significant amounts of mineable high grade gold.
Triumph JV Farm-In Agreement
The terms of the JV entitle Nexus to earn an 80% interest by paying the vendor A$50,000 and then funding A$700,000 in exploration expenditure over a period of 4 years. The next 15% can be earned by sole funding a further A$150,000 of expenditure unless the vendor chooses to provide funding for further exploration in proportion to its interest. Nexus retains an option to buy the remaining 5% interest for a 1% net smelter royalty capped at A$2M.
Recent Exploration Drilling at the Triumph Project
In April 2015 Nexus Minerals reported results to a completed 40 hole, 4034m RC drilling program to test 4 high priority areas - Triumph, Glengarry, Ace of Hearts and Perseverance. The drilling successfully intercepted gold at 3 of these prospect areas - Triumph, Glengarry and Ace of Hearts. The company reports that the Triumph and Glengarry prospects returned the most encouraging results and will be the focus for the next stage of the project.
Triumph Prospect
Best intersection of 2m@14.97g/t Au from 115m with adjacent hole 75m along strike intersection of 1m@9.43g/t Au from 101m.
Reported to be open at depth >100m and open along strike.
Grades appear economic for underground mining after accounting for 80% mining dilution - a 1.8m mineable stope width gives 5g/t Au on 1m@9g/t Au gold vein. These high grade hits are highly encouraging of an economic endowment. It is expected that this prospect will be further tested to extend the strike and depth in the following exploration program.
Glengarry Prospect
Best intersection of 3m@13.09g/t Au from 46m.
Reported to be open along strike.
Disappointing that the drilling did not return gold at depth however width and grade has potential to support a shallow open pit. Along strike expected to be tested in further drilling.
The picture below gives a snapshot of all significant results encountered from the recent RC drilling at the Triumph Project.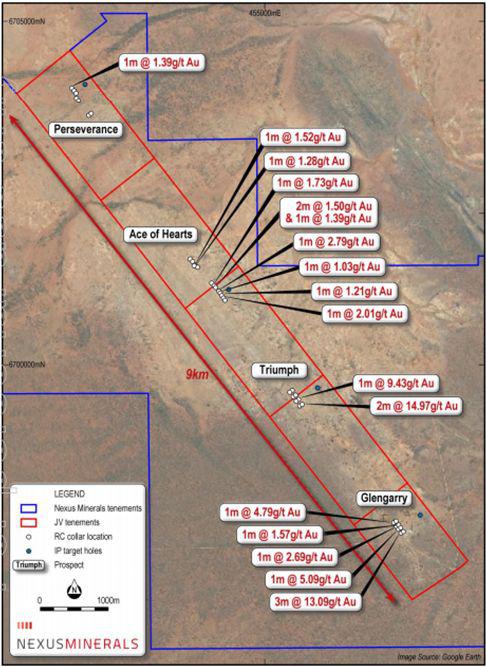 Other Western Australian Land Holdings
Nexus Minerals owns other ground in W.A. and reports it is currently looking to realise some value from its Pilbara iron ore tenements.
Eastern Goldfields
Mt Celia Gold Project (in additon to Triumph Project)
Pilbara Iron Projects - tenements sold 18/5/15 for A$195,000
Yandicoogina South - Indicated Resource of ~4.3Mt@55.8% Fe
Hancock Range
Mount Goldsworthy
Gardiner Range Gold Project
Four tenements proximal to Tanami Gold's operations.
Risks and Investment Horizon
There are no guarantees that any economically viable ore deposits will be delineated on tenements owned by the Company. Further exploration could render the Triumph Project uneconomic at present gold prices. The gold bear market could continue on with longer duration and severity then expected and in a worse case scenario could fall to US$800/oz causing Nexus' stock to drift considerably lower. Often markets do not appreciate an exploration companies cash balance unless there is some plan to distribute it to shareholders.
The stock should be considered a hold over a 5+ year time horizon. In 5 years time it could reasonably be expected that the gold bear market will be over and gold will be back in favour.
Nexus Minerals should be considered a speculative, high risk stock, with high potential reward and would only make up a small proportion of a well balanced portfolio. This article should in no way be considered or construed as any kind of investment advice and is purely for educational purposes.
In Summary
Nexus Minerals appears to have upside potential with continued exploration success at the Triumph Project and with leverage to an increasing gold price. The downside risk is limited by its healthy cash balance:
A$6.399M cash with no debt - mostly in term deposits (as 31/3)
Equivalent of ~9 cents/share of cash backing with 70.4 million ordinary shares outstanding.
At the current share price the market is attributing zero value to continued exploration success at the Triumph Project or the companies other prospects.
Takeaway
Buying Nexus Minerals at the current share price is essentially buying exposure to the Triumph Gold Project and further W.A. tenements for free. At the current cash burn rate of ~A$400k per quarter the Company could fund further exploration drilling at Triumph for approximately another 18 months and still have 100% cash backing. This is calculated with a purchase at the current share price of 5.3 cents per share. It may be difficult to achieve a buy at this price due to the stock being relatively illiquid but it is illustrative of how depressed the stock price is trading relative to its cash value.
Disclosure: I am/we are long NXM.AX.