SMS Management & Technology (ASX:SMX) is a leading Asia-Pacific based consulting, technology and systems integration company SMS was founded in 1986 with a vision to add value to their clients businesses and continually enhance their own reputation. The company employs in excess of 1,700 professionals in offices throughout Australia, Hong Kong, Vietnam and Singapore.
Aside from the main consulting business, SMS also operate M&T Resources which is the IT recruitment arm of SMS's business.
SMS strengths lie in the areas of:
IT Consulting
Development & Integration
Software
Hardware
SMS see opportunities to generate more business in:
Business Process Outsourcing
Application Managed Services
Infrastructure Managed Services
The company's industry expertise spans the financial services, ICT, government, defence, health, utilities, mining, gaming and infrastructure sectors.
Does this business have a sustainable competitive advantage?
SMS's competitive advantage comes from:
Long-term relationships with blue chip clients
Multi-year projects with a results focus
Offering a suite of value adding services to their clients
Technology delivery partnerships with leading companies such as Microsoft, IBM and Oracle
What are the risks facing this business?
One risk comes from a downturn in sectors that SMS do a lot of work for. The company has experienced a loss of revenue due to a downturn in financial services and the government sector.
The second risk comes from increasing costs to operate their business. While revenue has been up in 2012FY, the businesses profit margins have reduced partly as a result of increasing costs. The company presented on 15 August, 2012 that they are working to address this issue by streamlining operations in an attempt to reduce overheads by $2 million per annum.
Is it run by able and trustworthy management?
Tom Stianos who is the CEO joined SMS in January 1989. He was appointed CEO in March 2002. During his time with SMS he has led many growth initiatives into different industries and practice areas.
The company is searching for suitable acquisitions. However, they are not willing to make an acquisition unless it is at a fair price and a strategic fit for their business which I take as a good sign.
SMS has a net cash balance of $30 million and cash flow is calculated at similar levels as net profit.
Is it trading at a bargain price?
SMS is trading at about my estimate of their current financial year value.
| | | | | | | |
| --- | --- | --- | --- | --- | --- | --- |
| Rank | 2011 Actual Valuation | 2012 Actual Valuation | Today's Share Price | Margin of Safety | 2013 Forecast Valuation | 2014 Forecast Valuation |
| Gold 1 | $5.23 | $5.70 | $6.21 | 0.96% | $6.27 | $6.83 |
*Please note that forecast estimates of intrinsic value are subject to change on a daily/weekly basis.
Here is a chart of the company's share price performance over the past six months.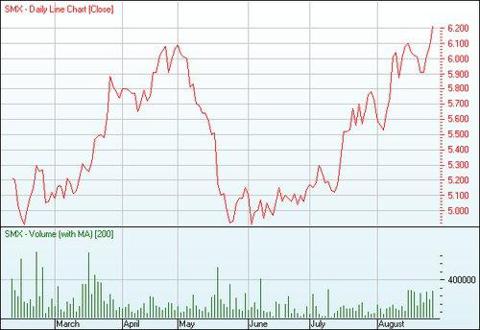 Summary
In summary, SMS is a highly profitable company that is a market leader in its field. It has excellent cash flow and a very strong balance sheet with a net cash position. It has good management who are searching for suitable acquisitions. It is trading at a fair price and has opportunities to grow its business organically.
Disclosure: Dean Mico is a shareholder in SMS.
This article is published by Dean Mico.
The information provided in this article is intended for general use only. The article is intended to provide educational information only. Please be aware that investing involves the risk of capital loss. The information presented does not take into account the investment objectives, financial situation and advisory needs of any particular person, nor does the information provided constitute investment advice. Under no circumstances should investments be based solely on the information herein.
Disclosure: I am long OTC:SMSUF.