Regis Resources Limited (ASX:RRL) is a Perth based Australian gold production and exploration company. The Company operates its 100% owned Duketon Gold Project situated 130 kilometers north of Laverton (350km north-east of Kalgoorlie) in Western Australia.
The Duketon Gold Project is comprised of the Moolart Well Gold Mine, Garden Well Gold Mine and Rosemont Gold deposit.
The Moolart Well Gold Mine began production in 2010 with annual production of 105,000 ounces of gold with a four year mine life remaining. The Company believes that Moolart Well offers further reserve and resource growth potential from continued exploration programs in the area.
The Garden Well Gold Mine (located 30km south of Moolart) was discovered in November 2009. The Resource at Garden Well is 2.6 million ounces of gold with potential additional gold deposits to the south. Regis commenced construction of the Garden Well Gold Project in the September 2011 quarter and is on schedule to begin gold production this month. The project is expected to have a life of mine of eight years producing atleast 220,000 ounces of gold per annum at a cash cost of $555/oz from current reserves of 1.7 million ounces.
In November 2011, the company announced a maiden reserve at its Rosemont Gold deposit of 487,000 ounces. The Rosemont gold deposit is located within 10 kilometers of Garden Well. The magnitude of the maiden reserve is such that all development options will be considered as part of detailed feasibility studies expected to be commenced shortly with a view to expediting production from the project.
Here is a summary of the company's gold production (actual and forecast):
2011 FY: 72,000 ounces
2012 FY: 107,000 ounces
2013 FY: 350,000 ounces (forecast)
2014 FY: 400,000 ounces (forecast)
2015 FY: 400,000 ounces (forecast)
The Company also has a number of satellite deposits surrounding both Moolart Well and Garden Well which contain quoted JORC Resources. The Company is actively drilling these deposits as part of an overall resource conversion campaign.
In August 2012, Regis acquired the McPhillamys Gold Project located between Bathurst and Orange in Western NSW. The McPhillamys gold project has an indicated and inferred resource of 2.5 million oz. The company is targeting production in 2017 of 140,000 ounces per annum for atleast 10 years. This takes the future operation of the business out to atleast the year 2027.
Does this business have a sustainable competitive advantage?
As of this month, Regis has two operating mines (Moolart Well and Garden Well) which reduce operational risks if one of the mines has production issues.
Both mines are located within 30 kilometers of each others. This provides ongoing cost savings and operational benefits to the company.
Management has demonstrated a track record of getting their mines up to production on schedule and below budget. Management's timing with their mines mean that:
1. Moolart Well will operate to 2016
2. Garden Well will operate until 2020
3. Rosemont will begin in 2014
4. McPhillamys Gold Project will begin operating in 2017 as the last of the resource at Moolart Well is produced
Regis Resources is also an Australian producer which removes the sovereign risk element that many other mining companies operating in Asia, Africa and South America face.
What are the risks facing this business?
The obvious risk to Regis Resources profitability is a collapse in the gold price. However, with governments in Europe and the USA introducing inflationary policies in the past two weeks, the likelihood of the gold pricing falling in the foreseeable future is low. In fact, the gold price could be significantly higher in the near term.
The second risk is that the company does not meet production targets it has set itself which would reduce the profitability of the business.
The third risk is that Rosemont (in the medium term) and McPhillamys Gold Project (in the long term) are developed over budget and behind schedule.
Is it run by able and trustworthy management?
The companies managing director, Mark Clark has over 20 years experience in corporate advisory and public company management in the mining industry.
The company's balance sheet showed a modest net debt to equity level of 12% and a clear path to developing the Rosemont and McPhillamys Gold projects from cash flow.
Regis Resources have a proven management team that has a successful track record of developing gold projects in Australia.
Is it trading at a bargain price?
Note the significant jump in valuation this financial year as a result of Garden Well beginning production and significantly increasing the gold produced and subsequently, the businesses earnings this year and beyond.
| | | | | | | |
| --- | --- | --- | --- | --- | --- | --- |
| Rank | 2011 Actual Valuation | 2012 Actual Valuation | Today's Share Price | Margin of Safety | 2013 Forecast Valuation | 2014 Forecast Valuation |
| Gold 2 | $1.38 | $2.88 | $5.25 | 45% | $9.54 | $10.50 |
*Please note that forecast estimates of intrinsic value are subject to change on a daily/weekly basis.
Here is a chart of the company's share price performance over the past six months.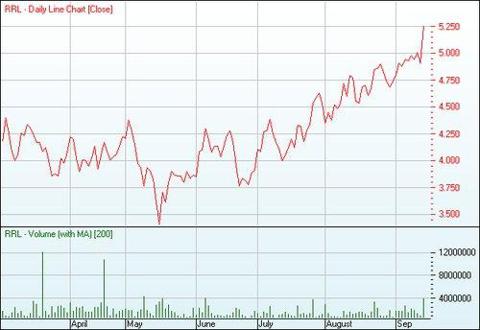 Summary
In summary, Regis Resources is a business with strong and growing profitability as a result of the multiple mines at its Duketon Gold project. The company has acquired a new mine in NSW which takes the operation of the business out to about the year 2027 on current resource projections. The company operates in Australia which takes out sovereign risk issue that offshore gold producers face.
Disclosure: I am long OTCPK:RGRNF.