Codan Limited (ASX:CDA) designs, manufactures and markets a diversified range of high value added electronics products for global government, business, humanitarian aid, and sophisticated consumer markets.
Codan's core products are radio communications systems, metal detectors and mining technology solutions.
The radio communications products are marketed and sold via Codan Limited and the recently acquired Daniels Electronics Limited. The radio communications products are used in a number of military, commercial, humanitarian, public safety and security applications.
The metal detector products are sold by Minelab Electronics. The metal detectors have two main uses being recreational consumer use such as people trying to gold on the beach and the more serious commercial / military function of land mine detection.
The mining technology solutions are provided by the company's Minetec division. Minetec provide communication, safety and radio systems to the mining industry.
Codan also operate a niche electronic solutions business being IMP Printed Circuits Pty Ltd. IMP Printed Circuits as their names suggests largely manufacture printed circuit boards and other electronic products such as LCD screens.
Codan's history dates back to 1959 and the company was initially established to tackle problems in the field of electronics engineering.
Does this business have a sustainable competitive advantage?
Codan is a leading manufacturer of high frequency radio applications, metal detectors, landmine detection products
For over 50 years the company has earned a reputation for unsurpassed quality and customer service in the most demanding environments on earth.
Codan has a broad customer base across its product range and has customers in over 150 countries worldwide. The company presents that their diverse product range help aid workers fighting famine in Africa and they also assist soldiers rebuilding lives in Afghanistan.
High Frequency (NYSE:HF) radio is used for first-line and backup communications over long distances, mainly in remote regions of the developed world and in developing countries.
The acquisition of Daniels increases Codan's competitive advantage by diversifying their radio communication product offering in the area of wireless communication which will grow market share.
Codan is a steady business which is largely protected from a downturn in the global economy due to the nature of its customers being military, humanitarian and government clients.
What are the risks facing this business?
The company could face product faults and recalls if the quality control of its production process was not up to par. In a sense, this risk is clutching at straws.
The company has detailed a strategy to grow by acquisition. The company could potentially overpay for an acquisition in future and reduce its profitability. However, the recent Daniels acquisition and subsequent capital raised was done in a manner that gives the business growth without diluting value for existing shareholders.
Is it run by able and trustworthy management?
The companies managing director and CEO, Donald McGurk has been with the company since 2000 and been in the current leadership role for two years.
The recent acquisition of Daniels Electronics highlights management's capabilities. Management was able to acquire Daniels and raise capital without diluting the profitability of the business for existing shareholders. By what appears to be good design more than luck, management acquired Daniels and raised the right amount of capital to maintain an equity level of 44 cents per share. The net result means that the additional earnings that will come from the Daniels business will only increase profitability which is unusual outcome from most capital raising's and acquisitions.
Is it trading at a bargain price?
| | | | | | | |
| --- | --- | --- | --- | --- | --- | --- |
| Rank | 2011 Actual Valuation | 2012 Actual Valuation | Today's Share Price | Margin of Safety | 2013 Forecast Valuation | 2014 Forecast Valuation |
| Gold 1 | $2.29 | $2.12 | $1.54 | 38% | $2.50 | $2.76 |
*Please note that forecast estimates of intrinsic value are subject to change on a daily/weekly basis.
Here is a chart of the company's share price over the past six months.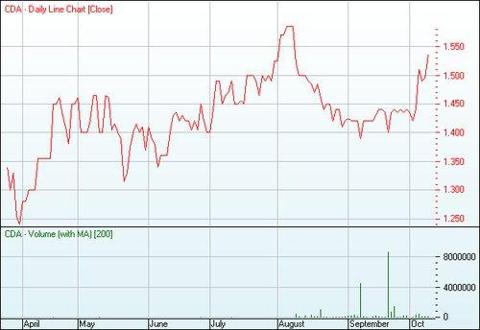 Summary
In summary, Codan Limited is a steady and reliable business supplying high quality radio communication and metal detection products to non-cyclical markets. The business has reliable free cash flow and minimal debt. Codan has outlined a strategy of growth by acquisition and the recent Daniels Electronics acquisition not only adds to profits but more importantly, profitability.
Disclosure: Dean Mico does own shares in Codan Limited.