QBE Insurance Group (ASX:QBE) is Australia's largest international general insurance and reinsurance group. QBE is one of the top 20 insurers and reinsurers worldwide with operations in all key insurance markets. QBE has operations in 52 countries with over 16,000 employees worldwide.
QBE aims to grow its business through an extensive network of insurance businesses. QBE has undertaken more than 135 acquisitions since 1982 and has grown substantially to a level where gross written premium was US$18.3 billion in 2011.
Does this business have a sustainable competitive advantage?
QBE have built a competitive advantage due to their multi-decade strategy of diversification by product and geographical exposure.
QBE present that they attempt to be a lead underwriter for selected lines of business, setting rates and conditions in the markets in which they operate. The company has demonstrated a long history of managing insurance risks in order to run a profitable long-term business.
QBE holds net cash and investments of over $24 Billion in what Warren Buffet calls "float". Float is effectively free money received over time from insurance premiums which the company can use to generate an investment return. As long as the investment return from the premiums grows at a faster rate than the amount paid out for claims, the float will continue to grow.
What are the risks facing this business?
A big risk in recent years has been an increase in the number of catastrophe claims from storms and weather evens such as Hurricane Katrina and the past weeks Super Storm Sandy. Increase in weather induced catastrophes obviously increases the amount QBE pays out in claims.
A second risk is the price paid for some of the acquisitions in the past. With over $6 billion in intangibles sitting on the balance sheet, this suggests that QBE has overpaid for some of their acquisitions which reduces the company's profitability.
Is it run by able and trustworthy management?
The Chairman, Belinda Hutchinson and CEO, John Neal have both been in senior roles with the company for 15 years and eight years respectively. Both have landed in their current roles via succession within QBE which suggests a great management and corporate culture.
The company has an extremely large cash position as a result of the float collected and grown over many decades. However, with an increase in catastrophe claims and poor investment returns in the 2011 financial year, the most recent financial year's profit was cut in half.
Is it trading at a bargain price?
QBE is trading at about my estimate of fair value however the impact (if any) of Super Storm Sally has not been factored into the current valuation.
| | | | | | | |
| --- | --- | --- | --- | --- | --- | --- |
| Rank | 2011 Actual Valuation | Today's Share Price | Margin of Safety | 2012 Forecast Valuation | 2013 Forecast Valuation | 2014 Forecast Valuation |
| Gold 3 | $9.80 | $12.93 | -3% | $12.57 | $12.93 | $13.51 |
*Please note that forecast estimates of intrinsic value are subject to change on a daily/weekly basis.
Here is a chart of the company's share price showing a fair degree of volatility in the past year.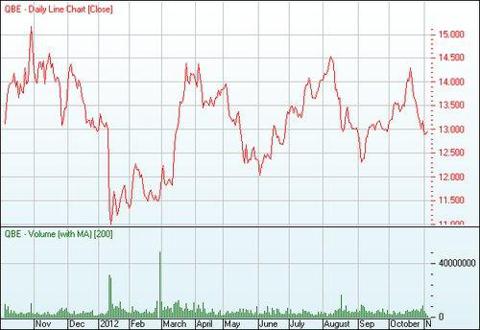 Summary
In summary, QBE is a profitable business that has grown to become a very large presence in the global insurance market. The business has a $24 billion cash and investment portfolio that is used to generate an investment return. Impacting this investment return has been a series of catastrophe's in recent years which has impacted profit levels. QBE has able and trustworthy management and is trading around fair value at the moment.
Disclosure: I am long OTCPK:QBEIF.