WLL - Wellcom Group Limited
Wellcom Group Limited (ASX:WLL) is a technology based marketing production company with operations in Australia, the United Kingdom, Asia and New Zealand. Wellcom create, manage and deliver content for corporations and advertising agencies.
Wellcom offers its clients a total range of services along the marketing supply chain. Wellcom take a brand concept and create design services and cross-media adaptations, 3D and 2D illustration, photography and creative retouching, online and digital services, TV Commercial production, video and animation, Pre-media, image and asset libraries as well as online workflow processes.
Wellcom began in 2000 as a private company employing 12 people in Melbourne and listed on the Australian Stock Exchange in 2005. Today, Wellcom employ about 400 people in their offices situated in Melbourne, Sydney, Adelaide, London, Auckland, Singapore and Kuala Lumpur.
Does this business have a sustainable competitive advantage?
A competitive advantage that Wellcom offer to their market is the ability to provide their clients with solutions to communicate across multiple media channels with speed and consistency.
A second advantage is that Wellcom offers a vast array of products across the entire marketing supply chain in order to meet their client's needs.
Wellcom also offer a clever project management software tool 'Knowledgewell'. Knowledgewell helps corporations manage the entire marketing workflow. Knowledgewell also incorporates financial planning tools that can measure the success of a particular marketing campaign.
What are the risks facing this business?
One obvious risk to Wellcom is the ever-changing world of media content and delivery. Traditional print and TV advertising are less influential than they used to be. Wellcom has been built by utilizing technology as the foundation of its business. The company will need to stay abreast of the changing media landscape and relevant technological implications in order to maintain that strong foundation.
Is it run by able and trustworthy management?
Wellcom Group was founded by Wayne Sidwell in 2000 who is currently the company's Executive Chairman. Mr Sidwell has continued on the Sidwell family tradition. The Sidwell family has been a leader in the graphic arts industry in Australia for over 50 years.
As at June 2012, the company boasts a net cash position of about $15 million which equates to about 28% of the equity of the business. This cash gives the business options. A good option for the cash held would be to grow the business organically either via new technological innovations or the growth of existing and new offices around the world.
Is it trading at a bargain price?
Wellcom group is around my estimate of fair value at present. This estimate of value will most likely change once the company reports their half yearly results.
| | | | | | |
| --- | --- | --- | --- | --- | --- |
| Rank | 2012 Actual Valuation | Today's Share Price | Margin of Safety | 2013 Forecast Valuation | 2014 Forecast Valuation |
| Gold 2 | $2.67 | $3.15 | -8% | $2.91 | $3.27 |
*Please note that forecast estimates of intrinsic value are subject to change on a daily/weekly basis.
Below is a 6 month price chart for Wellcom Group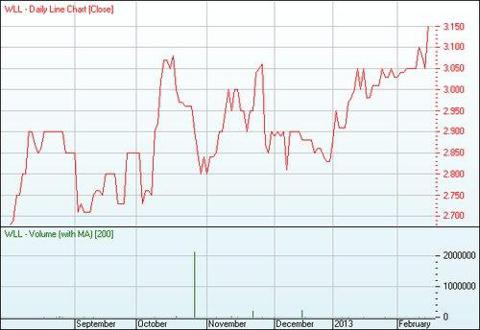 Summary
In summary, Wellcom Group is a growing business operating profitably in a changing environment. The company has experienced management in its field and a tidy balance sheet. The company has a history of producing consistent profits and good cash flow.
Disclosure: I have no positions in any stocks mentioned, and no plans to initiate any positions within the next 72 hours.