Fleetwood Corporation Limited (ASX:FWD) provides a range of fixed and mobile accommodation for the retirement, recreation and resource markets. The company commenced in 1964 selling caravans which still forms a large part of their business today.
Fleetwood sell a range of recreational vehicles, accessories and caravans under four brands being:
1. Camec (caravan and marine spare parts)
2. Coromal Caravans
3. Flexiglass (fiberglass ute canopies, liners and lids)
4. Windsor Caravans
Fleetwood also manufacture and sell accommodation for the retirement and resource markets under:
1. Fleetwood (transportable home and portable accommodation)
2. BRB Modular (prefabricated homes)
Fleetwood is head quartered in Perth, Western Australia and listed on the Australian Stock Exchange in 1987.
Does this business have a sustainable competitive advantage?
Fleetwood's recreation business holds a good percentage of market share due to selling three distinct brands across their caravan range (Camec, Coromal and Windsor Caravans). And, Flexiglass are the market leaders in Australia for manufacture and sale of ute canopies.
Fleetwood have large well positioned manufactured accommodation in resource dominant locations such as Karratha and Port Headland in Western Australia and Gladstone in Queensland. The Searipple Village in Karratha provides 1,320 rooms of accommodation, the Osprey Village in Port Headland currently has 300 mobile homes and the Gladstone Village will provide about 1,000 rooms when completed in 2014. This accommodation provides Fleetwood with recurring revenue streams potentially for decades.
What are the risks facing this business?
One risk to the recreation division selling Caravans is what appears to be the collective diminishing penchant of Australian's for driving a caravan around the place.
A risk to the manufactured accommodation revenue comes from the cyclical nature of resource projects. Reduced resource demand and the reflective demand of worker activity on resource projects can reduce occupancy levels at Fleetwood's accommodation villages. This risk has been seen in the last six months with Rio Tinto and Woodside both completing projects which resulted in their staff no longer being accommodated at Searipple Village.
Is it run by able and trustworthy management?
Fleetwood's management has done a wonderful job for the past decade. However, I do wonder if the recent headwinds experienced by the business, is causing management decisions to lose their shine. The company earned 8.6 cents a share in the six months to December yet the company paid out 30 cents in dividends last month. While all investors love being paid dividends in the short run, doing so when they haven't been earned by the business is a worrying sign as it is not sustainable in the long run.
As at December 2012, the company's balance sheet is strong as it holds little debt. However, the half yearly cash flow was negative reflecting difficult trading conditions.
Is it trading at a bargain price?
Given the most recent half year results and outlook, Fleetwood's share price is expensive at present.
| | | | | | | |
| --- | --- | --- | --- | --- | --- | --- |
| Rank | 2012 Actual Valuation | Today's Share Price | Margin of Safety | 2013 Forecast Valuation | 2014 Forecast Valuation | 2015 Forecast Valuation |
| Gold 4 | $10.33 | $9.34 | -89% | $4.93 | $8.66 | $8.62 |
*Please note that forecast estimates of intrinsic value are subject to change on a daily/weekly basis.
Below is a 12 month price chart for Fleetwood Corporation Limited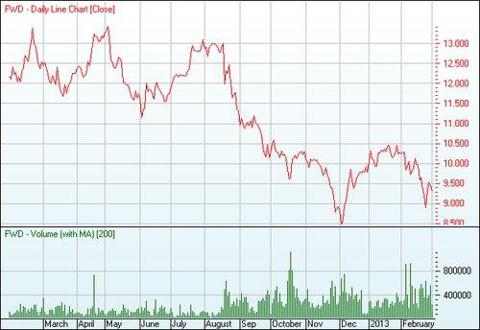 Summary
In summary, Fleetwood is a stable business operating profitably in a changing environment. The company has experienced management in its field and a tidy balance sheet. The company presents that it is operating in the growing area of 'resources and recreation' and there is two sides to that story. The company has a long history of producing good profits and good cash flow. Whether the current performance is a short term blip or a longer term trend remains to be seen.
Disclosure: I have no positions in any stocks mentioned, and no plans to initiate any positions within the next 72 hours.