FLT - Flight Centre Limited
Flight Centre Limited (ASX:FLT) is a global travel agency business. The company provides a complete travel service for leisure and business travelers in Australia, New Zealand, the United States, Canada, the United Kingdom, Africa, the Middle East, Asia and Europe.
Flight Centre began in the early 1980's with one shop and has enjoyed outstanding growth to become the business it is today. The company operates over 30 distinct travel brands across their business. These brands not only encompass the Flight Centre brand, but also include brands such as Escape Travel, Student Flights, Corporate Traveler and 99Bikes.com.au.
Flight Centre employs more than 15,000 people and operates more than 2,500 stores globally.
Does this business have a sustainable competitive advantage?
Flight Centre has a number of competitive advantages that appear sustainable.
The first advantage is in their geographic diversity. The company operates about 2,500 stores directly in 11 countries. And, it has licensing agreements in another 75 countries. This gives Flight Centre a geographic advantage over many of its competitors.
A second advantage comes from brand awareness. A recent presentation by the company suggested Flight Centre was the 14th most recognised brand in Australia. It is likely in this country that when people and businesses are looking for travel, that Flight Centre will be a consideration.
This brand awareness in Australia is providing the company with an opportunity to grow organically into more global markets across many of their brands.
Flight Centre presents another advantage which is their people. Staff numbers apparently grow at about 10% per annum with the majority of staff in sales roles. The company appears to have the right mix of incentives for staff to perform. This creates business momentum as more staff incentivized to sell more will naturally equate to business growth.
What are the risks facing this business?
Volatile economic conditions will have an impact on Flight Centre. Economic conditions may be felt more acutely in areas that Flight Centre is attempting to grow such as the USA and the UK. Recent economic reports suggest the UK has 'triple-dipped' into another recession which may dampen short-term momentum for the business.
Is it run by able and trustworthy management?
Flight Centre's management has done a remarkable job to grow the business since humble beginnings in the 1980's. The company's managing director Graham Turner has directed this business and been a driving force for the company's growth. I read recently that one of Mr Turner's hobbies was marathon running, a hobby of my own which surely makes him able and trustworthy.
Flight Centre report each year an amazing amount of cash on their balance sheet each year. This is largely due to a concept called 'float'. Flight Centre's float essentially comes from the time lag between when they receive payments and deposit payments from customers and when they have to pass those payments on to suppliers such as airlines and hotels. This float essentially means that the business can utilize this constant flow of money from customers to run their business and also earn short term income from this cash flow.
Is it trading at a bargain price?
The share price has had an amazing run over the past 14 months or so and is now a touch expensive compared to my estimate of intrinsic value.
| | | | | | | |
| --- | --- | --- | --- | --- | --- | --- |
| Rank | 2012 Actual Valuation | Today's Share Price | Margin of Safety | 2013 Forecast Valuation | 2014 Forecast Valuation | 2015 Forecast Valuation |
| Gold 2 | $27.11 | $34.00 | -9% | $31.14 | $29.62 | $32.47 |
*Please note that forecast estimates of intrinsic value are subject to change on a daily/weekly basis.
Below is a 12 month price chart for Flight Centre showing that amazing run.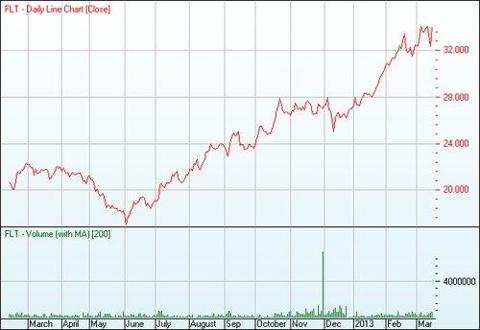 Summary
In summary, Flight Centre is a wonderful business operating consistently profitably. The company has competitive advantages, great growth prospects, experienced and able management and a very strong balance sheet courtesy of its float. As the company grows it does become more difficult for per share valuation to increase if the rate of growth slows. The company has outperformed expectations in recent years and if this form continues, the future estimates of value would increase accordingly.
Disclosure: I am long OTC:FGETF.