CAB - Cabcharge Australia Limited
Cabcharge Australia Limited (ASX:CAB) was established by the Taxi Industry in 1976 as a financial services provider for the Industry. The company developed a secure and convenient payment system for passengers and drivers as a national alternative payment system to cash. Today, the Cabcharge electronic payment system is found in approximately 97% of Australian taxis as well as limousines and water taxis.
Cabcharge listed on the Australian Stock Exchange in December 1999. Today it is a diversified Australian technology, financial services, taxi payments and passenger land transport Company. It also develops and manufactures in-taxi equipment.
In 2005 Cabcharge, together with ComfortDelGro Corporation Limited (Singapore), formed a joint venture company, ComfortDelGro Cabcharge Pty Ltd (NASDAQ:CDC). It purchased the Westbus Group and later the Baxter private bus business and Toronto Bus Services. In 2009, CDC purchased the Kefford Group in Victoria.
In 2008, Cabcharge established EFT Solutions which develops payment system software for other clients, including major banks and retailers, as well as for the Cabcharge system.
Does this business have a sustainable competitive advantage?
Cabcharge has enjoyed what has been a sustainable competitive advantage for many years. The company's nationwide payment system had created a wide moat for competitors to cross.
However, a recent Victorian government inquiry and adoption of recommended changes has suddenly reduced this competitive advantage. The recommended changes included a reduction from 10% to a maximum of 5% service fee on card payments. And, a recommendation in Victoria to lower metropolitan taxi licenses currently valued at around $350,000 to $22,000.
Cabcharge does have strengths in other areas of its business with its industry leading technology and a commitment to continue innovation utilizing the expertise of its people.
Cabcharge also has a presence in the UK courtesy of its relationship with ComfortDelGro and has plans to grow its operations further into Europe. This suggests the company is looking to diversify its reliance on Australian based earnings.
What are the risks facing this business?
The main risk is this decision from the Victorian government to cut card payment fees for taxis in half and reduce the cost of obtaining a taxi licence to $22,000 per annum. This decision means that Victorian's looking to enter the taxi driving industry no longer have a large licence fee as a barrier to entry. Plus, new licensees may not necessarily need to install Cabcharge's payment technology from their cabs.
This risk also has wider ramifications as it opens up the possibility of these or similar changes being implemented in other states around Australia.
These changes in Victoria appear very favourable for consumers and the company's competitors.
Is it run by able and trustworthy management?
Cabcharge's executive chairman, Reg Kermode, founded the company in 1976 and has no doubt steered the company over many decades into a place where it developed a very strong and sustainable position until the Victorian government had other ideas.
Mr Kermode has strongly criticized the Victorian government's decision and I sense will continue to defend the future of the company he founded.
Is it trading at a bargain price?
The company is spot on its intrinsic value for FY13. However, the future is not as certain as it once was and reductions to future valuations are likely as more information about what the Victorian government's decision and its impact on the business come to hand.
| | | | | | |
| --- | --- | --- | --- | --- | --- |
| Rank | 2012 Actual Valuation | Today's Share Price | Margin of Safety | 2013 Forecast Valaution | 2014 Forecast Valuation |
| Silver 2 | $4.59 | $4.03 | 0% | $4.02 | $5.52 |
*Please note that forecast estimates of intrinsic value are subject to change on a daily/weekly basis.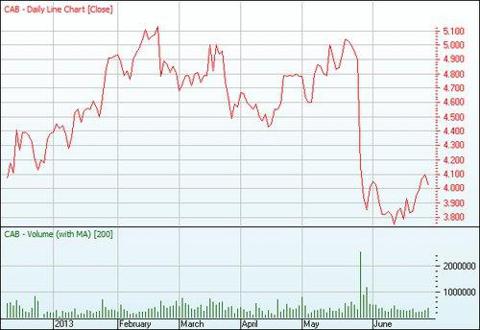 Summary
In summary, Cabcharge has been a very strong business for many years with a sustainable competitive advantage. Moves by the Victorian government this year to break that competitive advantage while great for consumers and new cab drivers is not so great for the business. The company has proven and capable management. The company's future now appears largely dependent on the decisions of governments around Australia.
Disclosure: I have no positions in any stocks mentioned, and no plans to initiate any positions within the next 72 hours.