ASX: MND - Monadelphous Group Limited
Monadelphous Group Limited (ASX:MND) is a leading Australian engineering group providing construction, maintenance and industrial services to the resources, energy and infrastructure sectors.
Monadelphous promotes that it is involved in some of Australia's biggest and most complex projects and facilities, reflecting its position as a leader in their chosen markets.
Monadelphous employ more than 7000 people, with major offices in Perth, Western Australia, and Brisbane, Queensland. These major offices support the company's operations in projects, facilities and workshops spread across Australia and in countries including Papua New Guinea, New Zealand and China.
Monadelphous began in 1989 and has grown from humble beginnings to become a part of the S&P/ASX 100 index, which covers Australia's 100 biggest listed companies.
Does this business have a sustainable competitive advantage?
Monadelphous has developed a sustainable advantage built on a reputation of producing solid, quality work, maintaining a clear customer focus and providing safe, reliable, innovative and cost-effective service solutions.
Monadelphous' core markets include iron ore, oil and gas, mineral processing, coal, power and water.
Monadelphous promote that they have an enviable reputation for engineering excellence on the back of:
1. A long-term approach to the management of customer relationships
2. The delivery of high quality work
3. The provision of high value solutions for a diverse range of customer requirements
What are the risks facing this business?
The obvious risk is the much talked about slow-down in China causing greater competition for a limited number of engineering (mining service) contracts. The net effect of greater competition is likely to be pressure on pricing for these contracts.
In saying that, Monadelphous is arguably the largest and strongest organization in its sector with the proven runs on the board. I suspect that if the doom and gloom some subscribe to about China and global economy comes to pass, that the weaker companies with weaker balance sheets and perhaps less capable solutions would be the first to fall by the way side. Monadelphous as a proven performer with a strong balance sheet would likely be one of the last engineering businesses standing.
One element worth considering within a competitive framework.
If I was responsible for making the decision on whom to award a large multi-million dollar mining, infrastructure or water project for instance. Would I go for the contractor that can save me a few dollars from a cheaper quote that might not have quite the capabilities? or
Go with a proven performer that might be more expensive but could add value to my project through their solutions and quality work?
Is it run by able and trustworthy management?
This company has been run extremely well for at least the last decade. I suspect on this basis, it is run by able and trustworthy management. The statistics tell me all I need to know about the way the company has been run. In fact, on a combined measure of profitability and balance sheet strength as at June 2012, I ranked Monadelphous as the third strongest business across 2,000 listed companies.
And, it has achieved a return on equity above 35% for eight of the past ten years which is a measurement only a handful of other listed companies can boast.
Is it trading at a bargain price?
Based on the information available, it is trading at a discount to its value at the moment.
| | | | | | | |
| --- | --- | --- | --- | --- | --- | --- |
| Rank | 2012 Actual Valuation | 2013 Forecast Valuation | Today's Share Price | Margin of Safety | 2014 Forecast Valuation | 2015 Forecast Valuation |
| Gold 1 | $21.23 | $24.52 | $16.80 | 22% | $21.59 | $23.76 |
*Please note that forecast estimates of intrinsic value are subject to change on a daily/weekly basis and will certainly change to some degree when the company presents its annual report in a couple of weeks.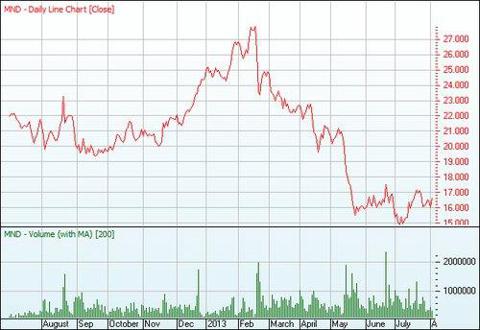 Summary
In summary, Monadelphous is a very strong business in a sector that has experienced poor sentiment throughout 2013 thus far. It is a market leader in its sector with a strong balance sheet and many years of demonstrated performance. The negative sentiment for the sector is what has created the opportunity to buy a piece of this business at a discount to its value. The annual report and outlook for this business will give a significant indication whether or not the business is still good value or not.
Disclosure: I am long OTCPK:MOPHY.