RKN - Reckon Limited
Reckon Limited (ASX:RKN) is a leading provider of software solutions for accounting and bookkeeping professionals, as well as small to medium sized businesses, small office/home office users and personal wealth management sectors in Australia and New Zealand.
Reckon promote that they are driven to provide contemporary software solutions that make accounting faster, easier and simply more productive.
I would imagine casual observers of accounting would be familiar with the Quicken or Quickbooks product range that Reckon has promoted and sold for many years. This Quicken brand has recently been rebranded Reckon Accounts.
The company was officially admitted to the S&P/ASX300 Index on Friday, 21 March 2014.
Does this business have a sustainable competitive advantage?
Reckon has a pipeline of recurring revenue courtesy of the 6,000 accounting businesses using its products and the 600,000 registered businesses in Australia and New Zealand using their software.
These customers providing the recurring revenue are relatively 'sticky'. The reason being is that the cost of down-time for a business to change from one accounting software provider to another creates a significant barrier to exit for customers who would have to overhaul a lot of businesses processes and retrain staff in order to switch to another software provider. This conversely creates a significant barrier to entry for the competition.
More so a reason for growth than a competitive advantage is the company's expansion into new international markets in the UK and across South East Asia at this stage.
What are the risks facing this business?
The obvious risk is the threat of competition largely from new market entrant Xero. While due to the recurring nature of accounting software, I do not think Xero will make large inroads into Reckon's existing customer base. The threat comes more so from a slowing of new business momentum as new businesses may adopt Xero in favor of Reckon.
Reckon have recognised this competitive threat and developed a cloud based offering to compliment their traditional software. Reckon's cloud based offering will help them protect their existing customer base and compete with new entrants providing cloud based technology tools.
Is it run by able and trustworthy management?
The business is run very steadily with little capital expenditure, a sound balance sheet and positive cash flow. It is the sort of business in the Buffett mould that is safe, easy, reliable and profitable.
Is it trading at a bargain price?
Based on my estimates, the company is trading at a good discount to intrinsic value with that value rising into 2015. The company did rebalance into the ASX300 index on Friday which may have caused the unusually large price surge.
| | | | | | |
| --- | --- | --- | --- | --- | --- |
| Rank | 2013 Actual Valuation | Today's Share Price | Margin of Safety | 2014 Forecast Valuation | 2015 Forecast Valuation |
| Gold 1 | $2.33 | $2.23 | 21% | $2.82 | $3.30 |
*Please note that forecast estimates of intrinsic value are subject to change on a daily/weekly basis.
Here is a daily chart of Reckon over the past two years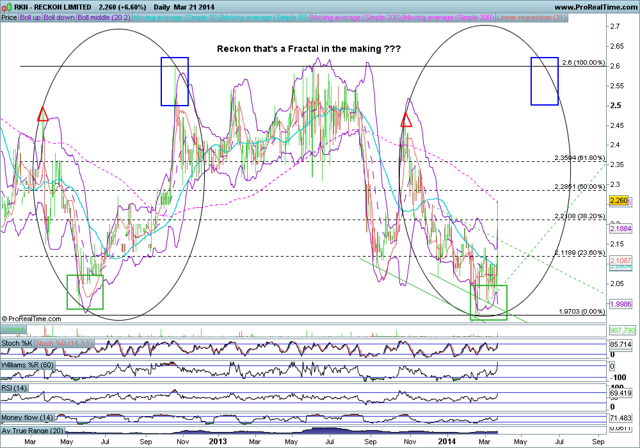 Summary
In summary, Reckon is an excellent business with stable recurring revenue. It has grown its product offering and is expanding internationally. Management run the business with a sound balance sheet and the business enjoys positive cash flow. Reckon is trading at a discount to my estimate of value now and into the future.
Disclosure: I am long RKNLF.