DWS Limited (ASX:DWS) is a leading Australian IT Services company, providing information technology services to blue chip organizations including government departments since 1991.
DWS prides itself on a business philosophy based upon integrity, reliability and professional service delivery for their information technology solutions.
Does this business have a sustainable competitive advantage?
DWS's competitive advantage arises from providing its clients with IT services nationally across the entire software development life cycle. That is, DWS designs, develops, manages and maintains software solutions and IT environments for its clients.
DWS has taken this foundation of IT services and is now extending it into what is now a new digital era by providing services in the areas of Mobile, Social and Cloud Solutions.
DWS promotes that is has a 'proven delivery methodology and service engagement model' designed to 'exceed customer expectations'. It seems this approach adds value to their clients IT needs.
What are the risks facing this business?
Lower business confidence and reduced government spending are a significant risk to this business. In fact, this risk has been seen in the past twelve months or so leading into the Federal Election and 2014 Budget with reduced government spending and also reduced business spending in an uncertain environment.
However, DWS has promoted that it is anticipating higher levels of government spending in IT in the medium term. And, the company has presented that it is also expecting higher IT capital expenditure from its corporate clients into the future.
Is it run by able and trustworthy management?
The business is run very well with a strong balance sheet showing plenty of cash on hand. The company has produced positive cash flow for at least each of the past five years since I have been following this company.
Is it trading at a bargain price?
The company still maintains my Gold 1 ranking despite having had a tough year in 2014. The tough year has shown in the share price. However, based on my estimate, the difference in intrinsic value between 2014 and 2015 is an increase of 32%. With the 2014 financial year coming to a close, the market appears to be looking to 2015.
The Chart
Over the past six to twelve months, the company has rightfully been sold down on a weaker outlook and reduced government spending. But what happens when the last of these people has sold?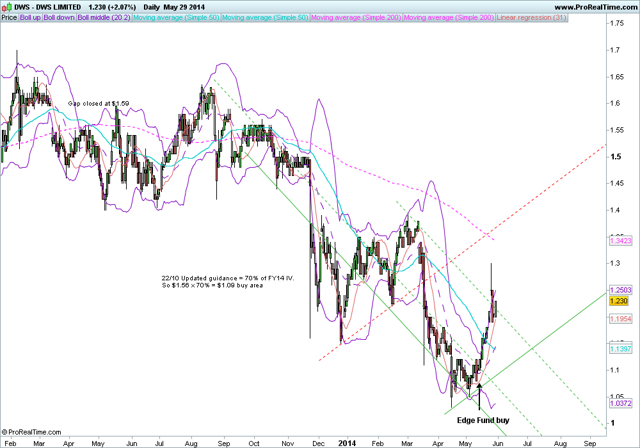 Summary
In summary, DWS is an excellent business with a solid reputation and a good stable of blue chip clients. It has extended its IT solutions to meet the new digital era including mobile and the cloud. Management has run the business for many years with a sound balance sheet and the business continually produces positive cash flow. DWS appears to be a sound investment with the valuation of the business increasing in 2015 and beyond.