Blackmores Limited (ASX:BKL) is Australia's leading natural health brand. For more than 70 years, Blackmores has played an important role in the development of the natural health industry in Australia.
Blackmores consider themselves to be a customer-focused company which helps people to take control of their health and wellbeing. The company's aim is to deliver world's best natural health solutions and to be people's first choice in healthcare.
Blackmores employs about 400 people with a main campus in Warriewood on Sydney's Northern Beaches.
Does this business have a sustainable competitive advantage?
Blackmores are the Australian and NZ market leaders in developing and marketing products and services that deliver a more natural approach to health, based on expertise in vitamins, minerals, herbs and other nutrients.
Blackmores enjoys a great reputation in the community and is the most trusted name in natural health.
Blackmores prides itself on producing high quality products. The company is focused on product innovation and is seeking to grow its business via new product development into new product categories.
Blackmores charges a premium price for its products due to its quality offering. To a certain extent, Blackmores avoids margin erosion through not having to participate in discount wars.
Blackmores is a great marketer of their products which adds to their strong brand perception.
The company is expanding into Asian markets, which is becoming a growth area for Blackmores.
What are the risks facing this business?
The biggest risk to Blackmores is the potential for the company to recall a product due to a quality control issue. If this scenario would occur, it would not only cost the company from a sales and logistics point-of-view but, it would also damage the good reputation the company currently enjoys.
Like most businesses at the moment, the company is facing some challenging conditions with profit margins on their products being eroded this year to date.
Is it run by able and trustworthy management?
Blackmores management team are very experienced with the Chairman Marcus Blackmore having been with the company for many decades. Blackmores has a keen focus on looking after their staff. Blackmores made the strategic decision to move their workforce from two sites and invested in a single 25,000 sqm facility which opened in 2009. Part of the motivation to do so was to bring staff together into one location. In moving to the one central location, Blackmores obtained ongoing productivity benefits from growing product volumes, reduced logistics costs and operational efficiency. Blackmores has been gradually paying down the debt taken on to build the new facility.
Is it trading at a bargain price?
Blackmores is a bit expensive at the moment based on my metrics.
| | | | | | | | |
| --- | --- | --- | --- | --- | --- | --- | --- |
| Rank | 2010 Actual Valuation | 2011 Actual Valuation | Today's Share Price | Margin of Safety | 2012 Forecast Valuation | 2013 Forecast Valuation | 2014 Forecast Valuation |
| Silver 1 | $17.91 | $23.39 | $26.10 | -18.26% | $22.07 | $27.29 | $29.02 |
*Please note that forecast estimates of intrinsic value are subject to change on a daily/weekly basis.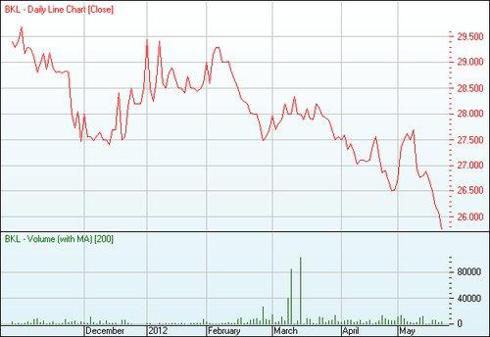 Summary
In summary, Blackmores is a high quality company with good cash flow and experienced management. The company has been reducing its debt since moving into its new facility in 2009. The company has significant growth potential via new product development and growing new markets in Asia. I would like to be a shareholder one day when the price is right.
This article is published by Dean Mico.
The information provided in this article is intended for general use only. The article is intended to provide educational information only. Please be aware that investing involves the risk of capital loss. The information presented does not take into account the investment objectives, financial situation and advisory needs of any particular person, nor does the information provided constitute investment advice. Under no circumstances should investments be based solely on the information herein.
Disclosure: I have no positions in any stocks mentioned, and no plans to initiate any positions within the next 72 hours.