Little World Beverages Limited (ASX:LWB) is a boutique brewery operating in the craft beer market in Australia. Little World Beverages opened its doors in 2000 when a group of mates with beer industry backgrounds opened a small brewery in Fremantle, WA.
The company has since built a bigger brewery on site after acquiring land next to the original brewery. The decision to build a new factory, new brewing and packaging equipment required a significant amount of capital to be raised which coincided with the company listing on the ASX in 2005. The bigger brewery also incorporates 'The Great Hall' where the public can come on site and see the beer being brewed first hand.
The company has also set up a brewing base in Geelong, VIC. The company believes having a base on the east coast of Australia will bring economies of scale as this extra location is closer to national distribution points and their suppliers.
Little World Beverages sells their beer under their boutique brands such as Little Creatures, Roger's Beer, Pipsqueak Best Cider and White Rabbit.
Does this business have a sustainable competitive advantage?
Little World Beverages is well positioned as a small brewer to take advantage of a growing trend in craft beers in Australia.
Little World Beverages appear to be working hard to establish a sustainable independently branded beer business. The company is developing strong distribution networks and a national sales network.
Being craft beer, its brands are sold at a premium to more well known domestic beer brands. This gives the company good profit margins on their sales.
The company is growing off a small base. Little World Beverages apparently sells about 0.5% of Australia's total beer sales. The business has the opportunity to double market share to 1% of the total market without really impacting the larger beer suppliers in Australia. While it wouldn't make much of a dent in their competitor's businesses, doubling market share would provide a massive benefit to Little World Beverages.
What are the risks facing this business?
Being a small brewer, the company faces higher production and distribution costs than the larger multinational brewers it competes against.
The current economic headwinds combined with the premium price for their product may prove a threat to their sales volumes in the near term.
Is it run by able and trustworthy management?
Management are passionate and experienced beer makers who have developed a good reputation in the craft beer market. The company borrowed $27 million in the first half of 2012FY which appears to relate to a significant expansion at the Geelong brewery. It will take a few years to see if this expenditure at Geelong will pay off in terms of increased sales and at least incremental profitability improvements. A good sign for this business will be to see the debt being paid down in a timely manner.
Is it trading at a bargain price?
Little World Beverages is quite expensive by my metrics. The debt level taken on does increase the risk profile associated with the company. The share price has remained well above my estimate of value for the past 12 months. Perhaps, the appeal of owning part of a brewery keeps the share price high. Shares in this business trade infrequently, it is considered an illiquid stock. Fish tend to think that liquidity is important, some investors do too.
| | | | | |
| --- | --- | --- | --- | --- |
| Rank | 2011 Actual Valuation | Today's Share Price | Margin of Safety | 2012 Forecast Valuation |
| Silver 2 | $1.59 | $3.81 | -159.18% | $1.47 |
*Please note that forecast estimates of intrinsic value are subject to change on a daily/weekly basis.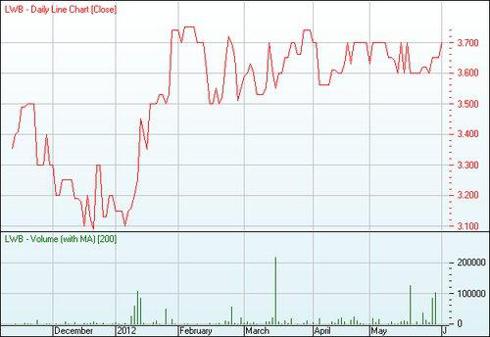 Summary
In summary, Little World Beverages is a unique and interesting business with experienced management. The company has taken on a material amount of debt recently which appears to have impacted their cash flow. Time will tell if the recent borrowing will pay off in the long run once the Geelong brewery is completely refurbished. I wish current shareholders all the best in enjoying the journey this business is on.
This article is published by Dean Mico.
The information provided in this article is intended for general use only. The article is intended to provide educational information only. Please be aware that investing involves the risk of capital loss. The information presented does not take into account the investment objectives, financial situation and advisory needs of any particular person, nor does the information provided constitute investment advice. Under no circumstances should investments be based solely on the information herein.
Disclosure: I have no positions in any stocks mentioned, and no plans to initiate any positions within the next 72 hours.