GUD Holdings Limited (ASX:GUD) comprises a number of consumer and industrial products companies in Australia and New Zealand. Through these businesses, GUD is the owner of one of the Asia-Pacific region's premier brand portfolios. Most of GUD's brands are market leaders in their individual product categories and industries.
GUD stable of established and well recognised brands includes Sunbeam appliances, Ryco filters, Davey pumps, Oates cleaning accessories and Dexion.
GUD has been listed on the Australian Stock Exchange for over 50 years and is included in the S&P ASX 200 index.
Does this business have a sustainable competitive advantage?
GUD Holdings has a competitive advantage in the area of brand management. The company manages a diversified range of brands that contribute diversified revenue streams. As mentioned, GUD's business units are consumer, water, automotive and industrial segments.
GUD's principal skills are in the disciplines of product design and development, offshore sourcing and supply chain management. The Group greatly values new product development and innovation, believing that these capabilities are fundamental to generating long-term, above average financial returns.
What are the risks facing this business?
The key risks facing GUD include:
1. An anticipated slowdown in consumer and business sentiment over the next 12 months
2. Seasonal conditions impacting the demand for their water products
3. Manufacturing cost inflation
Is it run by able and trustworthy management?
The Company's regularly states that its primary objectives are to produce long-term shareholder returns above the cost of capital and to maximise the value of its brand portfolio for the benefit of shareholders.
Ian Campbell was appointed Managing Director in 1998. Mr Campbell has done an amazing job during his tenure. He has driven the turnaround of this business which is reflected in the share price appreciation. At the time of his appointment, the company was trading at under $2 per share.
In February 2012, GUD announced the divestment of their 19% stake in Breville Group Limited (Breville). GUD reported on Thursday 26 July that it realised a one-off post-tax profit of approximately A$49 million for FY12 in respect of the Breville transaction.
At the time in February, the company issued a statement which went on to say "GUD's investment in Breville has generated very strong financial returns and the Board has decided to take the profit and exit this investment."
"We will consider applying the proceeds to a number of initiatives, including internal investment
opportunities, potential acquisitions and capital management."
"We will re-employ these funds in the best interests of all GUD shareholders."
This move significantly de-risked the business as it gave the opportunity to pay down debt and strengthen the balance sheet. This coupled with a very cash flow positive year has put the company in a strong position. It is in a strong position to weather a downturn should it eventuate and the company has the ability to come out as strong as ever.
Is it trading at a bargain price?
Since the announcement about the Breville divestment, GUD's share price has jumped considerably.
A special dividend has now been confirmed of 35 cents plus franking credits. The special dividend goes 'ex dividend' tomorrow 31 July, meaning that shareholders at the close of business today will be paid the special dividend. Plus the final dividend of 35 cents in a couple of weeks positions GUD as a good income stock in the short term.
I suspect that the share price will see some headwinds once these dividends are trading past the 'ex dividend' dates and coupled with the note in the company's commentary about anticipating a difficult trading year ahead.
The company has flagged twice to the market the potential of buying back six million shares of the company's stock. If they bought back shares particularly at lower share prices, it would increase the value of the business considerably and also increase the profitability for future years.
This could be a double bonus for shareholders in terms of a short term income boost from dividends and capital appreciation in the long term accelerated as a result of a share buy-back.
| | | | | | | |
| --- | --- | --- | --- | --- | --- | --- |
| Rank | 2011 Actual Valuation | 2012 Actual Valuation | Today's Share Price | Margin of Safety | 2013 Forecast Valuation | 2014 Forecast Valuation |
| Gold 2 | $6.36 | $6.52 | $8.46 | -17.01% | $7.23 | $8.67 |
*Please note that forecast estimates of intrinsic value are subject to change on a daily/weekly basis.
Here is the company's share price chart over the past six months.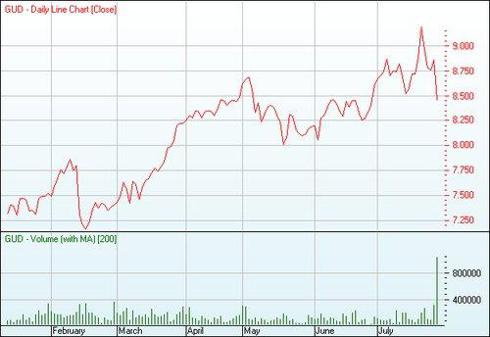 Summary
In summary, GUD Holdings is a company that comprises a number of well known Australian consumer and industrial brands. It has experienced and intelligent management who have grown the business and act in shareholder's interests. The business had strong cash flow in the 2012 financial year and has low debt. The company is well positioned to grow with the Australian economy when it improves. It might be a good one for your watch list over the next 12 months.
Disclosure: Dean Mico does own shares in GUD Holdings.
This article is published by Dean Mico.
The information provided in this article is intended for general use only. The article is intended to provide educational information only. Please be aware that investing involves the risk of capital loss. The information presented does not take into account the investment objectives, financial situation and advisory needs of any particular person, nor does the information provided constitute investment advice. Under no circumstances should investments be based solely on the information herein.
Disclosure: I am long OTC:GUDHF.