Forge Group Limited (ASX:FGE) is a Western Australian based public company. Its core business is engineering, procurement, construction (NYSE:EPC), project management and maintenance, particularly for the resource and oil and gas sectors. It has operations in WA and West Africa, with more than 1,500 staff and a suite of blue chip clients including Woodside, BHP Billiton, Worley Alumina and Alcoa Australia. Forge provides a "whole of life" asset management service, through three wholly owned subsidiaries, which have been operating since the early 1970's. Forge acts as the holding company for these three subsidiaries being Cimeco, Abesque Engineering and Webb Construction.
Is this business easy to understand?
Forge Group Limited (Forge) operates via four subsidiaries:
Cimeco - provides a complete suite of construction services to the resources industry. The suite of services includes areas such as civil, mechanical, electrical and instrumentation, commercial building and maintenance services. Cimeco offers a 'one stop shop' approach to meet client's construction needs.
Abesque Engineering - is a specialist provider of engineering design, construction and project management services to the resource, oil and gas sectors.
Webb Construction - Webb has been based in Ghana, West Africa for more than 15 years. Webb provides comprehensive mine and project construction services to the resource sector.
CTEC - CTEC is a provider of project solutions to the energy and utilities sectors. CTEC's capabilities include major turnkey Engineering, Procurement and Construction (EPC) contracts, Build, Own Operate and Transfer (NASDAQ:BOOT) projects and Operations & Maintenance (O&M) services and equipment supplies. Forge acquired CTEC in January 2012 for what appears to be a fair price and it gives Forge further diversification into the energy sector.
Forge's cornerstone shareholder is Clough Limited (ASX:CLO) who hold a 31% stake in Forge. To this end, Clough and Forge have also developed an incorporated joint venture uniting Clough's world-class engineering and procurement expertise with Forge's proven construction capability to provide a seamless EPC capability.
Does this business have a sustainable competitive advantage?
Forge have done a great job in securing contracts for their contract mining and crushing services, some of which include picking up new clients for iron ore, gold and base metals projects. Forge have also been successful in achieving contract extensions on existing projects.
As mentioned, Forge have a number of 'blue chip' clients including BHP Billiton, Woodside Petroleum, Rio Tinto, Fortescue Metals Group, Chevron and Citic Pacific. Being awarded contracts from organizations of this size and stature help demonstrate Forge's capabilities.
I also noted on Forge's preliminary final report released last week that they are undertaking two projects in the Margaret River region of WA. One project is for Woolworths shopping centre in Margaret River and the other is for the WA Government at the Margaret River Civic Centre It is a positive to see some diversification of their work away from 'mining services'.
Forge has the potential to pick up some large projects yet to be awarded at Roy Hill (Rio Tinto and Hancock Prospecting). Success in winning these projects would provide a positive catalyst for Forge's future.
Forge's expansion with the acquisition of CTEC only adds to their capabilities and diversifies their revenue streams.
What are the risks facing this business?
One risk is Forge's reliance on the boom in our mining sector continuing. Forge has historically generated most of its revenue from mining services. However, Forge has been working to mitigate this risk by expanding their operations into the oil, gas and utilities sector. This is evident via their recent acquisition of CTEC.
Forge also face the risk of being unable to complete the contracts they enter on time and on budget. This risk is not only an immediate commercial risk but also a risk of losing a part of their good reputation.
Is it run by able and trustworthy management?
Earlier this year Forge employed David Simpson as their new CEO. David brings extensive knowledge in the engineering and construction industry. And, the Board of Directors is collectively made up of professionals with engineering, construction, finance, industrial and legal backgrounds.
Forge have recently taken on the CTEC acquisition at a very fair price and I like that management have been very patient in only acquiring businesses that add value to the overall company. Forge have applied strict financial hurdles with their acquisitions to date which demonstrates a commitment to developing a long term outlook for their business.
Forge's balance sheet is in very good shape with about 68% of the company's equity held in cash.
Is it trading at a bargain price?
Forge is trading at very good value as a result of the recent negative sentiment towards 'Mining services' companies with Forge being no exception. The company has presented that they have about $900 million in work on hand. While this amount of work in the pipeline is more than last year's revenue, the company would need to be awarded some additional contract wins in order to continue growing the value of the business.
| | | | | | | | |
| --- | --- | --- | --- | --- | --- | --- | --- |
| Rank | 2010 Actual Valuation | 2011 Actual Valuation | 2012 Actual Valuation | Today's Share Price | Margin of Safety | 2013 Forecast Valuation | 2014 Forecast Valuation |
| Gold 1 | $4.40 | $10.66 | $13.61 | $5.03 | 54.11% | $10.96 | $10.09 |
*Please note that forecast estimates of intrinsic value are subject to change on a daily/weekly basis.
Here is a chart of the company's share price performance over the past year.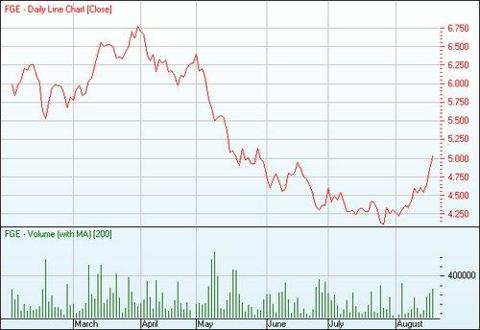 Summary
In summary, Forge is a wonderful business with high profitability, excellent cash flow that reflects net profit levels, a significant amount of cash on hand and capable management. The business has all the right qualities in place, and it is trading at a good discount to its value.
Disclosure: Dean Mico does own shares in Forge Group.
This article is published by Dean Mico.
The information provided in this article is intended for general use only. The article is intended to provide educational information only. Please be aware that investing involves the risk of capital loss. The information presented does not take into account the investment objectives, financial situation and advisory needs of any particular person nor does the information provided constitute investment advice. Under no circumstances should investments be based solely on the information herein.
Disclosure: I am long OTC:FRGXF.