McDonald's Corp. (NYSE:MCD) is the largest fast-food restaurant company in the world, with nearly 34,500 restaurants in 119 countries. McDonald's success was built on an idea of consistency. Consistency in food preparation, quality, and value. This consistency has been the model for other restaurant franchises for many years now. It has also led to a consistency of reliable and increasing dividend payments for the company's shareholders.
Utilizing our Dividend Safety scoring system, let's take a look at just how secure McDonald's current dividend payment is.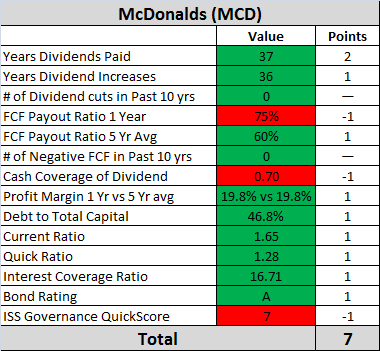 The only real concern that shows up is McDonald's most recent free cash flow payout ratio of 75%. This is considerably higher than its five year average payout ratio of 60%. The increasing payout ratio is likely why investors received a 5% dividend increase this year versus the double digit increases they enjoyed in previous years. McDonald's cash position is also less than we like to see when compared to its annual dividend obligation, but it appears that management prefers the lower level of cash on hand as the current amount is typical when compared to historical levels.
McDonald's has a strong dividend history and solid financials. Its impressive how they have managed to keep their profit margin levels near 20% while focusing on fierce competition within the value (or "dollar") menu business area. A decrease in its free cash flow payout ratio and higher dividend increases in the future will likely depend on the company's growth in the international markets as well as achieving organic growth among its existing domestic restaurants.
The stock is currently yielding 3.4%, well over 200% more than today's highest yielding "safe" money market and CDs. For those searching for a safe income source, McDonald's is an easy choice.
Disclosure: I am long MCD.
Additional disclosure: The 4% Portfolio Retirement Service has made no recommendations on MCD.