Narendra Modi's convincing win for a spot atop the world's largest democracy will, within the next two years, have deep and lasting implications for U.S. investors. Though Indian's election failed to receive its fair share of American media attention, Modi, heralded as a panacea for his country's economic woes, will undertake what is a challenging and pervasive effort to modernize an India that continues to languish amidst weak private sector growth and poor infrastructural policies. In 2013, India ranked 134 out of 189 on the World Bank's Doing Business Index--behind Kenya, Brazil, and Spain. With a renewed focus on foreign direct investment and manufacturing, Modi's BJP hopes to regain a foothold in the world economy.
Modi's efforts--successful or not--will undoubtedly shift the global economy's balance of power and perhaps pave the way for financial markets that are just as attune to India's potential as they are to its northern neighbor's. The S&P Sensex Index jumped more than 5% on Friday and hit a new record high on Monday--but Modi will now embark upon international programs that will attempt to reverse India's policy paralysis, creating momentum for long-term growth and reforming the country's trade relationships.
In this article, I will outline 3 ways in which Modi's victory will impact North American investors.
1. Reforming Intellectual Standards on Many Fronts
Washington has criticized the Indian government's stringent intellectual property laws, which have allowed domestic companies, especially in the pharmaceutical industry, to profit at the expense of international competitors. In 2012, India's patent board forced Bayer AG (OTC:BAYN) to allow domestic producers to replicate its cancer solution, Nexavar, at 1/30th the cost, depriving the German giant of millions in foreign revenues.
The U.S. Chamber of Commerce's Intellectual Property Center has, in several official statements, denounced New Delhi's weak patent protection laws, which deter foreign investments and establish anti-business precedents that fend off positive corporate relationships. This breach of trust is not only an issue with patent legislations; India has been historically unfriendly to scientific collaboration with Western countries, and disorganized processes to obtain Visas has de-incentivized scholars from both regions from furthering their intellectual pursuits through mutually beneficial partnerships. The U.S. has even filed complaints with the World Trade Organization, claiming that an Indian program to expand solar-generation intentionally discriminates against American suppliers.
These are issues the BJP has promised to approach with urgency. Modi's government has emphasized its commitment to federally-supported innovation and strong corporate ties. It plans to give foreign companies more autonomy in how they conduct research abroad and the channels through which they disseminate their products. Research based bio-pharmaceuticals could benefit from these loosening copyright and intellectual property laws, while increasing access to modern medications for millions of impoverished Indians. Investors should be optimistic about the ability of such pharmaceutical powerhouses as Sanofi (NASDAQ:SNY), Pfizer (NYSE:PFE), and Astra-Zeneca (NYSE:AZN) to effectively penetrate Indian markets, which are prime regions for many of the rare disease and chronic solutions they innovate.
2. The Rupee
The rupee (NYSEARCA:INR) rose to an 11-month high (59.29) after Modi's triumph. The Reserve Bank of India (RBI) expects the rupee to embark upon an unprecedented growth narrative under the BJP reign. Citigroup's Adam Gilmour wrote that reformed fiscal policy could push the rupee between the range of 40 to 45 per dollar.
Dollar-to-rupee rates over the past month: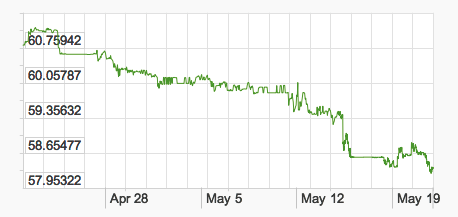 Given the BJP's focus on exports and domestic manufacturing (which currently only composes a third of the country's GDP), the rupee should avoid falling close to its low of 68 rupees to the dollar last August. Indian central bank governor Raghuram Rajan recently scrambled to buy dollars via state-banks to halt the rupee's drastic appreciation, but Modi should keep the pressure on the RBI, as reduced uncertainty in the economy will encourage foreign capital inflows. These inflows will have heavy affects across the global economy. A recent move by the RBI to ease import rules, for instance, allows private trading companies to bring gold into India, thus cutting into the precious metal's premium.
Furthermore, India's glaring current account deficit--a main catalyst of the rupee's depreciation last year--is likely to continue falling and rest at a relatively stable 2%. This improvement stemmed from stagnant growth and lower imports, but Modi will look to correct the imbalance through a more amenable investment environment. Inflation, too, has largely subsided, all the more reason the rupee may pick up heat in the coming months. Investors should be wary, then, of betting against further gains. As the BJP tightens up current account imbalances, the RBI may have to make more concessions regarding the rupee's strength. IT investors should be especially aware of currency fluctuations; IT equities (WIPRO), which derive most of their revenues in dollars, may see a slight hit to their bottom lines as the rupee appreciates.
3. Foreign Policy
If Ukraine has taught investors anything, it is that international turmoil can shake equity markets with endless and unpredictable force. The U.S. and NATO are slowly reducing their presence in Afghanistan; such moves could potentially leave India as an easy target for revitalized militant groups (i.e., Taliban, Lakshar-e-Taiba, Haqqani network).
India has provided a steady flow of assistance to Afghanistan, establishing healthy trade lines and educational aid. The U.S., too, has done its part, convincing Pakistan that major threats lie northwest of the country from Islamic militants rather than from India. The India-Afghanistan-Pakistan balance is, however, delicately constructed--which nation has the most strategic clout in Afghanistan will be up in the air as the U.S. assumes a secondary role in the country's development.
Modi has reiterated that Pakistan's cooperation will be key in deciding Afghanistan's fate. In what will be a telling symbolic move, Pakistan Prime Minister is currently mulling over an invitation to Modi's swearing-in ceremony. If India can successfully nagivate Pakistan's needs and avoid the sort of geo-political conflict that produced such tragedies as the 2008 Mumbai attacks, global markets will avoid the sort of volatility international crises inevitably produce.
Conclusion:
Modi's ascension will, of course, have many non-economic implications, from crafting positive Muslim-Hindu relations to revamping the country's lagging educational systems. Uncertainty will remain regarding the BJP's ability to execute effective policy without dividing constituents, but India's move away from overly protectionist policies should yield dividends for U.S. investors by amending outdated intellectual property laws, allowing for a more robust inflow of capital, and cementing South Asian peace.
If Modi can replicate his success in Gujurat on a national scale, the U.S. will be forced to turn its eye to a new global power in the East.
Disclosure: I have no positions in any stocks mentioned, and no plans to initiate any positions within the next 72 hours. I wrote this article myself, and it expresses my own opinions. I am not receiving compensation for it (other than from Seeking Alpha). I have no business relationship with any company whose stock is mentioned in this article.