Apple blew away even the most optimistic forecasts yesterday, announcing earnings per share of $2.33, versus a consensus expectation of $2.16, and $1.75 last quarter.
The firm earned $13.6 billion in profits on $58 billion in gross profits, the largest quarterly profit in world history.
The company sold a staggering 61.2 million iPhone during the three-month period, 4 million more than expected. Insignificant iPad sales dropped from 13.9 to 12.6 million units. MacBook's were in line at 4.6 million units.
No mention was made whatsoever of problems with a strong dollar.
The company now sits on n unbelievable $194 billion in cash, the equivalent of the GDP of a medium sized country. Most importantly, Apple is expanding its share buy back program to $200 billion.
Wow!
I happened to stop by my local Apple store on Friday to get my MacBook Pro fixed. Yes, they can catch viruses, despite Steve Jobs' assertions to the contrary. But then Steve didn't know our viruses.
It was the first time I could remember when there wasn't a giant line snaking down the street. Apple's beef with the local city council for permanently blocking public sidewalks should now ease.
Instead, there was a mob inside, hunched over an enclosed cabinet displaying the new line of Apple watches.
I have been pretty dismissive of the promised high tech timepiece as never being able to move the needle on the company's humongous earnings.
Now, I am not so sure.
I get the VIP treatment at Apple because I used to know Steve, and because I buy a ton of hardware there, all at a nice discount. More importantly, I get to beta test new products before they are released to the public, such as my current laptop (all solid state, and no hard drive).
The store manager spotted me and came over to give me the pitch on the iWatch.
The Apple Watch comes in three different models, two different sizes, and six different finishes, with a range of swappable bands and prices ranging from $349 all the way up to the pure gold version for $17,000.
Don't think of these as standalone devices, although they do have limited functions on their own, like telling time, displaying calendars, a limited photo library, playing music, and monitoring your heart and calorie consumption.
It is really an extension of your iPhone via a Blue Tooth connection. That gives you complete access to your entire iTunes libraries.
There is no camera. So that knocks out Facetime. If you want to video that UFO landing on your front lawn, you'll have to resort to your iPhone. It can view photos, but only those imported or sent as attachments to emails or texts.
Here's the big one: it has Apple Pay. One swipe of your wrist and you can pay for anything. This turns Apple into a large financial institution on day one, without the encumbrance of a physical branch network.
I'm thinking, uh-oh, there goes PayPal (a wholly owned subsidiary of Ebay (EBAY).
There are a number of techno geeks currently tearing the watch apart to get to its internal guts, and here is the early take.
The watch has its own accelerometer, gyrometer and heart-rate monitor, but no onboard GPS.
It uses Bluetooth 4.0 and 802.11b/g/n 2.4GHz Wi-Fi to connect to your phone or your home network. There's a built-in speaker and microphone, but no headphone jack. That lets you dictate emails and text messages, Dick Tracy style.
The watch comes with an 18-hour battery life, and 72 hours if you use it to tell time only. You can get an 80% recharge in 90 minutes (longer than my Tesla). It has 8 GB of storage, including 2 GB for music and 75 MB for photos.
The future of the growth of an iWatch ecosystem will develop entirely on the development of third party apps. Other Apple products can now purchase or get for free more than 1.2 million apps.
However, there are 3,000 watch apps already, which developers cleverly, but nervously designed around an online preproduction digital "virtual" watch.
Much of the excitement about the watch among long-term strategists derives from its potential.
You can bet the company is putting together an in-house credit card to cut Visa, Master Card and American Express out of several hundred billion dollar's a year worth of credit card transaction fees for the benefit of Apple Pay.
I don't think I'll be buying one anytime soon, unless Starbucks refuses to let me in without one (give it five years). In the meantime, I'll stick with my vintage Rolex Cellini (vintage watch for a vintage guy?).
As for the stock, buy it now, with both hands, as much as you can, and then forget you own it.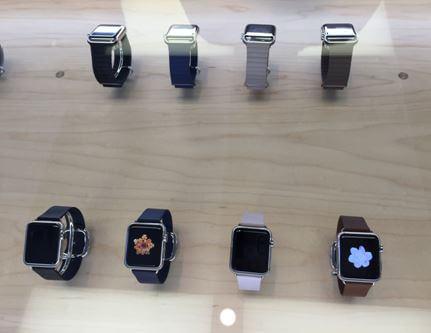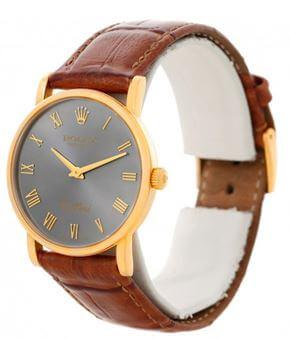 Still My Kind of Watch