Editor's Note: Article originally published February 24, 2016. To access articles on original publication date, subscribe @madhedgefundtrader.com.
"There is a time to make money, and a time to not lose money. This is one of those times." That was the insightful gem I came away with after listening to my friend, hedge fund legend David Tepper.
Tepper continued, opining that the markets are "dangerous" here, and that he was "nervous." "It was easy to buy stocks (SPY), (QQQ), (IWM) in 2009 with an 11 price earnings multiple, but not so easy with a 17 multiple."
He described the current investment environment as one of "coordinated complacency," where some central banks are providing just enough liquidity to prevent another crisis, but not enough to return us to more pronounced economic growth.
David said he would feel better if GDP growth returns to a 4% annual rate. If it stays stuck in the two's, he just shrugged his shoulders.
If there is one person you drop everything for and listen to with rapt attention about the markets, it is the legendary hedge fund manager, David Tepper.
He is the best trader of our generation, bar none. If you gave him $1 million when he started Appaloosa Management LP in 1993, it would be worth a staggering $149 million today.
David argued that with China cutting costs and productivity improving thanks to technology, inflation will remain muted for some time to come.
That happened in the 19th century, when the productivity gains unleashed by the industrial revolution caused real prices to drop by half. I have been passionately arguing the same case myself for much of this year.
Tepper doesn't see any glaring opportunities in the markets right now. At best, it is a mixed environment. He also remarked that that European Central Bank is far behind the curve. This does not auger well for the Euro (FXE).
Managing $20 billion in assets with a staff of only 33, David earned a personal paycheck of $3.5 billion in 2014, one of the largest in history. He was worth every penny.
His rise from a gritty inner city high school in Pittsburgh is now part of Wall Street lore. It is a classic American bootstrap story.
He moved on to Pitt College and Carnegie Melon for graduate school. He spent two years battling to keep a dying Republic Steel alive with innovative refinancings, even though he was hit with a 10% pay cut six weeks into the job.
That led to a gig as a junk bond analyst at Keystone Mutual Funds (now part of Evergreen Funds), and finally a coveted job at Goldman Sachs.
A mere six months after joining the firm, he was promoted to head of convertible bond trading. He quickly became known as an iconoclast and innovator, gaining a loyal following of fans, first inside Goldman, and then throughout the industry at large.
I was one of those early acolytes, trading against him from the convertible bond desk at Morgan Stanley.
Tepper dispelled a myth that he named his firm "Appaloosa" because he liked to eat horsemeat. In those primordial days, brokerage research was distributed by fax machines. Firms starting with the letter "A" got the news up to 20 minutes earlier than competitors. Hey, anything to get an edge.
David suffered three 20% drawdowns during his career, once during the Russian debt default in 1998, and again in the 2008 crash. Each one was a sobering and humbling experience. Today he has returned profits to his clients that are double their original investment.
That means they are now playing with the "house's money." This has lifted a great psychological burden from David's shoulders, cleared his mind, and giving him freedom. It is now impossible for his customers to lose money.
Tepper currently turns new money away and has closed some of his peripheral funds to concentrate his focus. He keeps working not to collect more assets, but for the love of the game.
David isn't just sitting on his cash, he is giving great chunks of it away.
In 2003, he gave $55 million to his alma matter, now called the Carnegie Mellon David A. Tepper School of Business. Last year, he wrote another check to the school for $67 million. He has been active in Paul Tudor Jones' Robin Hood Foundation.
When the super storm Hurricane Sandy devastated the east coast in 2012, he topped up many New Jersey charities that had been drained by the financial crisis.
Since then, Tepper has been able to deliver his best performance ever. Does he believe in karma? David pointed to himself with both hands with a big, bold flourish and said, "This is karma!"
Asked if he had any advice for aspiring young hedge funds traders, he furrowed his brow and thought for a moment. "The worse things are, the better they will get. When they are awful, it is a great time to buy."
So true, so true.
I mentioned to David that a friend of mine's father was a quarterback for the Pittsburg Steelers during the 1950's, in which he is now a part owner. He worked for $500 a month.
"It's a little more expensive that that now," he laughed, as an owner would. I'm going to that gentleman's 80th birthday party in Chicago next weekend.
In parting, I thanked him for his great work, and said I could make a living just repeating to people what he said. He laughed again.
Good for you, David Tepper.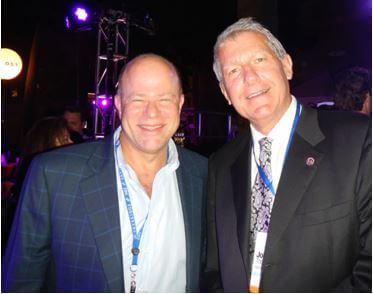 The Best Hedge Fund Managers in History
The Diary of a Mad Hedge Fund Trader, published since 2007, has become the top performing trade mentoring and research service in the industry, averaging a 40% annual return for readers.
Its fundamental and technical calls on stocks, bonds, foreign currencies, energy, commodities, and real estate have been unmatched. It is published by John Thomas, a 50-year market veteran, and founder of the hedge fund industry.
John's elite team offers readers a daily market commentary, research letter, weekly strategy webinar, and Trade Alerts sent out instantaneously at market sweet spots. To receive a FREE 30-day subscription to our premium service please visit the Diary of a Mad Hedge Fund Trader at madhedgefundtrader.com