Editor's Note: Trade Alert originally published March 23, 2016. To profit from John Thomas' market acumen, visit madhedgefundtrader.com to learn how to trade alongside him by receiving his market moving Trade Alerts.
I am going to use the Brussels terrorist attack to take a quickie profit on my position in the Russell 2000 iShares ETF (NYSEARCA:IWM) April, 2016 $112-$117 in-the-money vertical bear put spread.
Profits have been few and far between lately, and a 7.26% profit in 11 trading days is not bad. At $4.77 we are capturing 58.92% of the maximum potential profit in this trade.
I also want to flatten out ahead of the three day Easter weekend, which is almost always followed by a rally. Month end book closing could also give stocks a boost.
If you have the -1X ProShares Short Russell 2000 ETF (NYSEARCA:RWM) (click here for the link to the prospectus at http://www.proshares.com/funds/rwm.html), take small profits here too.
To see how to enter this trade in your online platform, please look at the order ticket below, which I pulled off of optionshouse.
If you are uncertain on how to execute an options spread, please watch my training video on "How to Execute a Bear Put Debit Spread" by clicking here at http://members.madhedgefundtrader.com/ltt-executetradealerts/.
You must be logged into your account to view the video.
The best execution can be had by placing your bid for the entire spread in the middle market and waiting for the market to come to you. The difference between the bid and the offer on these deep in-the-money spread trades can be enormous.
Don't execute the legs individually or you will end up losing much of your profit. Spread pricing can be very volatile on expiration months farther out.
Here are the specific trades you need to execute this position:
Sell 22 April, 2016 $117 puts at………….….……$9.20
Buy to cover short 22 April, 2016 $112 puts at.…..$4.43
Net Proceeds:…………………………………………………......$4.77
Profit: $4.77 - $4.44 = $0.33
(22 X 100 X $0.33) = $726 or 7.26% profit in 11 trading days.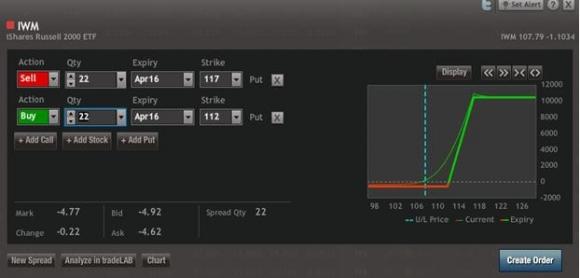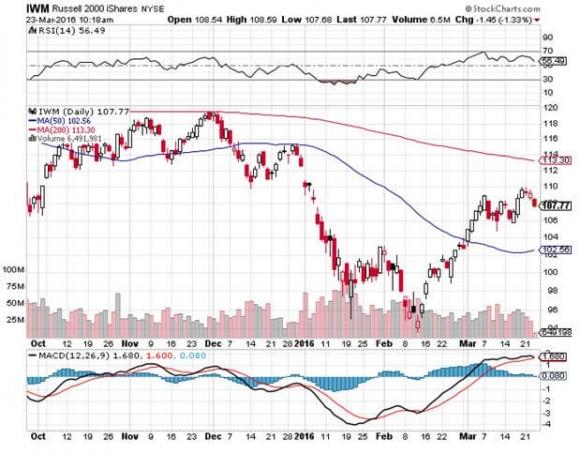 The Diary of a Mad Hedge Fund Trader, published since 2007, has become the top performing trade mentoring and research service in the industry, averaging a 40% annual return for readers.
Its fundamental and technical calls on stocks, bonds, foreign currencies, energy, commodities, and real estate have been unmatched. It is published by John Thomas, a 50-year market veteran, and one of the founders of the hedge fund industry.
John's elite team offers readers a daily market commentary, research letter, weekly strategy webinar, and Trade Alerts sent out instantaneously at market sweet spots. To receive a FREE 30-day subscription to our premium service, Global Trading Dispatch, please visit the Mad Hedge Fund Trader at madhedgefundtrader.com
Disclosure: I/we have no positions in any stocks mentioned, and no plans to initiate any positions within the next 72 hours.
I wrote this article myself, and it expresses my own opinions. I am not receiving compensation for it. I have no business relationship with any company whose stock is mentioned in this article.