Editor's Note: If you'd like to receive the Diary of the Mad Hedge Fund Trader live in your inbox every day before the market opens and Trade Alerts which have averaged 34.84% annually since inception, learn more @madhedgefundtrader.com or take advantage of the Special Offer for Seeking Alpha Readers @members.madhedgefundtrader.com/gtd3mo-sa/.
Watch my latest FREE Global Strategy Webinar: RISK OFF Is Back!
I'll be giving you my updated outlook on stocks, bonds, commodities, currencies, precious metals, and real estate.
The goal is to find the cheapest assets in the world to buy, the most expensive to sell short, and the appropriate securities with which to take these positions.
I will also be opining on recent political events around the world and the investment implications thereof.
I usually include some charts to highlight the most interesting new developments in the capital markets. There will be a live chat window with which you can pose your own questions.
The webinar will last 30-40 minutes.
I look forward to hearing from you.
Click here to watch.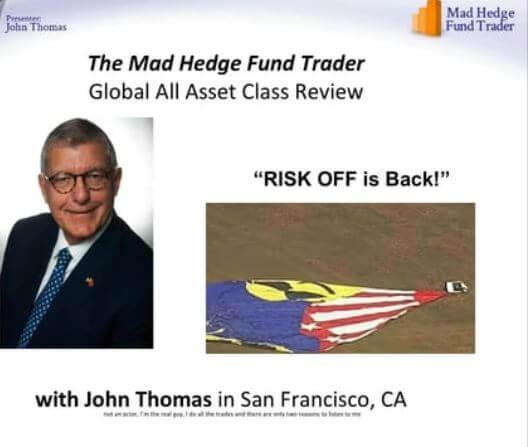 The Diary of a Mad Hedge Fund Trader, published since 2008, has become the top performing trade mentoring and research service in the industry, averaging a 34.84% annual return since inception for subscribers.
It's fundamental and technical calls on stocks, bonds, foreign currencies, energy, commodities, and real estate have been unmatched. It is published by John Thomas, a 45-year market veteran, and one of the founders of the hedge fund industry.
John's elite team offers subscribers a daily market commentary research letter with deep background on all the trades and economic trends in play, a live biweekly strategy webinar, and Trade Alerts sent out instantaneously at market sweet spots. To learn more about our premium service, Global Trading Dispatch, please visit the Mad Hedge Fund Trader @madhedgefundtrader.com