Editor's Note: If you'd like to receive The Diary of the Mad Hedge Fund Trader in your inbox every day premarket and Trade Alerts which have averaged 36.06% annually since inception, learn more @madhedgefundtrader.com or take advantage of the Limited Time Special Trial Offer for Seeking Alpha Readers @members.madhedgefundtrader.com/gtd3mo-sa/
Paid subscribers are able to receive instantaneous texts of my proprietary Trade Alerts. This eliminates frustrating delays caused by traffic surges on the Internet itself, your local server or your spam filter. It also circumvents the additional time necessary to write and publish emails.
I therefore want to take this opportunity to urge our many new subscribers, and any of you long-time subscribers who haven't already taken advantage of this feature - you know who you are - to sign up for our FREE Text Service for Trade Alerts. This service is a benefit of your paid subscription.
AWeber, the service provider we use to email the Trade Alerts, can go completely down for hours. Remember the Distributed Denial of Service (DDoS) attack on October 21, 2016?
However, subscribers who have activated the Text Service receive texts on their cell phones within seconds world wide, and thus are able to act immediately on my critically-timed Trade Alerts.
To activate your FREE text service, please log in to your account, look under your name on the right, and click on the blue hyperlink that says "Update My Profile".
Then check the box next to "Do you want to receive Trade Alerts via text message", and enter your cell phone number below the formatting instructions. Please also enter your city, state, country, and zip code. Click on "save changes" at the bottom of the page. A message should appear indicating "Profile Updated Successfully".
Time is of the essence in these volatile markets. Individual traders need every advantage they can get. This is an important one.
Good luck and good trading.
John Thomas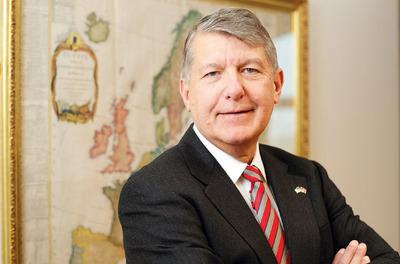 The Diary of a Mad Hedge Fund Trader, published since 2008, has become a top performing trade mentoring and research service in the industry. Trade Alerts from the Global Trading Dispatch service have averaged a 36.06% annual return since inception for subscribers.
Its fundamental and technical calls on stocks, bonds, foreign currencies, energy, commodities, and real estate have been spectacular. It is published by John Thomas, a 47-year market veteran and one of the founders of the hedge fund industry.
John's elite team offers subscribers a daily premarket commentary research letter with deep background on all the trades and economic trends in play, a live biweekly global strategy webinar, and Trade Alerts texted instantaneously at market sweet spots. To learn more about our premium service, Global Trading Dispatch, please visit the Mad Hedge Fund Trader @madhedgefundtrader.com