How Did You Miss Out On This Winning Trade? It's Because You Don't Subscribe to Global Trading Dispatch! Subscribe Through Seeking Alpha Premium Authors* @https://seekingalpha.com/account/research/subscribe?slug=the-mad-hedge-fund-trader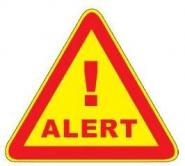 Trade Alert - (NYSEARCA:GLD)- TAKE PROFITS
Sell the SPDR Gold Shares ETF February, 2017 $108-$111 in-the-money vertical BULL CALL spread at $2.98 or best
Closing Trade-Not for New Subscribers
2-8-2017
Expiration Date: February 17, 2017
Portfolio Weighting: 10%
Number of Contracts = 38 contracts
Time to take the chips off the table with my position in gold, at least for today.
At the opening, we have already captured 94.28% of the maximum potential profit in our position.
In short, we caught a $60 move in the price of gold in our favor in little more than a week.
To continue on with this position for seven more days with only a two cent additional potential profit left would be folly of the first order.
That's called "picking up the pennies in front of a steamroller".
Better to take advantage of the option value cash gives us, and wait for the next market sweet spot in gold to pounce.
Besides, I want to manage some risk here in precious metals, having taken on a new long position in silver (NYSEARCA:SLV) yesterday.
After all, this is the asset class that takes the escalator up and the elevator down . . . and sometimes the window.
That means selling our position in the SPDR Gold Shares ETF February, 2017 $108-$111 in-the-money vertical BULL CALL spread.
I know the screenshot below shows an unrealistic price of $3.10. This often happens with very deep in-the-money spreads with only a few days to expiration.
This was a nice little earner of a trade.
We clocked a 12.45% profit in a mere six trading days.
While others dithered, obfuscated, and made excuses, I went pedal to the metal and piled on the longs in the barbarous relic, even though it was well into its move.
I left to others to obsessively analyze the President's tweets, fret about the technicals, poo poo earnings, wait for a dip, and generally make excuses to do nothing.
This was a bet that GLD wouldn't move below $111 over the 14 trading days to expiration.
If you bought GLD outright, keep it. It is going higher, as portfolio managers rush to protect their existing portfolios with the yellow metal.
Yes, it appears the worm is turning.
I am greatly increasing my net "RISK OFF" position. Call it going from "TRUMP ON" to "TRUMP OFF".
The reasons are very simple.
When the market believes the new administration's policies will have a positive impact on the economy, such as with tax cuts and deregulation, investors buy stocks and the dollar. They also sell bonds, interest rate plays, and the currencies.
When the market believes the new administration's policies will have a negative impact on the economy, such as with trade wars and immigration bans, investors sell stocks and the dollar. They also buy bonds, interest rate plays, currencies and gold.
February is setting up to be a really negative month.
The uneven powers of the presidency mean the near term news flow will be front end loaded with shocks and surprises. A president can launch a trade war with the mere stroke of a pen.
The good news will eventually come from Congress. But tax reform will take six to nine months, and deregulation even longer.
This may give us a year in which the performance is to be found more in the second half than the first. And Congress doesn't work on weekends.
To see how to enter this trade in your online platform, please look at the order ticket below, which I pulled off of OptionsHouse.
If you are uncertain about how to execute this options spread, please watch my training video "How to Execute a Vertical Bull Call Spread".
The best execution can be had by placing your bid for the entire spread in the middle market and waiting for the market to come to you. The difference between the bid and the offer on these deep in-the-money spread trades can be enormous.
Don't execute the legs individually or you will end up losing much of your profit. Spread pricing can be very volatile with only seven days until expiration.
Please keep in mind these are ballpark prices at best. After the text alerts go out, prices can be all over the map. There is no telling how much the market will have moved by the time you get this email.
Paid subscribers, be sure you've signed up for our FREE text service for Trade Alerts. When seconds count, this feature offers a definite trading advantage. In today's volatile markets, individual investors need every advantage they can get.
Here Are the Specific Trades You Need to Execute This Position:
Sell 38 February, 2017 GLD $108 calls at………….………$7.80
Buy to cover short 38 February, 2017 GLD $111 calls at..….$4.82
Net Proceeds:…………………………………………..…….….....$2.98
Profit: $2.98 - $2.65 = $0.33
(38 X 100 X $0.33) = $1,254 or 12.45% in eight trading days.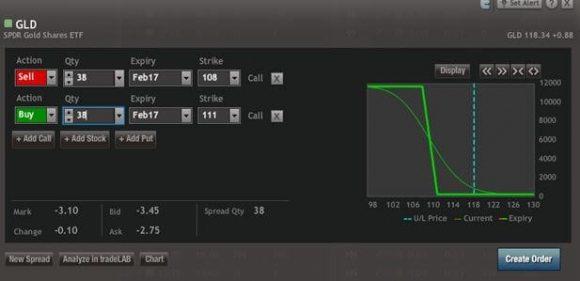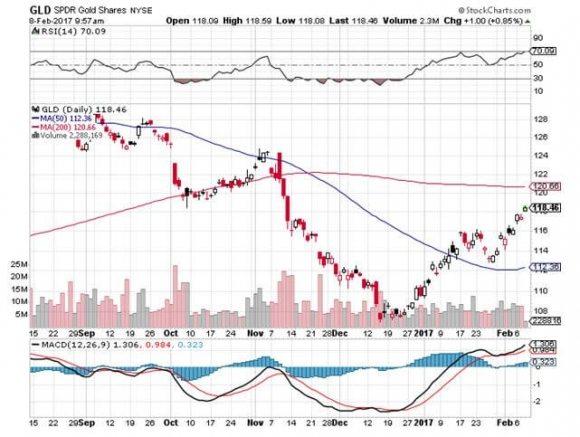 *Value-Added Investment Services From Top SA Contributors