How Did You Miss Out On This Winning Trade? It's Because You Don't Subscribe to Global Trading Dispatch! Subscribe Through Seeking Alpha Premium Authors* @https://seekingalpha.com/account/research/subscribe?slug=the-mad-hedge-fund-trader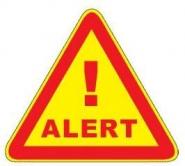 Trade Alert - (NYSE:GS)- TAKE PROFITS
SELL the Goldman Sachs February, 2017 $222.50-$227.50 in-the-money vertical bull call spread at $4.92 or best
Closing Trade
2-10-2017

Expiration Date: February 17, 2017

Portfolio Weighting: 10%
Number of Contracts = 27 contracts
A profit of 26.15% in only five trading days?
I'll take that all day long.
Goldman Sachs February, 2017 $222.50-$227.50 in-the-money vertical bull call spread has proven to be the Mad Hedge Fund Trader's most profitable trade so far in 2017.
One of the speediest moneymakers too.
At this price, we have captured 92.72% of the maximum potential profit in the position in a mere five days.
It was the Tweet that the Dodd-Frank financial deregulation bill would be scrapped a week ago that gave us a great entry point for this position.
Today, we got the second leg of the move off the back of talk about tax cuts.
Talk about a one two punch!
If you bought the stock outright, keep it.
The perfect storm of deregulation, tax cuts, and greater trading volumes should cause Goldman Sachs to double over the next three years.
It is my number one pick in the market for 2017.
This was a bet that GS would not trade below $227.50 by the February 17th expiration, then 10 trading days in the future. With the shares now at $243.25 that is miles away.
To see how to enter this trade in your online platform, please look at the order ticket below, which I pulled off of OptionsHouse.
If you are uncertain about how to execute this options spread, please watch my training video "How to Execute a Vertical Bull Call Spread".
The best execution can be had by placing your bid for the entire spread in the middle market and waiting for the market to come to you. The difference between the bid and the offer on these deep in-the-money spread trades can be enormous.
Don't execute the legs individually or you will end up losing much of your profit. Spread pricing can be very volatile with only 10 days to expiration.
Please keep in mind these are ballpark prices at best. After the text alerts go out, prices can be all over the map. There is no telling how much the market will have moved by the time you get this email.
Paid subscribers, be sure you've signed up for our FREE text service for Trade Alerts. When seconds count, this feature offers a definite trading advantage. In today's volatile markets, individual investors need every advantage they can get.
Here Are the Specific Trades You Need to Execute This Position:
Sell 27 February, 2017 GS $222.50 calls at…….….……….…$21.00
Buy to cover short 27 February 2017 GS $227.50 calls at…$16.08
Net Proceeds:………………………………………………….....$4.92
Profit: $4.92 - $3.90 = $1.02
(27 X 100 X $1.02) = $2,754 or 26.15% profit in five trading days.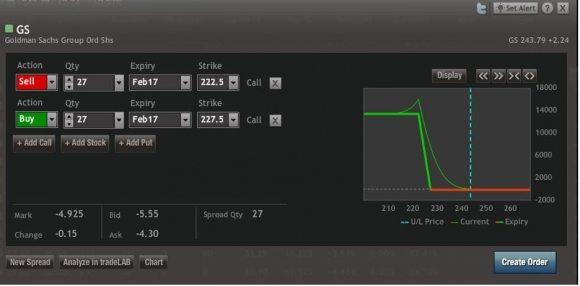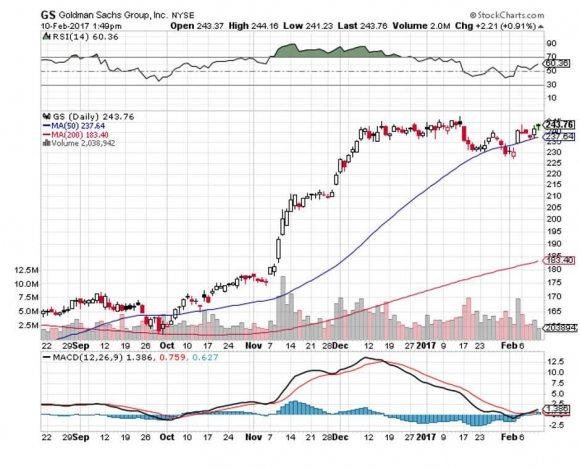 *Value-Added Investment Services From Top SA Contributors