If you'd like to receive ALL THE CURRENT CONTENT from The Diary of the Mad Hedge Fund Trader in your inbox every day premarket and PROPRIETARY TEXTED Trade Alerts which have averaged 36.95% annually since inception (11/29/10), Subscribe Through Seeking Alpha Premium Authors* @https://seekingalpha.com/account/research/subscribe?slug=the-mad-hedge-fund-trader
Ever seeking new market directional guidance, I have taken a close look at quite a few indexes, momentum indicators, and barometers of various descriptions in my day.
And you know what? They're basically useless, rarely outperforming a coin toss, or the throw of a dart.
However, I have lately been having quite a lot of fun following the CNN Fear & Greed Index. And you know what? It's pretty good!
The index is expressed on a meter that looks remarkably like the engine temperature gauge on my private plane.
When the index approaches 100, it flashes "extreme greed", and it is a great time to sell short stocks and move to a general "RISK OFF" posture in my trading book.
When it ratchets towards zero, it gives an "extreme fear" warning. This is a great time to buy stocks and move to an aggressive "RISK ON" stance.
When the index hovers around 50, there is nothing to do besides look for other new market indicators.
So, I decided to take a closer look at the CNN Fear & Greed Index, expecting to find some fantasy cobbled together by a 20 something on a slow night.
I couldn't have been more wrong. There was much more than met the eye. Here are the components:
CNN looks at seven indicators:
•Stock Price Momentum: The S&P 500 (SPX) versus its 125-day moving average
•Stock Price Strength: The number of stocks hitting 52-week highs and lows on the New York Stock Exchange
•Stock Price Breadth: The volume of shares trading in stocks on the rise versus those declining
•Put and Call Options: The put/call ratio, which compares the trading volume of bullish call options relative to the trading volume of bearish put options
•Junk Bond Demand: The spread between yields on investment grade bonds and junk bonds
•Market Volatility: The VIX, which measures volatility
•Safe Haven Demand: The difference in returns for stocks versus Treasuries
For each indicator, they look at how far they've deviated from their long-term average.
In other words, they look at some of the things I do. But instead of waiting for the CNN website to update, I am running these factors in my mind constantly, along with dozens of others.
This helps me deliver market timing which many readers have described as "uncanny."
The great thing about the CNN Fear & Greed Index is that they distill all these factors down to a single number, making it far easier to follow.
I have not had much to do with CNN since "Mouth of the South" Ted Turner tried to hire me to become his Tokyo correspondent.
In the end, the job went to my friend, the late John Lewis (click here for "CNN's John Lewis: The Death of a Colleague" ).
This was well before he married Jane Fonda, who broke his heart. Ted is currently the largest private landowner in the US, which he oversees from a giant buffalo ranch in Western Montana.
Good for CNN for actually creating something useful for we beleaguered traders!
To monitor the CNN Fear & Greed Index on a daily basis yourself, please click here.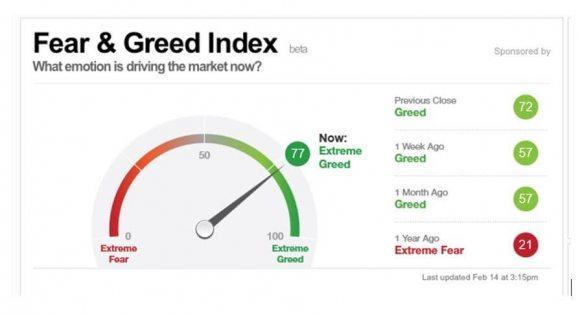 *Value-Added Investment Services From Top SA Contributors