How Did You Miss Out On This Winning Trade? It's Because You Don't Subscribe to Global Trading Dispatch! Subscribe Through Seeking Alpha Premium Authors* @https://seekingalpha.com/account/research/subscribe?slug=the-mad-hedge-fund-trader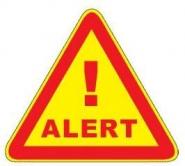 Trade Alert - (NYSEARCA:SLV)- TAKE PROFITS
SELL the iShares Silver Trust ETF March, 2017 $15.50-$16.00 in-the-money vertical bull call spread at $0.48 or best
Closing Trade
2-23-2017
Expiration Date: March 17, 2017
Portfolio Weighting: 10%
Number of Contracts = 243 contracts
Since I added my long position in silver a little over two weeks ago, the precious metal has gone up almost every day.
It is said that gentlemen don't trade silver, so I guess that says a lot about me.
The preeminent risk of the month is coming up next week with the President's State of the Union address after the market close on Tuesday, February 28th.
If we finally get a detailed, granular tax cut proposal, risk assets of all kinds will continue to rally.
If, instead, we get another highly partisan campaign rally for his base, we will get a long overdue correction.
I am therefore taking profits in my position in the iShares Silver Trust ETF March, 2017 $15.50-$16.00 in-the-money vertical bull call spread.
At this price we have captured 77.78% of the maximum potential profit in the position. The total return has been 17.07% in a mere 12 trading days.
Not bad, even for an old non-gentleman like myself.
By coming out here, we get to duck the risk of carrying the position 17 more trading days until the March 17th expiration.
Remember, this is the asset class that takes the escalator up, and the elevator down, and sometimes the window. Market liquidity tends to dry up on the downside.
Better to sell when there are ample buyers.
If we do get a dip, we will then have the dry powder with which to go back in on the long side.
And being up 15.67% so far in 2017, I don't need to take any unnecessary risks whatsoever in the run up to a major market moving event which could go either way and is totally unpredictable.
If you bought SLV outright, keep it. I think a global synchronized economic recovery will keep the white metal rising for years to come, with a final target of $100 an ounce.
This was a bet that SLV wouldn't move below $16 by the March 17th expiration date.
Keep in mind that with such a low ETF price and a large number of contracts, the trade will be very sensitive to your commission rate.
I would bet big money that you are currently paying too much in commissions.
IT'S TIME TO CALL YOUR BROKER AND ASK FOR A DISCOUNT!
Take a look at the chart below and you'll see there has been a clear upside breakout from the two month resistance at the $16.70 level.
To see how to enter this trade in your online platform, please look at the order ticket below, which I pulled off of OptionsHouse.
If you are uncertain about how to execute this options spread, please watch my training video "How to Execute a Vertical Bull Call Spread".
The best execution can be had by placing your bid for the entire spread in the middle market and waiting for the market to come to you. The difference between the bid and the offer on these deep in-the-money spread trades can be enormous.
Don't execute the legs individually or you will end up losing much of your profit. Spread pricing can be very volatile on expiration months farther out.
Please keep in mind these are ballpark prices at best. After the text alerts go out, prices can be all over the map. There is no telling how much the market will have moved by the time you get this email.
Paid subscribers, be sure you've signed up for our FREE text service for Trade Alerts. When seconds count, this feature offers a definite trading advantage. In today's volatile markets, individual investors need every advantage they can get.
Here Are the Specific Trades You Need to Execute This Position:
Sell 243 March, 2017 SLV $15.50 calls at………….………$1.70
Buy to cover short 243 March, 2017 SLV $16.00 calls …….$1.22
Net Proceeds:……………………………………..…….….....$0.48
Profit: $0.48 - $0.41 = $0.07
(243 X 100 X $0.07) = $1,701 or 17.07% in 12 trading days.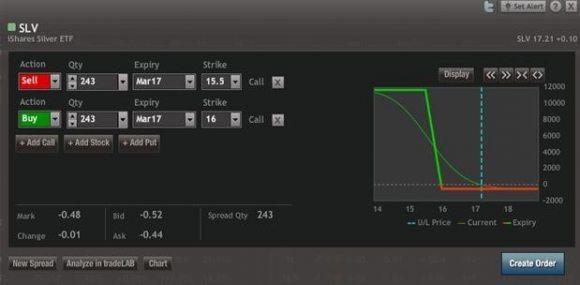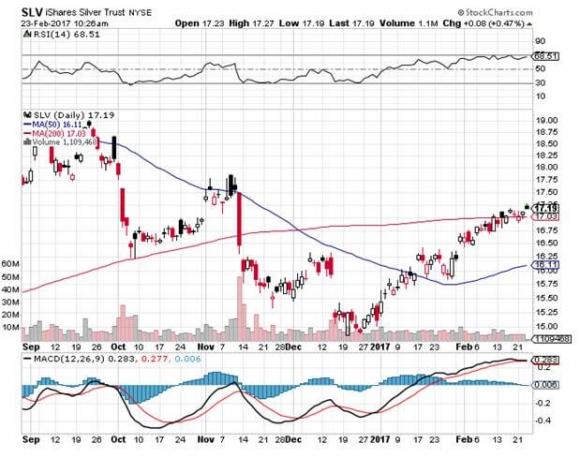 *Value-Added Investment Services From Top SA Contributors