How Did You Miss Out On This Winning Trade? It's Because You Don't Subscribe to Global Trading Dispatch! Subscribe Through Seeking Alpha Premium Authors* @https://seekingalpha.com/account/research/subscribe?slug=the-mad-hedge-fund-trader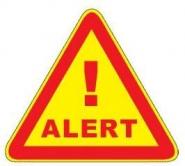 Trade Alert - (NYSEARCA:TLT)- TAKE PROFITS
SELL the iShares 20+ Year Treasury Bond ETF March, 2017 $114-$117 in-the-money vertical bull call spread at $2.92 or best
Closing Trade
2-24-2017
Expiration Date: March 17, 2017
Portfolio Weighting: 10%
Number of Contracts = 40 contracts
This is my last move to de-risk ahead of the highly unpredictable State of the Union address on Tuesday, February 28th.
After scoring 84% of the maximum potential profit in this position in only 13 trading days, I would be nuts not to take a profit here.
And making a 13-day profit of 16.80% on this one position is better than a poke in the eye with a sharp stick.
It is also prudent to lock in a February profit of 6.39%, and year-to-date gain of 15.74%.
No one every got fired for taking a profit.
This takes me to a very rare 100% cash position which I am sure will last only a few days.
If bonds rally any more from here, which they will probably do on Wednesday, I will flip back to the short side, like the agile old trader that I am.
You can just feel volatility coiling up in this market. It is likely to explode at the Wednesday morning opening, most likely taking risk assets down.
I am therefore selling my position in the iShares 20+ Year Treasury Bond ETF March, 2017 $114-$117 in-the-money vertical bull call spread
This was a bet that the TLT would not trade below $117 by the March 17th expiration date.
The bear market killer for the TLT was the January Nonfarm Payroll report which showed tepid wage growth at best.
You need wage growth to produce inflation and lower bond prices. The problem is, it ain't happening.
Federal Reserve Chairwoman Janet Yellen has already personally told me that the initial ramp up in interest rates in this recovery will be a slow burn. This data gives her the justification she needs for exactly that monetary policy.
That means the next Fed rate rise has been pushed off to June at the earliest.
It also means that you want to buy bonds, other interest rates plays, and gold, and sell short stocks and the US dollar, at least for the short term.
I am adjusting my model trading portfolio accordingly.
Thanks to the uproar over immigration and trade wars, investors are now in "Show Me" mode, awaiting concrete action on tax cuts and deregulation before they commit more capital to the markets.
This could continue for four more months, opening up the prospect of what I call the "Dreaded Flat Line of Death" market.
If you have any doubts, look at the Volatility Index (NYSEARCA:VXX) and VIX trading at a $12 handle. It will print $8 or $9 before this is all over.
To see how to enter this trade in your online platform, please look at the order ticket below, which I pulled off of OptionsHouse.
If you are uncertain about how to execute this options spread, please watch my training video "How to Execute a Vertical Bull Call Spread".
The best execution can be had by placing your bid for the entire spread in the middle market and waiting for the market to come to you. The difference between the bid and the offer on these deep in-the-money spread trades can be enormous.
Don't execute the legs individually or you will end up losing much of your profit. Spread pricing can be very volatile on expiration months farther out.
Please keep in mind these are ballpark prices at best. After the text alerts go out, prices can be all over the map. There is no telling how much the market will have moved by the time you get this email.
Paid subscribers, be sure you've signed up for our FREE text service for Trade Alerts. When seconds count, this feature offers a definite trading advantage. In today's volatile markets, individual investors need every advantage they can get.
Here Are the Specific Trades You Need to Execute This Position:
Sell 40 March, 2017 TLT $114 calls at………….………$7.60
Buy to cover short 40 March, 2017 TLT $117 calls at.….$4.68
Net Proceeds:…………………………………………..……$2.92
Profit: $2.92 - $2.50 = $0.42
(40 X 100 X $0.42) = $1,680 or 16.80% in 13 trading days.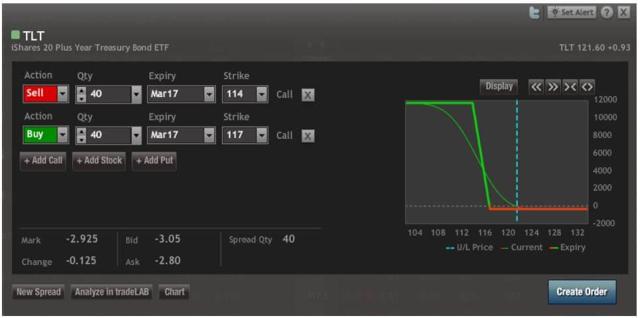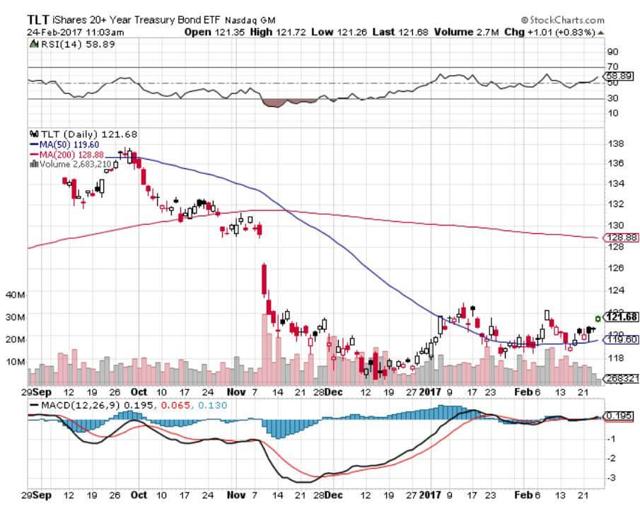 *Value-Added Investment Services From Top SA Contributors